Editor's Note: David M. Perry is an associate professor of history at Dominican University in Illinois. He writes regularly at his blog: How Did We Get Into This Mess? Follow him on Twitter. The opinions expressed in this commentary are his.
Story highlights
African-American boy, 5, was suspended by belt from top of blackboard for misbehaving
David Perry asks how could that happen in 2016?
Last week, a Georgia principal went into a classroom in Conyers, Georgia, a small city east of Atlanta, and witnessed a literally unbelievable sight.
A 5-year-old African-American boy, a student in the special education program at the school, had been suspended by his belt from the top of the blackboard. According to the child's grandmother, the boy was screaming. The culprit wasn't some bully picking on a disabled child. According to news reports, the boy's teacher was punishing the boy for misbehavior. Worse, it wasn't the first time she had used this horrific, terrifying, method.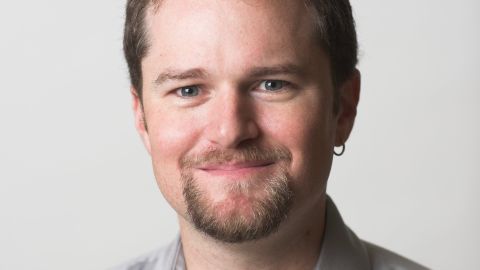 The school superintendent is recommending the dismissal of the teacher, a paraprofessional in the classroom, and another teacher.
The abuse should be shocking. How could something like this happen in 2016? Alas, I've spent the last few years researching and writing about the abuse of disabled children in school, and I'm sad to report that this kind of incident is pretty typical.
Despite decades of improvement in our special education practices, and the hard work of tens of thousands of fantastic teachers, the data is clear. Children with disabilities – especially those who are black or brown – remain terribly at risk for violence in schools.
While I've never heard of a child being hung by his belt from a blackboard, there are stories of children being handcuffed, locked in closets, knocked to the ground or taunted by the very professionals who are tasked with educating them. It happens because too many teachers value absolute compliance over tolerance for neurodiversity and atypical behaviors, and feel empowered to use coercive measures to enforce this cult of compliance.
Widespread abuses
Some problems are systemic. Last year, major exposes revealed terrible abuses in schools in Massachusetts, Florida and California. Children were locked in closets, choked, put into prone restraints for minor behavior issues, sent to jail and even killed.
More recently, teachers, guards and other staff at the Tobinworld schools in California have been accused of regularly using violence to control children's behavior. As I wrote for CNN, too many children are ruthlessly handcuffed for behavioral – not criminal – infractions. While it's law enforcement that does handcuffing, it's teachers who call school resource officers into classrooms to control atypical behavior.
When individual cases pop up, such as the one in Conyers, I always wonder how many hidden abuses are escaping notice. In March, a teacher in Tifton, Georgia, (a few hours south of Conyers) was fired after video showed her knocking a 4-year-old boy to the ground.
What's striking is how casually the teacher, seeking to push him into the special education classroom, just knocks this tiny child to the ground and doesn't even stop talking to her colleague as he lies on the floor. When he gets back up, she keeps pushing him into the classroom. How many times had she pushed kids around before she happened to be caught on camera? How many other teachers just ignored it because it didn't seem wrong to use force to move disabled children around?
Children with disabilities, especially those multiply marginalized by race, class, gender, sexual orientation, religion or other categories of difference, are vulnerable – not to predators, but to authority figures who feel it's their duty to force compliance. Because these children often do not communicate through typical speech, they often lack the ability to call for help. Moreover, even when heard, without video or audio evidence or at least testimony from abled authority figures such as the principal in Conyers, accounts of abuse from disabled children are easily ignored.
Secret recordings?
No wonder some parents have chosen to make secret recordings. In Ardmore City, Oklahoma, a school district is trying to get a court to throw out recordings that, according to a complaint, prove illegal and routine seclusion, while capturing teachers and staff making fun of a child's disability. Over the last year, I've had other parents send me recordings or ask me about the legalities of trying to get evidence of suspected abuse. (I've told them to talk to a lawyer.)
In the meantime, the Texas Legislature recently passed a law mandating cameras in all special education classrooms. Given the widespread abuse, such policies seem to make sense, but even here there are issues. First, it's expensive – almost $3,000 per classroom, totaling millions of dollars overall. Given that Texas ranks in the bottom third of spending per student, that's going to be difficult.
Beyond cost, experts are worried about the cameras. Susan Henderson, executive director of the Disability Rights Education & Defense Fund, agrees. She told me over email, "While classroom cameras are intended to deter or record abuse by adults, I can imagine children's behaviors being used to move them to more restrictive classrooms or schools, or worse jail." She's said she's worried that schools will use video to increase punishment.
Julia Bascom, deputy executive director of the Autistic Self Advocacy Network, told me, "Video cameras in special ed classrooms aren't a real solution. Special ed classrooms have a lot of problems – lack of safety is just one more reason kids shouldn't be in them. We should be pushing for inclusion, not surveillance."
There's no simple fix, technological or other, to the widespread abuse. We need to train teachers in positive behavioral interventions instead of coercive practices. We need to hold abusers accountable when they rely on coercion to force compliance. Those are the first steps.
Bigger picture?
But there's also a bigger picture. The incident in Conyers demands we confront the ableism that permeates American society.
One might think it's not necessary to explain that it's bad to hang a child from a blackboard, let alone handcuff them, lock them in closets, send them to jail or press them to the ground for not following the rules. And yet these incidents occur in school districts around the country – red states and blue states, coastal and central, urban and rural. They concentrate in poor and minority districts, but that's only a general tendency.
Ableism is discrimination, whether individual or structural, against those who, in their body and mind, deviate from what we perceive as normal. Ableism leads authority figures to force neurodiverse people to be "normal," a method that of course always fails, so coercion just becomes punishment for perceived abnormality.
Ableism also teaches us to ignore the voices of disabled people, even when they can testify to their own abuse. I'm struck that this boy in Georgia was able to tell the Division of Family and Children Services investigator that he had been hung from the blackboard before, once someone thought to ask.
So let's make sure we ask, whether through speech, communication devices, signs, writing, pictures or any other means. Once we learn to ask, once we learn to presume that all children are competent to communicate on their own behalf, once we learn to believe victims, these tyrannical authority figures will no longer be able to abuse disabled children with impunity.
Join us on Facebook.com/CNNOpinion.
Read CNNOpinion's Flipboard magazine. 
David M. Perry is an associate professor of history at Dominican University in Illinois. He writes regularly at his blog: How Did We Get Into This Mess? Follow him on Twitter. The opinions expressed in this commentary are his.