Story highlights
Hidden artwork discovered on '"Blackstar" cover
Album is David Bowie's final, clue-filled nod to his fans
(CNN) —
David Bowie fans have a new treat after a fan discovered a hidden side to the "Blackstar" vinyl album.
When the gatefold is opened with the vinyl removed, and a strong light shone onto it from behind, the front of the album is illuminated by a field of stars.
READ: Back then, and now – just who is David Bowie?
One user of the image-sharing site Imgur discovered this by accident when he left the album exposed to the sunlight.
The discovery was praised by Bowie's son, Duncan Jones, in a tweet:
Mystery album
Jonathan Barnbrook, the album's designer, has previously talked about the meanings behind the "Blackstar" design, especially mortality.
"The idea of mortality is in there, and of course the idea of a black hole sucking in everything, the Big Bang, the start of the universe, if there is an end of the universe," he told Dezeen. "These are things that relate to mortality.
"It's subsided a bit now, but a lot of people said it was a bulls**t cover when it came out, that it took five minutes to design. That's also what they say about 'Next Day' [another Bowie-Barnbrook collaboration]. But I think there is a misunderstanding about the simplicity, about how it actually takes a long time to get there and that simplicity can be a little more eternal in its meaning."
Barnbrook had a longstanding collaboration with Bowie, working with him on the design of four other albums: "Heathen" (2002), "Reality" (2003), "The Next Day" (2013) and the career retrospective "Nothing Has Changed" (2014). He could not be reached for comment.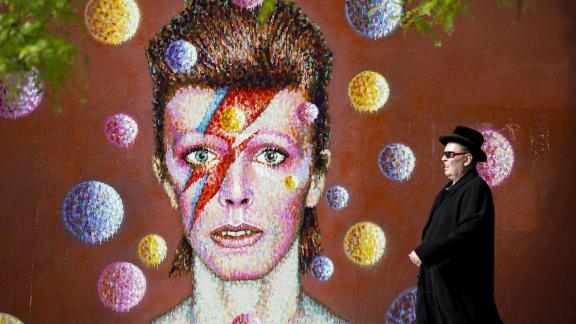 Photos: David Bowie's ever-changing look
Photos: David Bowie's ever-changing look
Photos: David Bowie's ever-changing look