Story highlights
81-year-old Paul Gatling was cleared of murder charges on Monday, more than 50 years after being sentenced
His was the 20th exoneration won by Brooklyn District Attorney Ken Thompson since 2014
Exonerations are on the rise nationally with Thompson's Conviction Review Unit heralded as a model
(CNN) —
Paul Gatling leaned on his cane and looked Brooklyn's chief prosecutor right in the eye. The prosecutor, grasping Gatling's arm and speaking softly, offered him an apology.
"I want to apologize to you for what happened to you. I'm sorry," Ken Thompson, the district attorney for Kings County, New York, told the 81-year-old man.
Gatling bowed his head and held back tears. He accepted the apology he'd awaited for more than 50 years.
In 1963, the same office had called Gatling a murderer. He had shot and killed Lawrence Rothbort, a 43-year-old artist, in his home in the Crown Heights neighborhood of Brooklyn, the prosecutors argued.
Despite telling detectives that he was with his wife at the time of the killing, Gatling was charged after an interview with police where he had no lawyer present.
A witness had told investigators he saw Gatling near the scene of the crime shortly afterward, and the wife of the victim had named him the killer after watching him give a police interview. However, she'd refused to pick Gatling, a 6-foot-1 African American man, out of a lineup a few days earlier, even after being directed to focus on the "tall one," legal documents say.
Facing a possible death sentence at trial, Gatling took a plea deal at the behest of his attorneys and family. He was sentenced to 30 years to life in prison.
But Gatling never stopped claiming his innocence.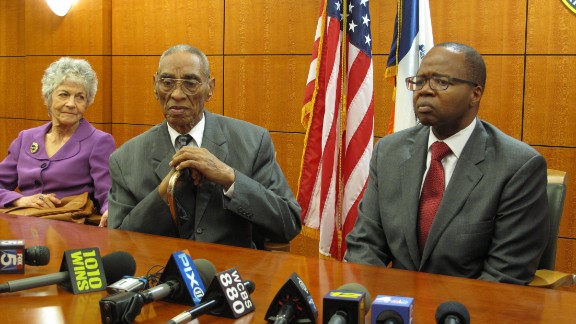 Working with the Legal Aid Society, his sentence was commuted in 1973 by then-New York Gov. Nelson Rockefeller. Gatling was free from prison, but not from the burden of conviction or felony status in the eyes of the law.
On Monday, Gatling, who now lives in Virginia, won his innocence. Before a courtroom crowded with well-wishers, Brooklyn Supreme Court Judge Dineen Riviezzo declared Gatling's record clear, exonerating him.
"I was walking around like under a cloud. Today that's over," Gatling told reporters after the hearing.
"I need to say thank you, thank you, thank you," he added, looking towards Thompson.
Thompson nodded. Clearing records and freeing the wrongfully convicted is something that brings him great satisfaction.
Gatling is the 20th person to have his record vacated by Thompson's Conviction Review Unit, a specialized division set up within his office to review cases of claimed innocence.
It's a nationally superlative figure – the most exonerations won by a district attorney in such a short period of time and for such weighty crimes.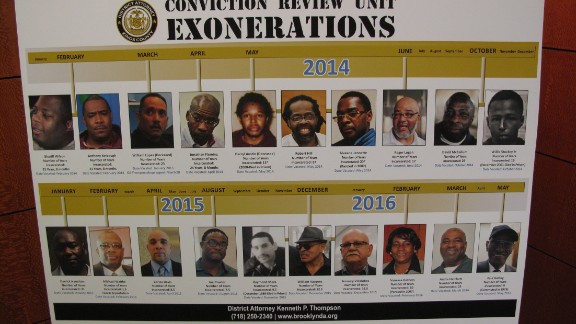 In March, Andre Hatchett walked out of prison after 25 years for a killing he didn't commit. The month before that, Vanessa Gathers was exoneration No. 18 for the unit, cleared of manslaughter charges. No. 14, Joel Fowler, was only 17 years old when he was sent to prison for murder. He was freed in August after more than seven years of wrongful imprisonment. David McCallum, No. 9, was jailed for nearly 30 years before the court recognized his claims of innocence.
Almost 370 years served refuted
Since taking office in 2014, Thompson has disproved the work of his predecessors in convictions for 17 murders, one burglary, one manslaughter case and one charge of gun possession. Close to 370 years served in prison between the 20 exonerees have been refuted by a Brooklyn court of law.
Exonerated former death row inmate challenges Clinton on capital punishment
"As Brooklyn district attorney, my primary duty is to do justice. That means to protect the people of Brooklyn but also to make sure that our criminal justice system is based on fundamental fairness," Thompson told CNN in an interview after Monday's exoneration. "Having innocent people in prison for murders and other crimes that they did not commit is not justice."
Exonerations have been a priority for Thompson since 2013, when he campaigned for the district attorney seat on the issue.
Upon taking over the office, Thompson expanded the review unit from two to nine dedicated assistant district attorneys. One million dollars is now allocated to the unit each year from the office's overall budget.
"There's a real unit up on the 20th floor and they sit there, they come to work every day and they look at these old cases. This is not a criminal review unit in name only. This is a criminal review unit in substance, in spirit, and in the results – and that's because I would not have it any other way," Thompson said.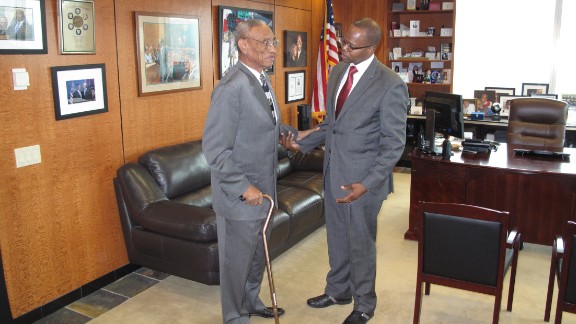 An unlikely partner
About 100 cases are pending review by the unit, Thompson's office said.
Often working alongside the full-time staff on the 20th floor – unique in its size and resources alone – are people not normally welcomed warmly into a DA's office: defense attorneys.
The unit employs a mutual cooperation agreement that allows prosecutors and the defense teams for prisoners whose claims of innocence are being reviewed to share evidence and information in full, while ensuring that material won't be used in separate future cases.
As a result, the successful exonerations from the CRU are often based on a combination of newly uncovered investigatory and prosecutorial infractions. Only a handful of the Brooklyn cases have been bolstered by DNA testing – a driving factor in many exonerations nationally.
For Gatling, CRU lawyers argued he did not receive "the fundamental decency of due process" in his police investigation or prosecution, including the withholding of key evidence from his defense team and a reliance on unreliable witness testimony.
How some states limit compensation in wrongful convictions
The agreement is a central element to an environment that lawyers call "transformative."
"There is definitely a new tone with this unit," said David Crow, director of Pro Bono Litigation for Criminal Appeals at the Legal Aid Society, which has worked with Thompson's office to review more than a dozen claims of wrongful conviction. "They've shown through their actions that they're serious about this and we feel like we'll get a reasonable hearing when we bring cases there."
Added Barry Scheck, co-founder of the Innocence Project: "There's a real cooperation. It is a non-adversarial, post-conviction search for the truth."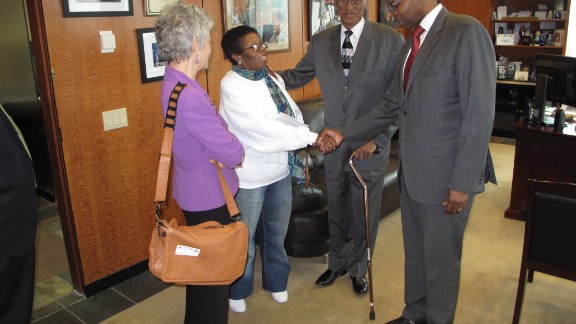 Reflecting a national trend
The Brooklyn model, helmed and molded internally by longtime Assistant District Attorney Mark Hale and former criminal defense attorney and Harvard law professor Ron Sullivan, was front and center at a national summit on wrongful conviction best practices put on by Thompson's office in October.
In fact, as Brooklyn and Thompson make a name for their work, exonerations are also trending upward nationally. 2015 saw 151 men and women cleared of wrongdoing – a record number, according to the National Registry for Exonerations.
Six new conviction integrity units were also opened up in county prosecutors' offices last year, the registry recorded – the largest annual growth ever.
The increase is a reflection of more resources devoted to false convictions work and "more willingness to acknowledge them and act," according to Samuel Gross, a co-founder and editor of the national registry.
To others, it's a growth with roots set right in Brooklyn.
"Ken Thompson himself deserves all the credit in the world because he is passionately committed to this cause and he is getting other district attorneys across the country to take it very seriously," Scheck said.
CNN's Linh Tran contributed to this report.