Story highlights
A homemade bouquet of flowers can make a great impression on Mother's Day
Atlanta-based florist Allison Song describes her step-by-step process
Choose a mixture of larger blooms, filler flowers and greenery
(CNN) —
When you're a kid, gifting your mom a dried macaroni necklace is cute and endearing.
But as the years go by, those handmade Mother's Day gifts are often replaced with waning text messages and last-minute calls.
Making a gift for your mother doesn't have to be difficult. If needlework, oil painting or stone-carving are not your forte, don't fret: An elegant bouquet of flowers is easy to arrange and makes a great impression.
In the gallery above, Atlanta-based florist Allison Song shows a step-by-step process for making a floral arrangement.
First, Song stops by a local farmer's market to purchase her flowers, which often include roses, chrysanthemums, zinnias, lavender, dahlias and tulips.
"I usually go for a variety, so a mixture of larger blooms mixed with filler flowers – and of course greenery to create more texture," she said.
Lyric Lewin/CNN
Her style is very organic, and she's not drawn to a perfectly round shape.
"These wild and free arrangements are how flowers grow naturally anyway," she said. "I want to stay true to their upbringings, so I try to keep (the bouquet) as wild and flowing as possible."
If you purchase the flowers on Friday and need to store them before Mother's Day on Sunday, Song suggests cutting the stems diagonally and keeping them in a large vase or bucket of water. This will keep the flowers fresh, and the bouquets will be good for five days to a week.
If you want to keep some of your bouquet after that, select flowers that will dry well, such as lavender or a dahlia. Tie the stems with twine and hang them off the back of a chair or a nail on the wall.
"I feel like flowers are a language in and of themselves," Song said. "It's a universal language of beauty. And so when I create something with flowers, I feel like the person who receives them feels joy."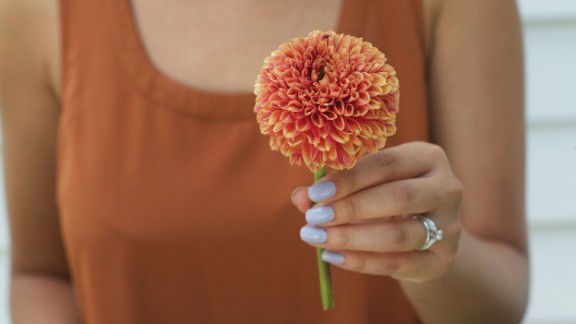 Lyric Lewin/CNN