Story highlights
Malaysia deports 32 Taiwanese citizens to mainland China
Move angers Taiwan, which objected last month to similar moves by Kenya
China says it needs to interrogate the suspects who are accused of telecoms fraud
Taiwan has filed a formal objection with the Malaysian government over its deportation of 32 Taiwanese nationals to China.
Images published on Chinese state media Saturday show hooded suspects being escorted by police from a plane after landing in Guangzhou, Guangdong Province.
China says they're among 117 suspects arrested in relation to five transnational telecom fraud cases being jointly invested by Chinese and Malaysian authorities.
Beijing accuses them of being part of an elaborate scheme in which fraudsters posed as law enforcement officials to extort money from residents in mainland China.
Twenty other Taiwanese citizens allegedly involved in the scam were deported from Malaysia to Taiwan on April 15. According to Chinese state news agency Xinhua, China requested the other 32 be returned to the mainland because all the victims of the alleged scam were mainland residents.
The remaining 65 suspects are from mainland China.
On Saturday, Taiwan said it had accepted an invitation by Chinese authorities to join the investigation, and a delegation would be dispatched next week.
OPINION: Can Taiwan assert itself on world stage?
Not the first time
China infuriated Taiwan earlier in April by deporting 45 Taiwanese citizens from Kenya to mainland China. At the time, Taiwan's Ministry of Foreign Affairs denounced the incident as an "extrajudicial abduction."
RELATED: 45 Taiwanese suspects 'confess' to fraud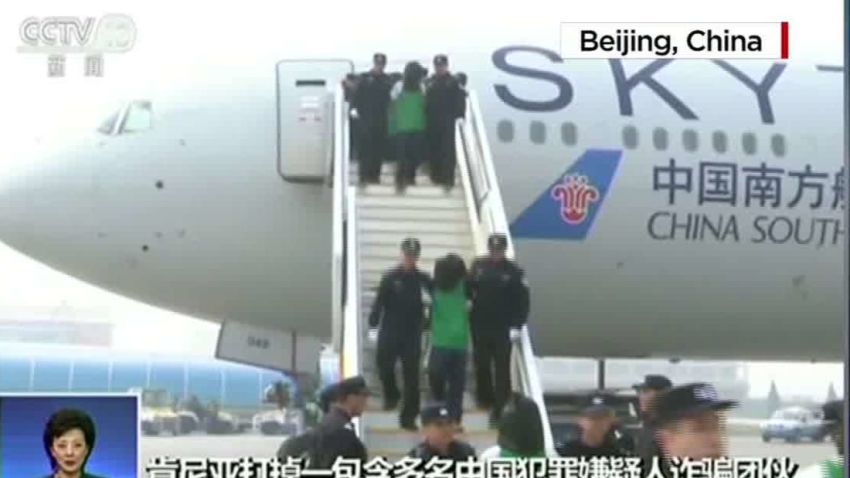 Taiwan accuses China of 'extrajudicial abduction'
However, China's Ministry of Foreign Affairs spokesman commended Kenya for implementing the "one China policy." The policy allows mainland China and Taiwan claim sovereignty over each territory – but crucially neither recognizes the other's legitimacy.
"The one China policy is an important precondition for bilateral relations with China and other countries," said MOFA spokesman Lu Kang.
Kenya does not recognize Taiwan – officially the Republic of China – nor does it maintain diplomatic relations with the island.
RELATED: Fraud suspects 'apologize' amid deportation row
'Pressure from Beijing'
Malaysia sent Taiwan's citizens to China after "pressure from Beijing," despite its efforts to negotiate a positive outcome with China, according to a statement from Taiwan's cabinet spokesperson Sun Li-chyun.
Chinese state media defended the tactic, saying Beijing had territorial jurisdiction over the cases because the "results" of the fraud happened on the mainland.
"It is in accordance with the international and mainland law that Malaysia deported the suspects to the mainland. The move is unchallengeable in terms of law," said Li Juqian, deputy head of the International Law School under China University of Political Science and Law (CUPL), as quoted by Xinhua.
The suspects are being held in a detention center in southern city of Zhuhai, where they are being interrogated about their alleged involvement in the scam, Xinhua added.