Story highlights
Donald Trump and Hillary Clinton have been sparring over the idea of a "Woman Card."
What would it mean to actually have one?
(CNN) —
Donald Trump and Hillary Clinton have recently introduced us to a nifty new rewards system: The Woman Card.
Trump has said the only thing Clinton has going for her is the woman's card. Clinton has fired back, saying she is proud of it.
We're not going to get into the politics of it (we have an entire section for that). We're more interested in what this fancy, exciting "Woman Card" would entitle you to. (Collect all five of them!)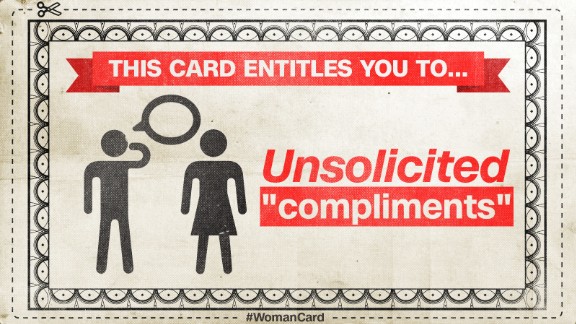 alberto mier/ted witus/cnn
Want to walk to work without having to hear a random person's opinion on your butt? That's too bad. With a Woman Card in hand, the expectation of street harassment is a standard feature. It's not just a minor annoyance, either – street harassment can make women feel legitimately unsafe.
alberto mier/ted witus/cnn
Unfortunately, carrying a Woman Card makes it tougher to make money. Not only is there a significant gap between what women and men make related to career choice, tenure, and hours worked, there's also one for moms and women of color. Statistically, moms make less than women without any children, and black and Latina women make less than white women. Does that count as an upgraded Woman Card or…?
alberto mier/ted witus/cnn
You don't need a study to back this up. Whether they admit it or not, every woman has ducked into a men's room to escape a lengthy bathroom line at some point. Whatever the reason, the result is a frantic potty dance while the men's restroom remains tantalizingly vacant. No need to swipe your Woman Card there.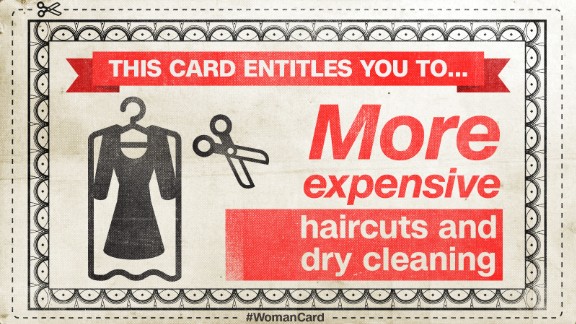 alberto mier/ted witus/cnn
Unfortunately, the Woman Card comes with some fees. The pink tax is real, and while there are sometimes obvious solutions (pink razors work no better than other ones!), things get hairier when it comes to, well, hair and clothing. That 99-cents-a-shirt deal often only works for the men – dry cleaners have argued that ladies' garments are fancier and more variable, which requires more time (and $$$) to deal with.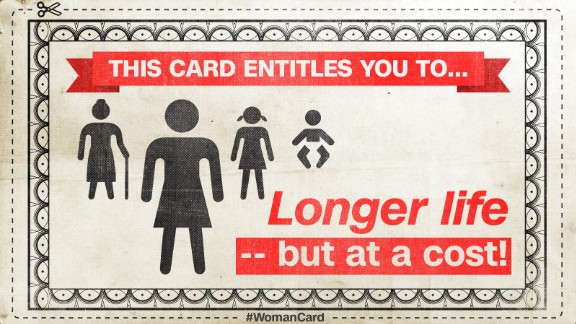 alberto mier/ted witus/cnn
Women typically live longer. Yay! But women also deal with more late-in-life disabilities, and wouldn't you know it, living is expensive! Women have more lifetime healthcare costs, and a good portion of it is due to their longer life spans. Unfortunately, you can't just turn in your Woman Card – in most cases, you're stuck with it for (your very long) life.
Being a woman can pretty rad, though, and there are some legit extras to the whole Woman Card deal. After all, a woman gets to…
Cry at a movie without attracting attention
Being labeled as "more emotional" has its perks!
Wear skirts and dresses without being questioned!
The freedom, the breeze! Dudes, you are really missing out.
First dibs on the life boat!
This is still a thing, right?
Join us on Facebook.com/CNNOpinion.
Read CNNOpinion's Flipboard magazine.