Story highlights
100 days until Rio's opening ceremony
Olympics host faces a host of problems
Brazil's leader faces impeachment
Zika virus scare continues
If Olympic opening ceremonies should capture the atmosphere in a host nation, then Rio 2016's curtain-raiser should be interesting.
With 100 days until the Games begin, Brazil is unraveling fast – largely overshadowing the impending arrival of sport's greatest showpiece.
Who needs the staple pre-Olympic media diet of venue delays and security fears when you have a leader facing impeachment, a gigantic corruption scandal and a global public health emergency?
As the clock ticks, it is impossible to know who will occupy the seat reserved for the Brazilian president at the August 5 opening ceremony.
The incumbent, Dilma Rousseff, is alleged to have manipulated her government's economic figures prior to 2014's election. She says the consequent impeachment proceedings against her are a "coup" she will fight to the last.
Read: Why Brazil's crisis could get worse
Leading her opponents is Eduardo Cunha, speaker of Brazil's lower house. He says Rousseff has brought "economic chaos" on Brazil, but is facing his own series of proceedings related to corruption and money-laundering allegations.
Hundreds of thousands of protesters on both sides routinely take to Brazil's streets. Forgive them if they haven't yet bought badminton tickets.
"If it was a normal situation, the excitement would be starting to grow somewhere around May or June," says Regys Silva, one of the few Brazilians for whom the Olympics remain a daily priority.
Read: Olympic torch begins journey to Rio
A lawyer in the northeastern city of Fortaleza, he and a group of friends run a daily Portuguese-language Olympics website named Surto Olimpico.
"But it's Brazil," he continues. "The country always has a crisis. And now the Olympics have to compete with this crisis."
Crises
Crisis, singular, may understate matters.
Behind the presidential drama simmers a countrywide corruption scandal featuring partly state-owned oil giant Petrobras. Since late last year, investigators have explored ties between that scandal and Olympic infrastructure projects.
Meanwhile, Brazil is in its worst recession since the 1930s by some measures. Government data released at the start of April showed industrial output down by 9% year-on-year. The World Bank says the shrinking of Brazil's economy by 3.8% last year represents its worst performance since 1981.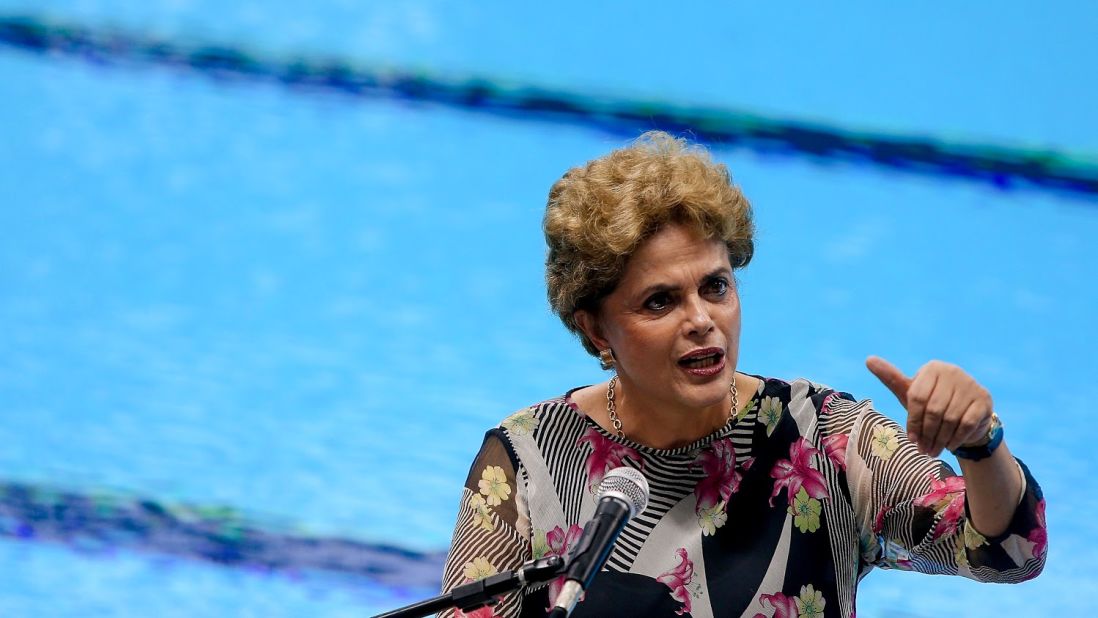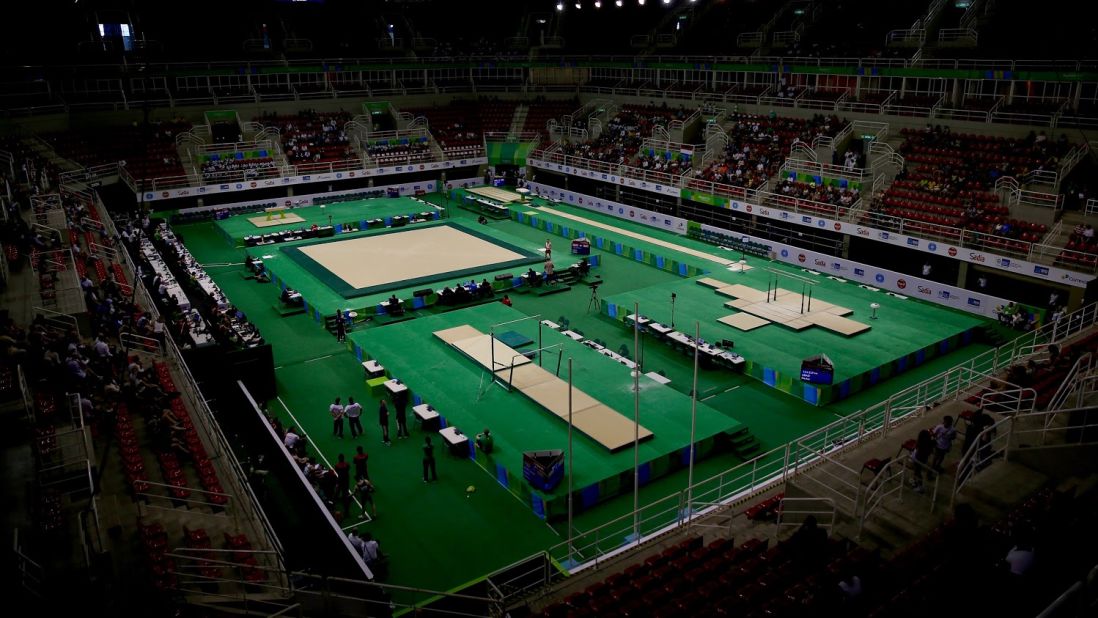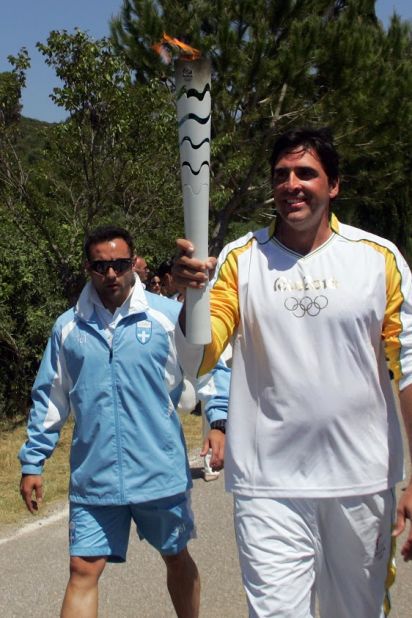 Rio 2016 Olympics: Around the venues with 100 days to go
Read: Are the Rio Games in danger?
On the undercard, traditional Olympic host-nation worries persist. Will the venues be ready? Will everything work?
An extension of Rio de Janeiro's Metro Linha 4, a subway line intended to connect the largest of four Olympic venue clusters with the rest of the host city, remains incomplete. Officials say it will open in July – travel on the extension during the Games may be restricted to accredited personnel and ticket-holders prepared to pay.
Completion of the subway link has long been in mild jeopardy. Should it fail to materialize, travel during the Olympics may become daunting. In a cost-cutting drive, organizers slashed the number of Games-time transportation vehicles from 5,000 to 4,000 (losing 20,000 of the initial 70,000 volunteers in the process – fewer ways to get there, fewer people to give you directions).
An International Olympic Committee (IOC) team says the venues are "98% complete" but test events in gymnastics and swimming have been hit by power outages and a number of other minor gripes.
The issue of water quality in Rio's Guanabara Bay, home to sailing events and polluted by raw sewage, has been without a clear solution – so to speak – for so long that athletes accept they must come armed with precautions against illness.
"What we see now is that 60% of the surface is clean," IOC president Thomas Bach said last week, trying to look at the bay and find a bright side. "Without the Games it would be zero."
More seriously still, a newly-built elevated bike path, one of the mayor's projects aimed transforming the city ahead of the Games, partly collapsed last week, killing two people – on the same day as performers lit the Olympic torch in Greece.
Security, arguably the pre-Games headline at the past two Olympics in Sochi and London, remains a concern – as it was ahead of Brazil's staging of soccer's 2014 World Cup – but it is one among many.
Organizers say 85,000 soldiers and police will be on duty during the Rio Games, as compared to 17,000 military personnel in a security staff of around 40,000 at London 2012. However, there have been wider cuts to Brazilian security budgets over the past year.
Zika
Moreover, some 220,000 members of the Brazilian military were deployed around the time of Rio's carnival engaged in an entirely different battle: The fight against Zika virus.
The World Health Organization declared Zika a global public health emergency three months ago. The virus has been shown to cause microcephaly in babies and is linked to some cases of muscle-weakening disease Guillain-Barré syndrome in adults.
Read: Why men need to worry about Zika
A smaller number of soldiers have spent most of 2016 going door-to-door across the country, helping residents learn more about the virus one Brazilian doctor likened to a "horror movie" script — a mosquito-borne disease affecting babies that can also be sexually transmitted, with no cure or vaccine.
Organizers say holding the Olympics in August, which is Brazil's winter, means mosquitoes will be present in their lowest numbers of the year. A mass fumigation campaign is underway. Athletes at the Games will have free air conditioning (no need to open any windows) and mosquito nets at their disposal.
It would be understandable if Zika led some would-be Olympics visitors to stay away – Fiji's veteran golfer Vijay Singh is reportedly one of them. But so far, Rio 2016's ticketing department says it's Brazilians denting their sales figures.
The beautiful game
By mid-April, around 60% of Olympic and 22% of Paralympic tickets for Rio had been sold. Organizers were waiting to see if April's draw for the football tournament, by far the biggest attraction in Brazil, might have a positive impact on those numbers. Ticket prices range from roughly $11 to $1,300 depending on the sport, the session and the quality of your seat.
Easily the most satisfying result for Brazilians come August would be gold in men's football. This is the only major title the five-time world champion has yet to win, finishing second three times – including at London 2012.
Last week, hopes were buoyed by confirmation that Barcelona superstar Neymar will take part.
Mixed fortunes
By contrast, that was also the week in which Beijing 2008 swimming champion Cesar Cielo failed to qualify for his home Olympics. The absence of Cielo, one of Brazil's few genuine Olympic megastars outside football, will be felt by fans and possibly in ticket sales.
"I'm not surprised," says Silva, whose website covered Cielo's demise day by day. "Cielo wasn't swimming very well recently. But it's sad, because he was the first Brazilian gold medalist in swimming.
"Brazilians have a complicated relationship with the Olympic sports: Football is the religion here and the other sports sometimes only appear on TV every four years. After the Games, they almost disappear.
"But Cielo has a big reputation and he was favorite to be the flag bearer at the opening ceremony. He's out, now, so the race is open for who will take the flag."
Usain Bolt is, of course, the leading international draw. Questioned relentlessly about Rio since the moment he left London four years ago, the Jamaican – twice Olympic champion over 100 meters, 200m and in the 4x100m relay – has maintained the same line throughout.
"The threepeat is my main goal," Bolt, who will turn 30 on the day of Rio's closing ceremony, reiterated to Reuters last week. The sprinter also wants to break, for the first time, the 19-second barrier over 200m.
Brazilians will tune in for track and field, for swimming (where all-time medal record-holder Michael Phelps will once more appear) and for gymnastics (again led by an American in three-time all-around world champion Simone Biles).
Elsewhere, Silva will be interested to see how less-familiar sports fare. He believes sports like track cycling, badminton and rugby sevens may struggle to capture the hosts' imagination.
Silva, one of Brazil's most fervent Olympics aficionados, has tickets to basketball, boxing, field hockey, handball, rugby sevens, table tennis and wresting – but is on the lookout for more.
"I want to go to the golf," he says. "I'm very curious."
Golf fans may find still curiouser company at the course. Recently, local reports suggested golf will make its Olympic return (it last appeared in 1904) at a venue popular with capybaras and alligator-like caiman.
Biologists will be present to scoop away any who venture too close to the world's golfing stars, although in some cases the capybaras will need an aircraft – as critics predicted, not all pro golfers think Rio is worth the hassle.
Australia's world No. 7 Adam Scott joined former No. 1 Singh in withdrawing, saying he was "extremely busy."
Read: Adam Scott opts out of Olympics
Another major champion, South Africa's world No. 12 Louis Oosthuizen, said "family and schedule issues" would keep him away.
Beyond individual choices about travel to Rio, one sport might decide the fate of an entire nation.
Russia, consumed by a series of doping scandals over the past 12 months, is barred from all international competition by the governing body of world athletics. A decision on whether that ban will be lifted for Rio is expected in mid-June.
Russia's sports minister Vitaly Mutko says his country has "done everything" to change its ways and "our athletes have a moral right to be in Rio."
Read: 2016 Rio de Janeiro Summer Olympics Fast Facts
Hope springs eternal
Amid these many issues, hope remains for a successful Olympics.
"It's going to be a different Games, but it will work," is how IOC inspector Pat Hickey phrased it this month. President Bach insists he is "very confident that it will be an excellent Games."
Silva sounds similarly optimistic, with a touch of local knowing.
"It'll work, it'll happen and it'll be cool," he says. "But now it's not the center of attention, the excitement is not that big. It'll take a little longer – maybe a month to go.
"We have our Brazilian way of making things work. It won't be perfect. We expect that, and we have done since the beginning.
"We know it won't be the best Games ever. But we hope it'll be a nice Games and people will enjoy it."
Will Rio be ready? Have your say on CNN Sport's Facebook page
Will Brazil fill the Olympic stands?