Story highlights
Coast Guard tows the bubble contraption that man was using to get to Bermuda
It's the second time Coast Guard has retrieved Reza Baluchi
Coast Guard had warned him not to attempt the second journey
An ultra-marathoner's attempt to "run" from Florida to Bermuda in an inflatable bubble was cut short when the Coast Guard towed him back to land – for the second time.
The organization wasn't happy about it, as it posted a series of critical tweets stating that the aspiring bubble runner, Reza Baluchi, had flouted its safety orders. Baluchi voluntarily ended his voyage, according to the Coast Guard on Twitter.
Baluchi had intended to be at sea for five months, raising "money for children in need and to inspire those that have lost hope for a better future," according to his website.
Earlier this month, the Coast Guard had ordered Baluchi not to depart "because your vessels and the conditions under which you are attempting to complete your voyage to Bermuda is unsafe," in a letter.
Baluchi wrote on his website Wednesday that he had secured a support boat to lead him into international waters and that he intended to depart from Pompano Beach, Florida, on Friday. It's unclear when he departed.
Coast Guard is ticked
By Sunday, the Coast Guard plucked him from his "HydroPod" and tweeted that Baluchi's voyage had ended "after he violated a USCG order not to embark."
In 2014, the Coast Guard rescued him after receiving a report about a disoriented man in a bubble off the coast of Miami, who was asking for directions to Bermuda.
Baluchi initially refused to quit his journey, but asked for help three days later. A HC-130 airplane and MH-60 helicopter, along with the vessel Maersk Montana, were sent to rescue him about 70 nautical miles east of St. Augustine. His 2014 rescue cost $144,000, according to CNN affiliate, WPLG.
The Coast Guard was quick to note that the taxpayers bear the expense of his rescues.
Ambitious plans inside the pod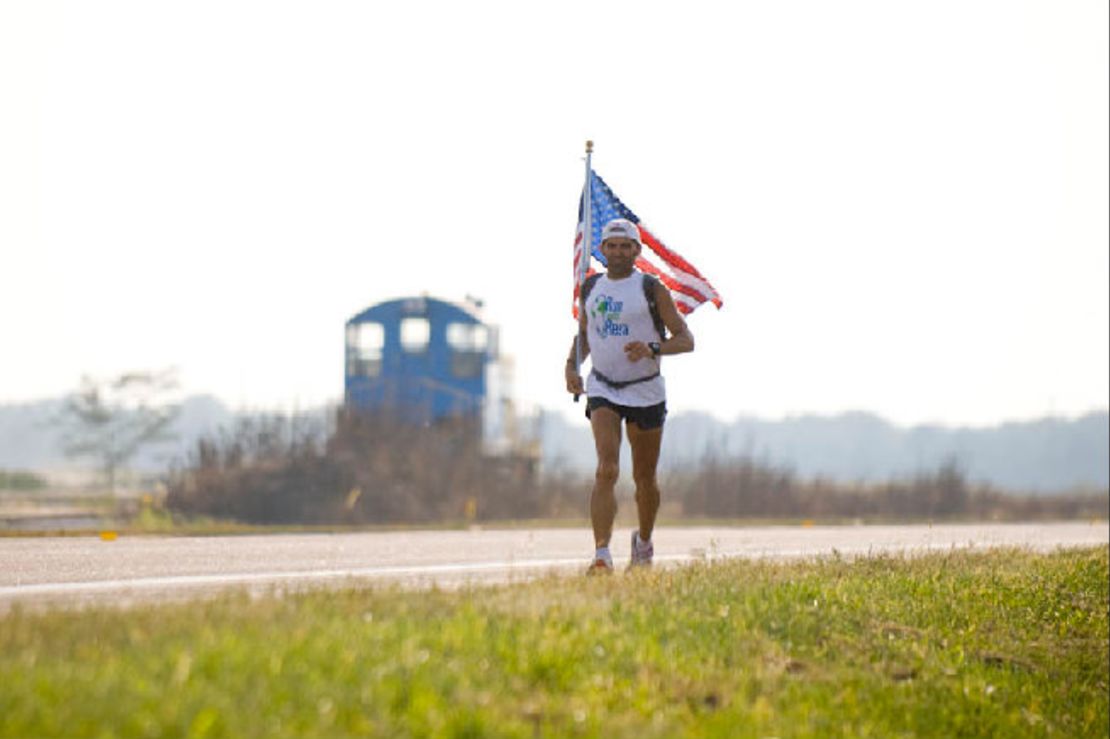 On his website, Baluchi had noted the temperature inside the hydro pod bubble can get to 120 degrees. The pod moves along as Baluchi runs – much like a hamster wheel.
"Being inside the Hydro Pod is not going to be a walk in the park, it will be very hot and humid. One can easily dehydrate quickly and lose breath," he wrote.
His strategy was to catch fish, eat protein bars and sleep on a hammock inside the pod. Baluchi had planned to travel 1,033 miles from Pompano Beach to Bermuda, then to Puerto Rico, Haiti and Cuba before heading back to Florida.
CNN ran a story about him in 2012. Baluchi had told CNN that he fled Iran to escape persecution and became an American citizen. Baluchi said he had run across the United States twice and around its perimeter once.
CNN's Ralph Ellis contributed to this report.