Editor's Note:
Story highlights
Harry Swimmer turned his farm into a horse camp for special needs children
Swimmer was set to retire when he met a girl with cerebral palsy who inspired him
Swimmer was honored as a 2016 Top 10 CNN Hero | Tribute Show video
Weddington, North Carolina
CNN
—
An encounter in Harry Swimmer's local grocery store parking lot changed his life more than 20 years ago.
He met a girl in a wheelchair named Stacy. She was deaf and nonverbal. Swimmer learned she had cerebral palsy.
It gave him an idea.
"I wondered what might happen if I put her on a horse," said Swimmer, who owns a farm near Charlotte, North Carolina.
Stacy and her grandmother visited his farm, where Swimmer helped her ride a pony.
"She just lit up like a candle," said Swimmer. "That's when I knew what I wanted to do."
Soon after, Swimmer retired from the insurance industry, and he and his wife turned their lucrative for-profit horse farm into a nonprofit oasis for children with special needs.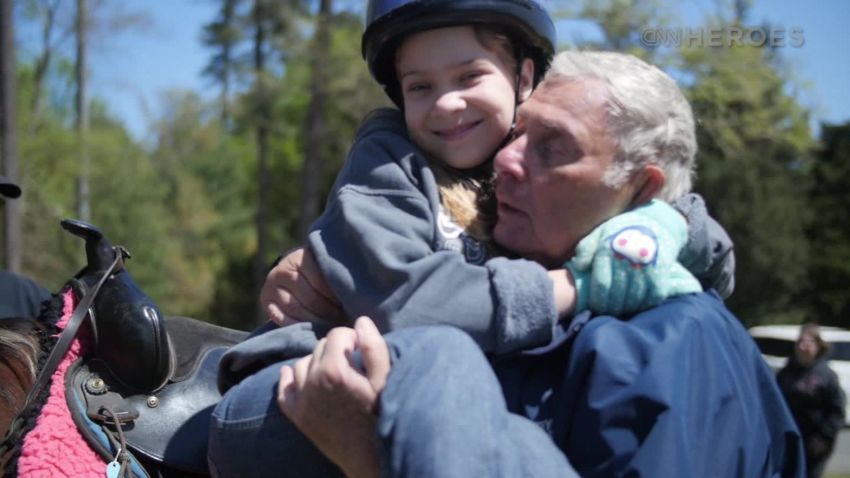 Top 10 CNN Hero Harry Swimmer
Now, at age 87, Swimmer and his organization, Mitey Riders, continue to provide free, certified equine-assisted therapy to young people with a range of disabilities, including muscular dystrophy, Down syndrome and autism.
"Horses are very special animals," said Swimmer. "(They) are attuned to these children."
Since 1994, Swimmer's farmstead has hosted more than 800 children.
CNN's Marissa Calhoun spoke with Swimmer about his work. Below is an edited version of their conversation.
CNN: What kind of success have children in your program had over the years?
Harry Swimmer: These children come to me with all kinds of disabilities. Some come to us as young as 5 years old and grow up out here with us. Mitey Riders is a place where they can come and be themselves, and be with other children just like them. They bond with each other. They bond with their horses. And besides the fun, it is therapy for them.
The gait of a horse moves forward and backwards, side to side and up and down. When a child rides a horse, they're getting feedback from the natural movement of the horse's body, and that strengthens their core. I have had children take their first steps from our program when they weren't able to stand or walk before. I've had children riding with me who became verbal when they were nonverbal. And I've also had children who have left me and gone off to college, graduated and done wonderful things.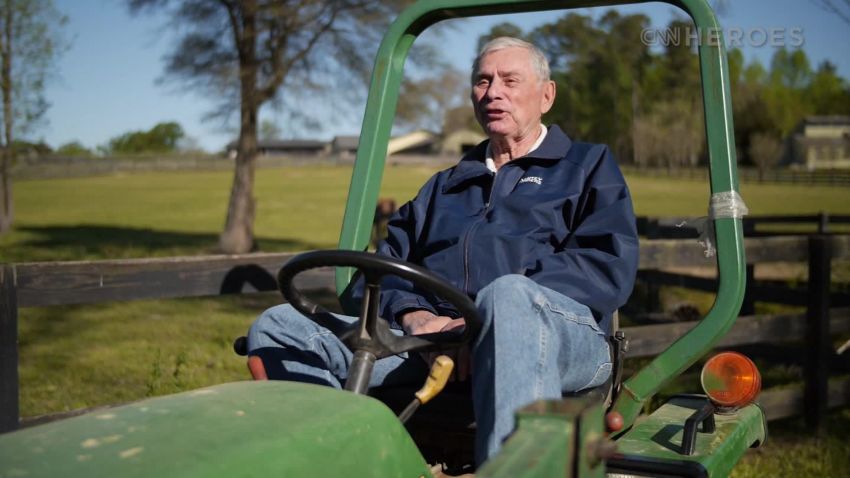 CNN Hero Harry Swimmer: Everyone's wild about Harry
CNN: How did you become involved in therapeutic riding?
Swimmer: Everybody knows somebody who has some type of disability. And I decided I wanted to work with that population. Before this, I was in the insurance business for more than 50 years.
When I was in my 60s and getting ready to retire, meeting Stacy made me realize that I wanted to learn more about equine-assisted therapy. So I went back to school and took a course in therapeutic riding in order to become a certified instructor.
Today, we ride more than 60 kids a week. At my tender age of 86, I'm very fortunate to be able to work with these children, and I hope to be able to do it for many years to come. It may be nice to lay on a beach someplace and not do anything, but it would absolutely kill me. This has become my life, and I don't ever want to do anything else.
CNN: Wow, 86 – that's great! What keeps you young?
Swimmer: I've been extremely lucky to have this program, and I've been doing this now for 22 years. Every day has been a blessing to me. And I also take a good two hours each morning to work out.
I love swimming; its great exercise. But in case you were wondering, being a swimmer has nothing to do with my name (laughs). I suggest that everybody, when they get to be my age, does something to stay healthy.
CNN: You don't charge the families of children in your program. How are you able to keep the farm running and offer this therapy for free?
Swimmer: The farm takes a lot of work. We have about 200 volunteers that come out every week and help us with the program. Some work for an hour; some work for a whole day. They're all re-trained to work in the program every year. We couldn't operate without them.
Parents of children who have special needs have so much on their plates; you wouldn't believe what they go through. Having a child with disabilities is very expensive. As a nonprofit, we've never charged for what we do, and we never will charge for what we do as long as I'm able to run this program.
Want to get involved? Check out the Misty Meadows Mitey Riders website and see how to help.
You can make a donation right now to the Mitey Riders. Just click the CrowdRise widget below!