Story highlights
8 pot shops have opened in Trinidad, Colorado, since recreational marijuana sales began in 2014
Stores near New Mexico border capitalizing on tourists flocking to town
Officials say town has brought in $800,000 in revenue from pot through November 2015
Anthony Mattie walks down Main Street confronted by a shell of the town he once knew.
The retired state patrolman-turned-mayor pro tem stares at vacant building after building, his reflection bouncing off the empty glass storefront windows. The streets are lined with century-old facades, but not much more, except for a few cars slowly passing by.
Still, Mattie maintains a sparkle in his eye and a boyish grin as he shares the plan to bring his town back to life – thanks to marijuana money.
"The abandoned Pepsi plant became a marijuana dispensary. People resurrected these buildings that were about to fall and collapse," he says.
It's in large part thanks to at least $800,000 in marijuana tax revenue.
The green rush is bringing hope back to this once-booming coal mining town in rural southeast Colorado, just 11 miles from the New Mexico border, where generations of Mattie's family have lived. Residents pride themselves on the town's pioneer reputation and Wild West spirit.
"This is the place where Bat Masterson was the marshal. This is where Jesse James' gang did run. This is the place where Doc Holiday was a dentist and owned a brothel. This is the place," says Cy Michaels, a hotel owner and leader of the town's tourism board.
It was also home to one of the first places in the nation for gender reassignment surgery, earning it the unofficial title of "sex change capital of the world" in the early 2000s.
But the doctor left, mines shut down and businesses closed, leaving the town searching for a new identity. So the city turned to marijuana, hoping to fill the economic void.
Compared with 30,000 in its prime, 8,200 residents live here now. But Mattie and others hope weed dispensaries, grow facilities and a high-scale commercial chocolate edibles company can be a shot in the arm.
"I expect that the sale of medical and recreational marijuana in the city of Trinidad is transitional," Mattie says. "That it gets us over this abyss of nothingness."
The town is in many ways an experiment that other cities across America are watching. They're only starting to see the good, the bad and the uncertainty that comes with a small town green-lighting weed.
Rolling in the revenue
The town waded slowly into the controversial legal marijuana industry, waiting and only allowing medical marijuana business first.
"It's like tipping your toe in the water, testing the water," Mattie says. "And we said, 'Alright, this is not the big problem we maybe thought it could be.'"
In November 2014 the first recreational retail pot shop opened in Trinidad. Then, the money started flowing beyond expectations.
The $800,000 in tax revenue from marijuana sales in one year makes up just about 10% of the town's general fund, City Manager Gabe Engeland says. Mattie says they anticipated about $200,000.
And so began the transformation of the town. With the marijuana tax money, the city spent $70,000 on a new fire engine, a pumper truck. Some of the money has allowed the city to expedite replacing old water pipes.
"About 60% of our water pipes were installed between 1890 and 1950," Engeland says. "They're edging towards catastrophic failure."
The city bought several rundown buildings in the heart of town with plans to convert them into live-work lofts and galleries, to attract artists and craftspeople to Trinidad.
It's money that's making a difference for this struggling town and a trend being seen across the state.
Nearly $50 million in marijuana taxes will go toward new school construction projects. Colorado reported nearly $1 billion in legal marijuana sales for 2015, a 40% jump from 2014. Sales, so far, in 2016 are already outpacing last year's record-setting revenues.
Women cash in on the marijuana boom
Toke of the town: The good and bad
At CannaCo, one of eight pot dispensaries in Trinidad, a slow stream of customers rolls into the parking lot on a Monday afternoon, many with out-of-state license plates.
It's the first pot shop drivers encounter as they head north from New Mexico on Interstate 25.
"It's just kind of an ideal spot to capture the tourism coming into the state," General Manager Josh Bleem says, "We get a lot of folks from Texas, New Mexico, Oklahoma and Arizona. Probably 85% of our business is out-of-state coming in."
Bleem says his shop sees between 100 and 300 customers a day.
Michaels, owner of the La Quinta Inn and Suites, says she sees on any night "5 to 10% of rooms that are marijuana driven."
She's seen a jump in people over age 70 coming to Trinidad, in part, because of pot. While her rooms are smoke-free, she allows residents to light up outside. Other hotels have rooms blocked off for cannabis-consuming customers.
"It was so strange being so liberal, and being able to actually do it at the, you now, where we were staying last night," says Oklahoma resident JoAnn Jackson. She's thinking of relocating to Trinidad because she can use legalized marijuana for neck and back pain.
While many tourists are embraced here, not everyone sees the extra people and pot-cash infusion as a good thing.
"I personally can't find a positive," says Carolyn Dillow. She and her husband own a Big-O tires franchise in town.
Dillow points to a man holding a sign near their property and blames pot for an increased number of panhandlers. There is the start of a makeshift campsite near the CannaCo dispensary, she says.
The city manager says more people have needed social services, but he can't say how much is attributed to marijuana business.
"I don't think families who want to raise children are attracted to the community," Dillow says. "I have personally seen and experienced a lot of increase in homeless people and also in crime and violence in this community as a result of the marijuana coming in, or at least that's my feelings."
Trinidad crime statistics from 2014 to 2015 show no significant increase in major crimes. In fact, the number of burglaries decreased. Drug manufacture and possession arrests were slightly up. Marijuana-related crime reports went down. DUI citations were significantly lower, dropping from 59 in 2014 to 29 in 2015.
Colorado State Patrol shows a decrease in total DUI's year-to-year statewide. But the percentage of DUI's specifically involving marijuana increased about 20%. Officials caution it may be too soon to draw conclusions since they never kept track of marijuana-specific stats before the drug was legalized.
Mattie, who worked as a state patrol officer for 28 years, remains conflicted.
"The idea of marijuana as a benefit, it just flew in the face of everything I was ever about," he says. "(But) you can't learn anything with a closed mind."
The economic boost from the pot industry has been undeniable, but city leaders wonder about its sustainability as more states legalize marijuana.
"Trinidad, the sad part of its history is the boom and bust. We create bubbles and when the good times are good, they're great. But then there's long periods of – how do we recover?" Engeland says.
Twenty-four states have legalized medical marijuana. Four states and the District of Columbia have approved recreational use and sale of the still federally illicit drug. Several more states could see marijuana legalization measures on the November ballot.
"As surrounding states now embrace the idea of embracing marijuana, the novelty of Colorado selling legal marijuana is going to dissipate," Mattie says. "In a short while, there's not going to be as much money to be made."
Bold chocolate dreams
Mattie's biggest fear is one company's biggest hope.
Tucked inside a 30,000 square foot warehouse is Trinidad's first marijuana edibles manufacturing company. CODA Signature's commercial kitchen smells like a miniature Willy Wonka-esque factory.
A dozen employees carefully craft tray after tray of eye-catching cannabis-infused chocolate truffles. Mark Grindeland, co-founder and CEO, hopes to distribute them nationwide one day.
"I think it's only a matter of time before those states come on," Grindeland says. "The genie is out of the bottle."
CODA's chocolatiers concoct unique flavor combinations, like Juniper Lemon, Passion Fruit Szechuan, Burnt Caramel and Tiramisu — in hopes of bringing something gourmet to the marijuana industry.
CODA's head chocolatier Lauren Gockley moved from New York, where she ran the dessert section at Thomas Keller's famous restaurant Per Se. Grindeland beams with pride noting Gockley was named one of the top chocolatiers in North America in 2011.
"I saw an opportunity to do what I love and saw an opening in an industry that really hadn't seen the type of products that I make," Gockley explains, her eyes welling with tears when talking about her decision.
Gockley and Grindeland believe a huge growth opportunity lies ahead.
"People have asked me, if they used a metaphor like a baseball game, 'What inning are we in?' And I would say we haven't even started the game. We're warming up right now," says Grindeland.
Decriminalizing marijuana on a federal level would open the door to interstate commerce for his company.
Grindeland, an experienced entrepreneur who successfully launched three previous startups, hesitates before answering questions about financial projections.
"Within five years we'll be north of $100 million in revenue," he says.
If that happens, Trinidad also stands to benefit.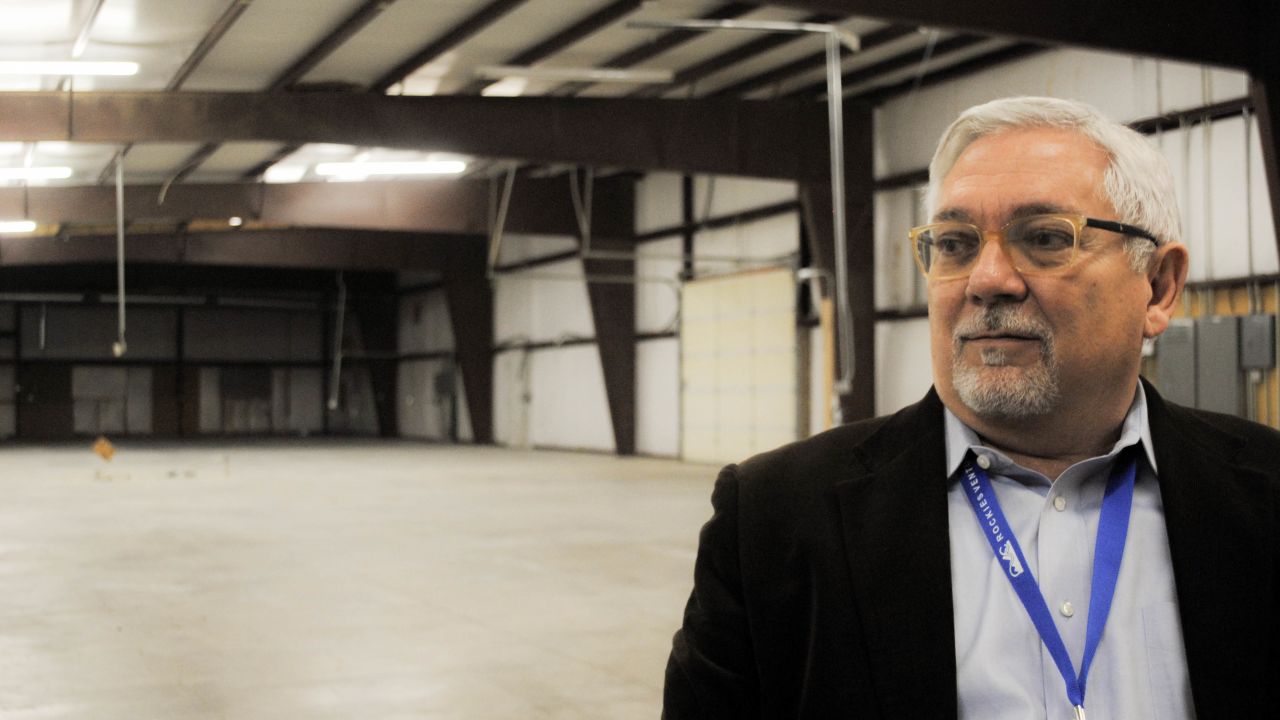 CODA has 13 employees. Grindeland expects to hire nearly 30 more this year when he adds a grow operation and THC oil extraction component to the business.
The thought of more jobs, more tax revenue, and more investment trickling down to the town makes Mattie cautiously optimistic about Trinidad's future. But he stops short of suggesting the marijuana industry is some kind of savior.
"Save is a strong word. Help is a better word," Mattie says. "But whenever I have an opportunity to talk about my hometown, and what I want it to be, and what I remember it to be, and what I'm hoping it will be, I get very energized. I get very enthused."
"And if marijuana is the tool that helps us do that, so be it. But I don't see it to be the big monster that first we feared."
CNN's Jeffrey Acevedo contributed to this report.