Sport
Undersea world of a 'Moscow Merman'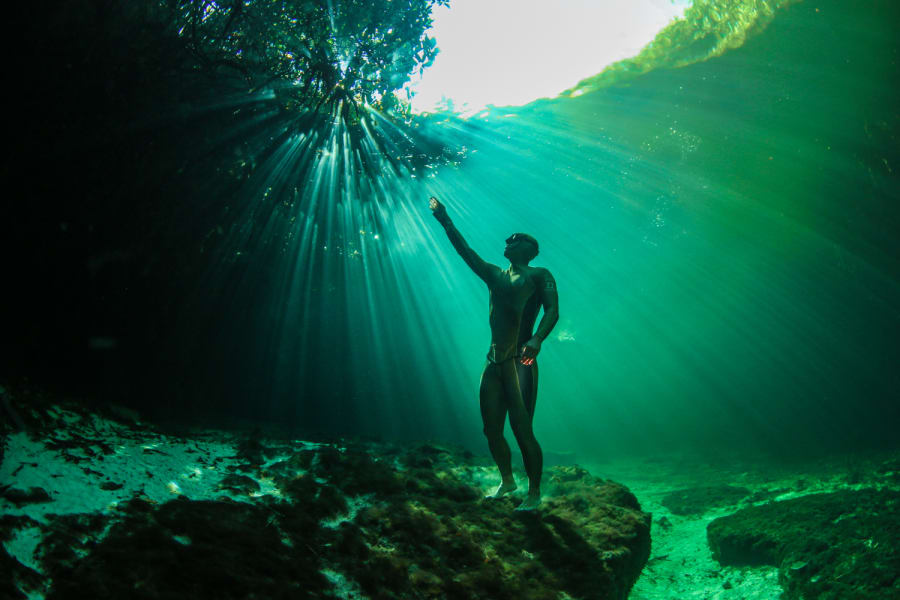 World champion freediver Alexey Molchanov poses without the assistance of breathing equipment, in this ethereal underwater series by photographer Lia Barrett.
Courtesy Lia Barrett
Barrett took the spectacular images off the coast of Mexico, plunging depths of up to 100 feet (30 meters).
"I would wait for Alexey in a specific spot, frame the shot, and then would signal to him at the surface," explained Barrett, who unlike Molchanov, was wearing an oxygen tank.
"After breathing up, he would descend slowly in order to preserve oxygen, and would then stay down with me for about two minutes."
Courtesy Lia Barrett
"I enjoy using off-camera lighting to add another element to images, and I thought it would make Alexey look like a superhero to put them in his hands," said Barrett.
"I do look at freedivers like Alexey as super-humans, and so thought it was fitting. Plus it gave me a point of focus for my lens in some of the darker cenotes, which was really useful."
Courtesy Lia Barrett
"We headed over to the Maya Riviera on the Yucatan Peninsula, which has a porous topography ripe for underwater sinkholes -- called cenotes," explained Barrett.
"Each cenote is different -- some are vertical sinkholes, others are caverns or caves.
"What makes the cenotes interesting is the mix of fresh and saltwater, which can create these haloclines, which, when the water has been undisturbed by other people, you can literally see."
Courtesy Lia Barrett
"In some cenotes there are these 'false bottoms' that are created," continued Barrett.
"So where it looks like there is an underwater island with trees, what is really happening is a cloud of stinky hydrogen sulfide which has gathered, creating an illusion of a misty lake."
Courtesy Lia Barrett
"Getting an image on one breath, without assisted breathing from scuba tanks, depends purely on the skill of the freediver," said Barrett.
"Because Alexey is one of the best in the world, what we are doing is just like a warm up for him. Although we do have to keep an eye on him and have safety divers around in case he blacks out."
Courtesy Lia Barrett
"My friends who freedive while shooting often smirk at the limitations of movement that I have on scuba equipment," she added.
"I can't simply follow him up and down to the surface, as I risk getting 'the bends.'"
Courtesy Lia Barrett
"But the advantage of being on scuba gear is being able to carefully layout my ideas and notice details and nuances of the landscape," said Barrett.
"I can carry two lights on my camera without drag being an issue. Alas, once I'm down there, communication with my team becomes a game of sign language -- and apparently I'm not always so fluent!"
Courtesy Lia Barrett
"My goal is to introduce people who will never get to see the ocean, and who might fear it, to an extraordinary world that we so depend upon for our survival," said Barrett.

Courtesy Lia Barrett
"We think of our impact on the environment as what we can see in our electricity bill and how much smog is in the sky," she continued.
"But underwater...it is important to find an appreciation and respect."
Courtesy Lia Barrett
"My hope is that people will look at the underwater world in a different way. Not through a lens of fear, but with a spirit of wonderment, affection, and humbleness," added Barrett.
"We can change our current course by doing small things like pay attention to our seafood choices, consider pesticide use and agricultural pollution, and even look in our cosmetic cabinets for products with micro plastics that end up in our waters."
Courtesy Lia Barrett
"It might sound hopeful, but I truly believe that the new 'tree huggers' are coming in the form of shark lovers and reef advocates," said Barrett.
"And athletes like Alexey and his late mother have been incredible ambassadors who prove that we are a lot closer to fish than we think."
Courtesy Lia Barrett
L-R: An underwater selfie with Molchanov and Barrett.


Courtesy Lia Barrett