Story highlights
Sen. John McCain said he might skip this year's Republican National Convention
He's spoken at every convention since 1984
Sen. John McCain told reporters on Capitol Hill on Tuesday he might not go to the Republican National Convention this year because it's so close to his primary in August. "I have to campaign for reelection," he said.
This year's convention might also be something of a spectacle if Donald Trump and Ted Cruz are slogging it out for delegates on the convention floor.
This is the latest in a trend of lawmakers who are up for reelection and are considering skipping, including Mark Kirk of Illinois, Kelly Ayotte of New Hampshire and Richard Burr of North Carolina. Some who don't like Trump won't go if he's the nominee, like Rep. Charlie Dent, a moderate from Pennsylvania. CNN's Manu Raju and Deirdre Walsh reported on it last week.
Related: Republican leaders might skip convention
It would be notable if McCain were to skip, if for no other reason than he's had a speaking spot at every convention for more than 30 years.
Here's what he's said in those speeches, including in 2008, when he was the nominee and 2000, after he had lost a bitter primary fight with George W. Bush.
2012, supporting Mitt Romney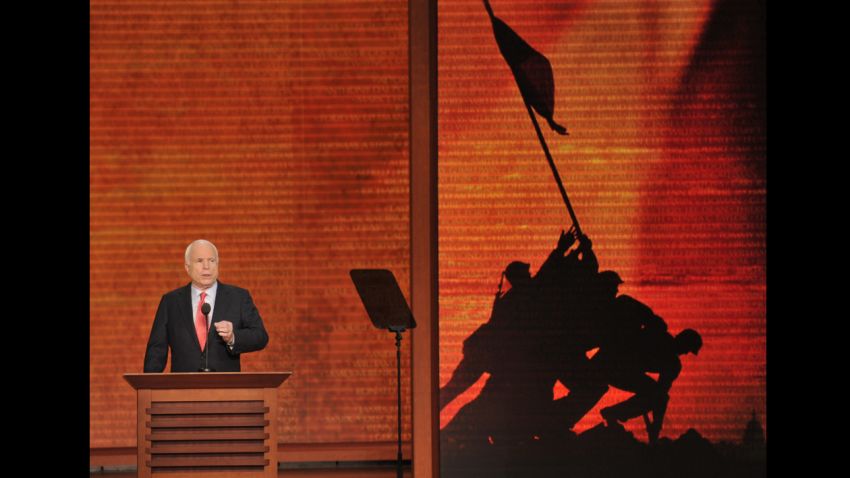 GOP convention targets Obama
2008, when he accepted his party's nomination
2004, as he was preparing for another run
2000, after a primary battle with George W. Bush
1996, in support of fellow Sen. Bob Dole
1992, in support of George H. W. Bush
1988, in support of George H.W. Bush
1984, in support of Ronald Reagan