Story highlights
Michelle Payne is the only female jockey to win Melbourne Cup
Payne has become golden girl of Australian horse racing
30-year-old fighting for gender equality in her sport
It's been a whirlwind five months of autographs, red-carpet premieres and book deals for Michelle Payne, but the Melbourne Cup winner has not lost sight of the bigger picture.
Payne was thrust into the global spotlight after she became the first woman in history to win the $4.2 million "race that stops a nation" on board 100-1 outsider Prince of Penzance back in November.
Getting stopped on the street is now a regular occurrence for the 30-year-old Australian, as is hobnobbing with the stars of film and sport, while this month even saw the release of her own autobiography.
Yet while Payne admits her life "has probably changed in every way really you could imagine," she's not forgotten about the fight against gender inequality which she feels still dominates the world of horse racing.
"It's been a bit of a battle my whole career and a lot of the other female jockeys in our industry have really fought the battle," she told CNN's Winning Post.
"I think that we've proven ourselves against the guys and we just don't seem to get the opportunities that I think we deserve, so hopefully that can continue to change."
Payne has certainly fought that battle in the past, none more so than immediately after her Melbourne Cup triumph.
Fresh from making history at Flemington Racecourse, Payne was soon laying into the "chauvinists" who had doubted her ability as a female jockey, telling them simply to "get stuffed."
Slowly but surely, however, she feels progress is being made on that front.
"It's definitely getting better and I think if we can continue to get the opportunities to prove ourselves then that's the main thing," Payne said. "If you don't get the good rides, you're not going to be able to show that we can match it with the boys, so [I'm] just hoping we can make the most of those."
After her Melbourne Cup outburst hit the headlines, and with her new-found role in the public eye, does Payne feel she's now leading the charge for the next generation of female jockies?
"Yeah I think so, I think it obviously opens their eyes that if you work really hard and you're dedicated, and you do your best and you're lucky enough, then you can obviously mix it with the boys in the bigger races," she said.
"That's what every young jockey wants to do, especially females. So I think it's definitely helped and I hope that the next generation can continue on.
"I'd love to work with the younger girls," Payne added. "We need them to do well to continue on all the hard work we've been doing. And without as much help as they can get, it's tough, so that's something that I'm really looking forward to doing."
Looking forward
Helping to bring the next crop of female jockeys through is just one part of Payne's master plan.
Having been in the jockey business for half of her life, her next steps could see her eventually swap the saddle for a more active role in the stables.
With Racing Victoria introducing a new license allowing jockeys to prepare their own horses in August, Payne has grand designs to try her hand at becoming a trainer.
"This is something I've been thinking about for a while as probably a transition period from being a jockey to a trainer and retiring from jockey life, which has been my life for 15 years," Payne said.
"It would be a great thrill to be able to train a horse and ride it in a race. It would be the ultimate to have done all the work on them, and the dream is to obviously find some good horses and do the best with what I can, knowing that I'm not going to lose the ride because I'll be the trainer."
"Losing a ride" is something Payne touches on a lot, something that, she admits, can be common in the "cutthroat" world of horse racing.
The plan to train up and race on her own horse, she reveals, is partly borne out of the fact that it can be a struggle to secure rides as a jockey.
"I think that's probably what stemmed me to the idea of giving it a go because obviously it's so tough to get on the horses in the first place that have that ability and then to know at any chance you can get taken off is really obviously quite tough," Payne said.
"But I also love the idea of working with the horse, so for me that's something that I'm just so passionate about to give it a go."
Most would assume that becoming the first woman in history to win the Melbourne Cup would come hand-in-hand with increased demand for more rides.
During the past five months, though, Payne simply hasn't had the time.
"You've got to be out there doing your best every week and working really hard [to get a ride]," she said. "And I've sort of been here, there and everywhere around Australia and sort of promoting the industry and doing a lot of different, various things."
Published author
Payne's latest commitments, as part of her increasingly hectic schedule, have seen her out promoting the release of her new autobiography "Life As I Know It."
The book is recognition that Payne has risen to become the golden girl of Australian horse racing, but she hopes her often-painful life story will strike a chord with readers.
Payne, the youngest of 10 children, lost her mother Mary to a car accident when she was just six months old, while older sister Brigid died in 2007 after suffering an aneurysm and heart attack eight months after falling from her horse.
"The book's been a bit of a journey," Payne said. "It's obviously been something that's so different to what I'm used to – speaking about your life and spending a lot of time with the writer was very challenging because it was a short time span that we had to do it in.
"But it was a lot of fun and I'm glad that it's all finished, and I just hope that everybody just enjoys my story and doesn't get too bored in the midst of it.
"It's not just about my story, but the family and going through the tragedy of losing my mum and everything," she added. "So I hope that people will enjoy the read."
Payne's career saddle has been no easy ride, either.
Her Melbourne Cup success was the culmination of a journey that has seen her suffer, amongst others injuries, a fractured skull, 10 fractured vertebrae, broken ribs and a dislocated ankle.
And it's been a journey that Payne's family have often pleaded with her to cut short.
"I guess probably the last fall was the first time I thought about if maybe I should continue on," Payne said.
"It just seemed as though I was pretty unlucky and I didn't want to go through those again, but at the same time I didn't want to be forced out of a job that I love through injury.
"I wanted to make that decision myself and yeah I took the chance that it wouldn't happen again."
Riding high
Take a chance she did and the rest, as they say, is history.
You're now just as likely to spot Payne on a chat show or walking down a red carpet as you are riding a horse.
But whatever has gone on in her life since that momentous afternoon in November, she's always remained grounded.
"I try to generally go about my business just as normal and back to real life, back to normality. I do try to enjoy that [celebrity] side of things, but at the same time try to just get back into my normal routine as much as I can," she said.
"Just walking down the street now people will say, 'Do I know you?' And a lot of time I'll say, 'Oh no I've got one of those faces.' But they usually work it out. It's been pretty crazy but it's been a lot of fun and I've experienced some amazing things."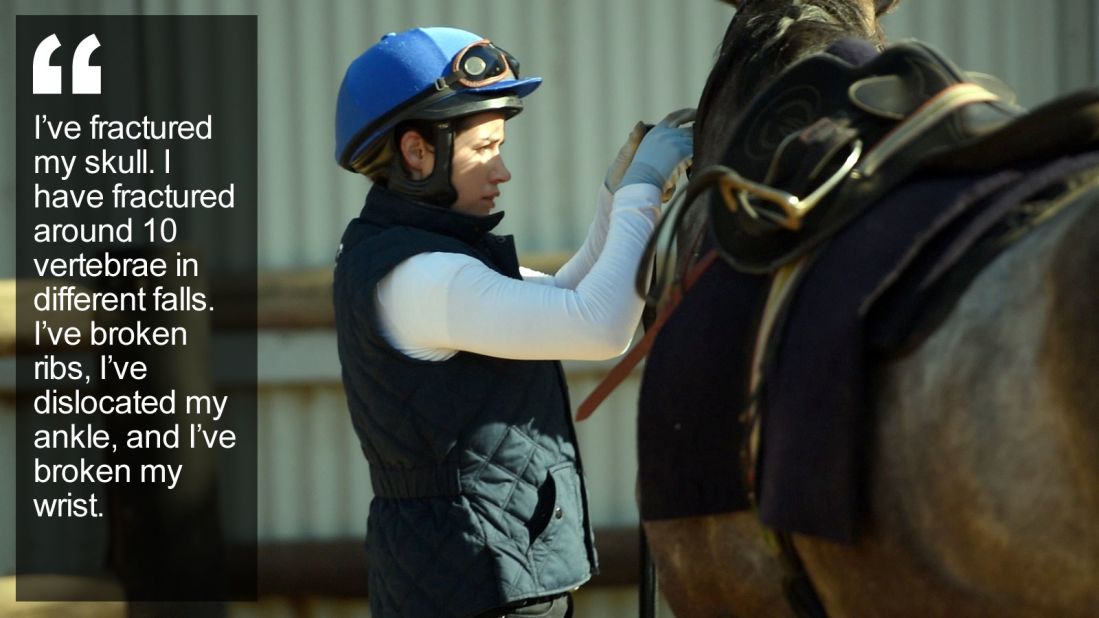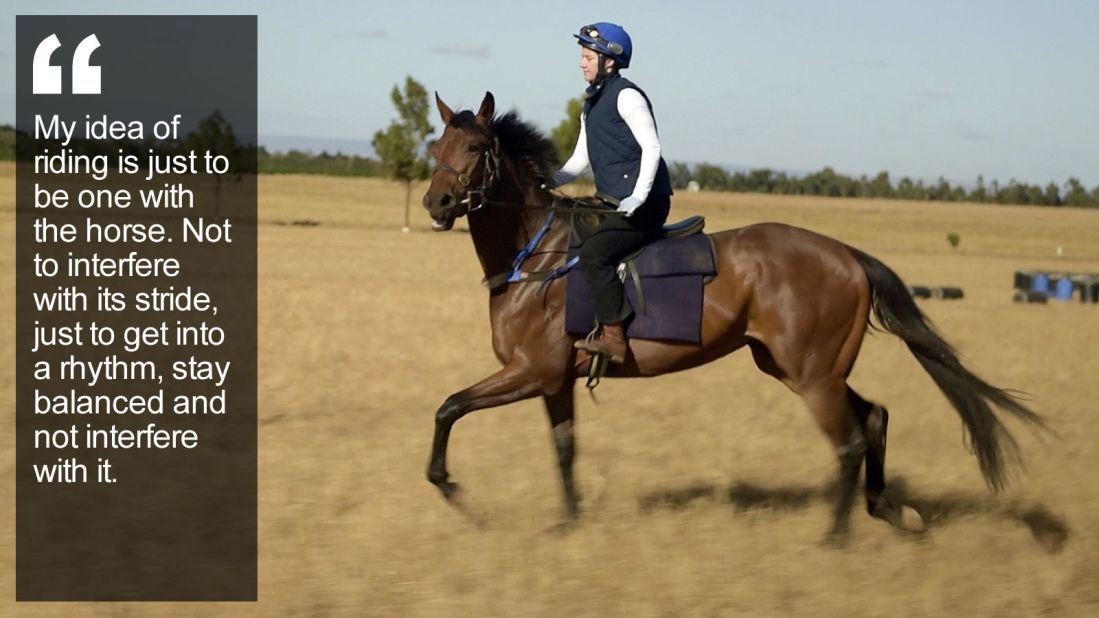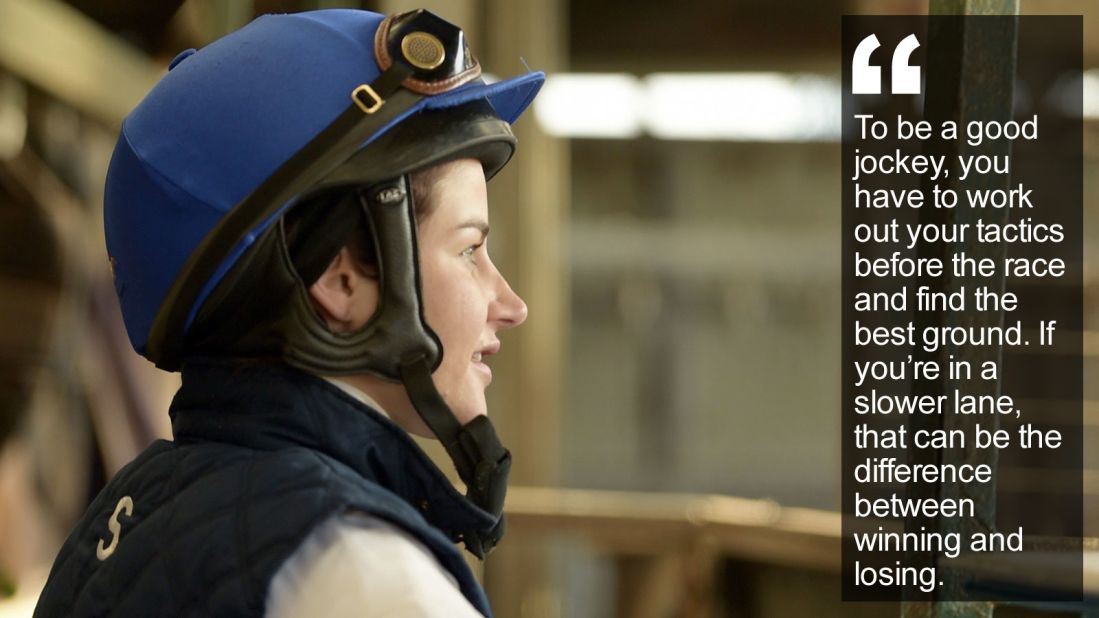 Michelle Payne: Female jockey's family ties