Story highlights
NEW: CNN affiliate says a man rescued from rubble called his mother to tell her he was trapped
The death toll in the quake has climbed to 413
Getting supplies to victims remains daunting due to earthquake damage, rains
In a day marked by the gloom of a growing death toll, at least one story of hope emerged Monday as search teams combed rubble for survivors days after a powerful earthquake shook Ecuador's Pacific coast.
Rescuers pulled a person from the ruins of a hotel in the city of Portoviejo on Monday afternoon, security officials said.
The man, who was about 35 years old, had called his mother with his cell phone to tell her he was still alive under the rubble, CNN affiliate Teleamazonas reported.
Firefighters who traveled to Ecuador from Bogota, Colombia, helped rescue him, Teleamazonas said.
But families fear that time is running out to find missing loved ones.
The 7.8-magnitude quake, which struck Saturday night, has killed at least 413 people, officials said Monday. More than 2,500 more were injured.
The hardest-hit area of the South American nation was the coastal Manabi Province, where about 200 people died, said Ricardo Peñaherrera of Ecuador's national emergency management office.
The cities of Manta, Portoviejo and Pedernales, a tourist destination, saw the most devastation, but damage was widespread throughout the country.
Images posted by authorities on social media showed huge piles of rubble, collapsed roads and rescuers rushing to help.
"It was something very ugly. We thought it was the end of the world," one survivor in Pedernales told CNN's Gustavo Valdes on Monday. "It started hard, way too hard. We fell. We couldn't get up. It was too strong. … If it had fallen the other way, we would have died."
Victims of the quake are grateful they survived, he said, but uncertain of what to do next.
"We are waiting to see what we can do, waiting for what the President tells us," he said. "There is no work."
Ecuador deployed 10,000 soldiers and 4,600 police officers to the affected areas. Troops set up mobile hospitals and temporary shelters. The military also brought in search dogs to help find survivors and bodies.
Still, getting supplies and rescue crews to the affected areas has been a challenge.
"The lack of water and communication remains a big problem," Peñaherrera told CNN en Español. "Many highways are in bad shape, especially in the mountainous area, because it has been raining recently due to (the) El Niño weather phenomenon."
People trapped by the quake aren't the only thing searchers are trying to find.
Police said locating pets was also a priority, posting a photo on Twitter showing an officer pulling a dog out from a collapsed concrete building.
International aid pours in
International aid poured into Ecuador Monday.
Mexico, Spain, Colombia, Chile, Venezuela, Peru and other countries sent rescuers and aid. The European Union said Monday it had released €1 million in humanitarian aid to help victims of the Saturday evening quake, which injured thousands and left an unknown number homeless.
The United Nations said it was preparing a "major aid airlift," and private aid organizations also rallied.
President Rafael Correa arrived in the city of Portoviejo on Sunday night after cutting short his visit to a Vatican conference. He toured the area again Monday.
"I have infinite gratitude to the spirit of the Ecuadorian people, of our firefighters, our soldiers, our policemen and all workers who haven't slept, haven't eaten as they work hard to save lives," he said after arriving.
The President's official Twitter account used a hashtag that translated to "Ecuador ready and in solidarity" and showed him at one of the disaster sites.
READ: Ecuador and Japan earthquakes: Are they related?
States of emergency declared
The earthquake hit Saturday around 7 p.m. in this country of 15 million people, buckling overpasses and trapping drivers. A shopping mall partially collapsed on customers and several buildings were flattened, their contents spilling out into the streets.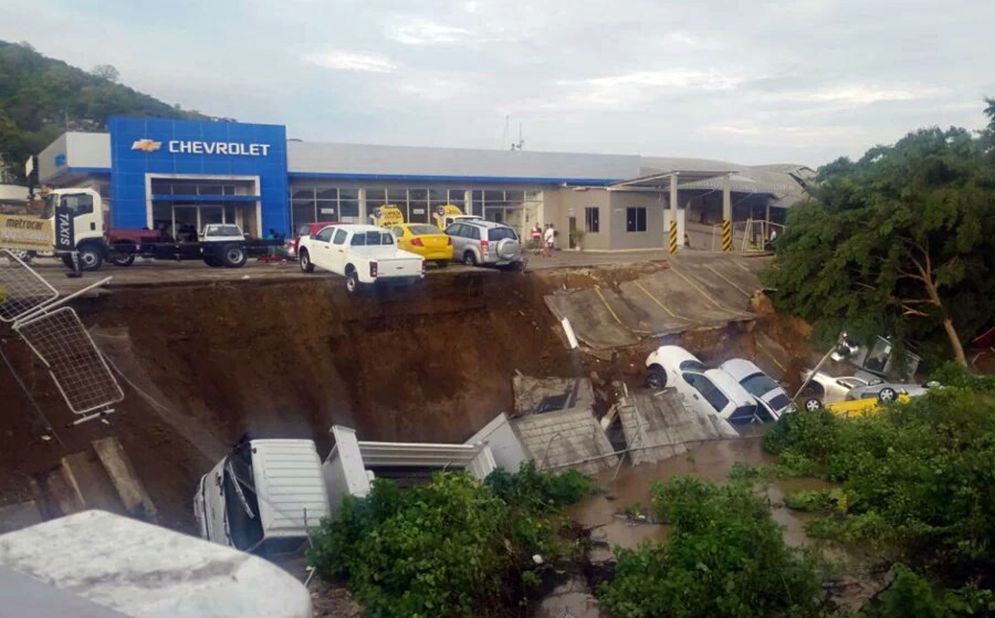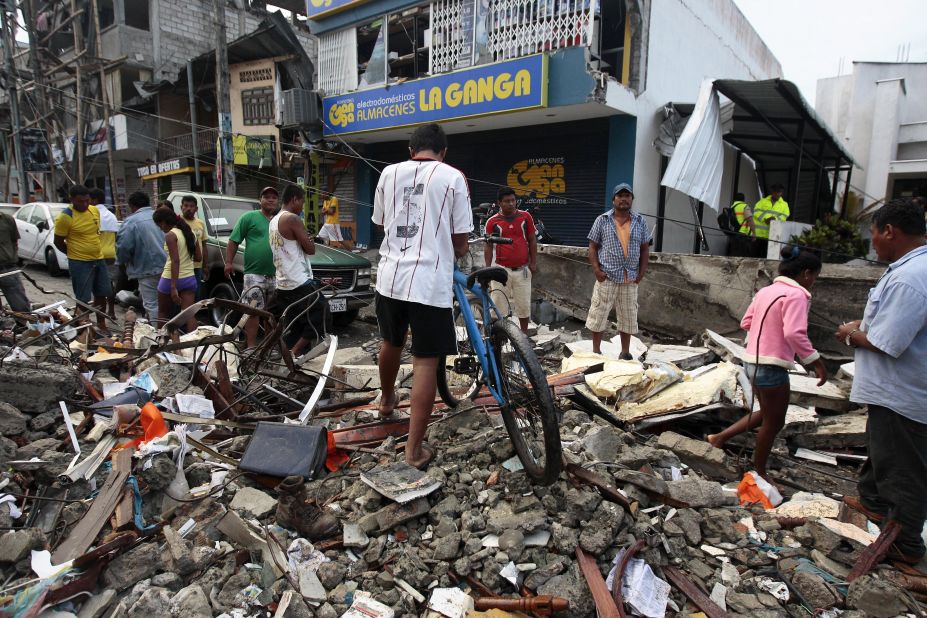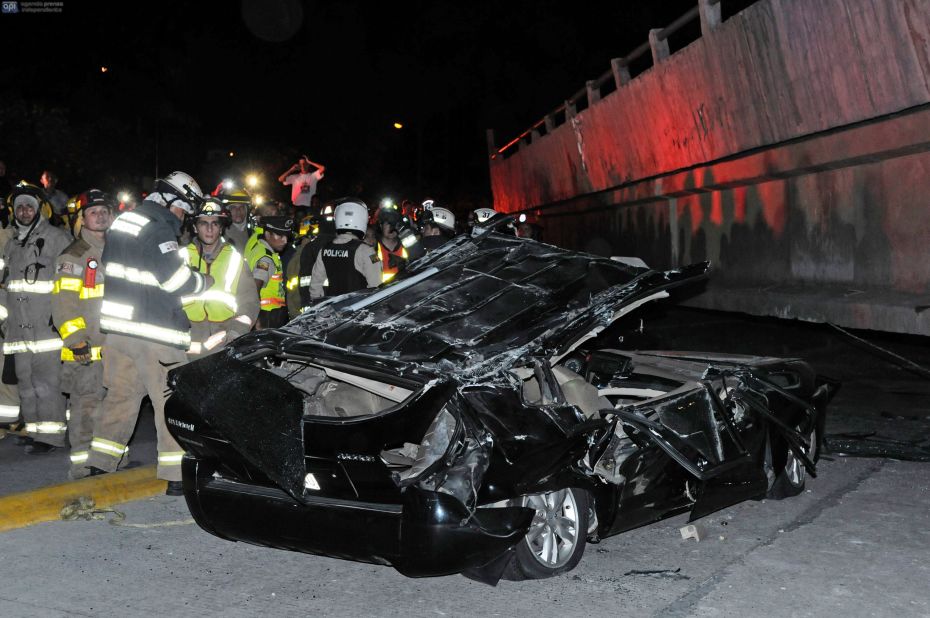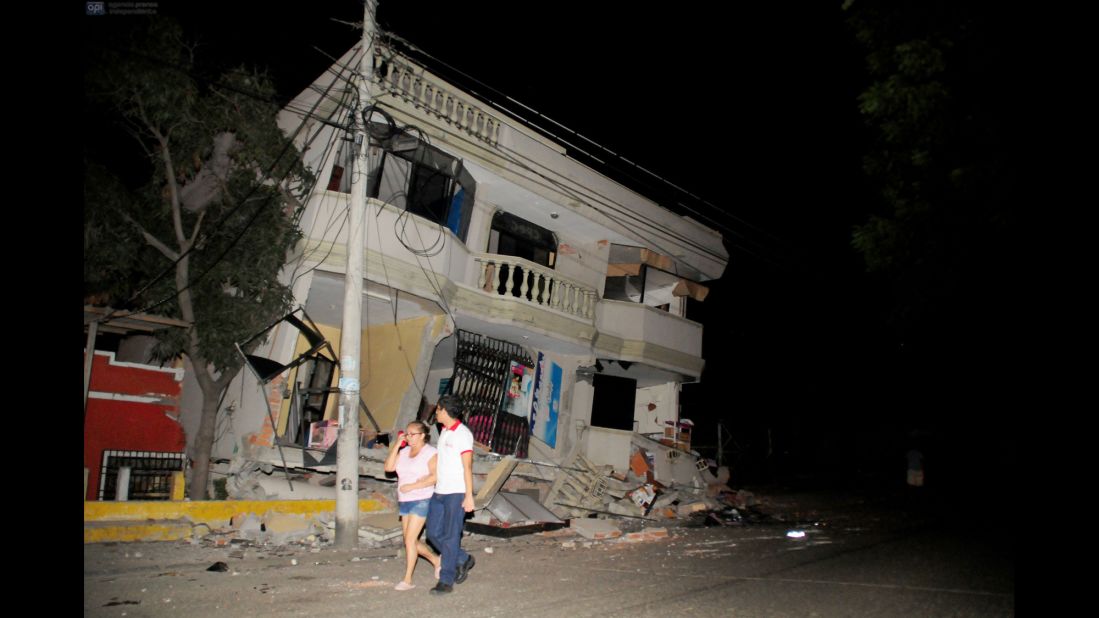 Powerful quake hits Ecuador
Six of the country's provinces are under states of emergency.
Ecuador's Interior Ministry ordered all nightlife venues in affected areas closed temporarily, and the nation's soccer federation suspended the Ecuadorian championship tournament.
The earthquake was the deadliest to hit the nation since March 1987, when a 7.2-magnitude earthquake killed 1,000 people, according to the USGS.
Impact Your World: How you can help in Ecuador
On Sunday, Pope Francis asked for prayers for those affected by the earthquakes in Ecuador and Japan.
"Last night a violent earthquake hit Ecuador, causing numerous victims and great damages," Francis said. "Let's pray for those populations, and for those of Japan, where as well there has been some earthquakes in the last days."
Japan had been hit with a series of earthquakes that have killed dozens.
CNN's Gustavo Valdes, Boris Sanchez, Ralph Ellis, Faith Karimi, Azadeh Ansari, Natalie Gallon, Rafael Romo, Steve Almasy, Tina Burnside, Dakota Flournoy, Nelson Quinones and Madison Park contributed to this report.