Story highlights
NEW: "We think our officer was ambushed," Harris County Precinct 7 Constable May Walker says
Deputy constable is expected to survive and be discharged from hospital in a week, doctor says
Shooting takes place in same county where deputy sheriff was ambushed, killed last year
(CNN) —
A Texas deputy constable talking to another officer was shot multiple times in the back in a possible ambush.
Harris County Deputy Constable Alden Clopton underwent several hours of surgery but is expected to recover, authorities said Thursday in a press conference. Police are looking for the assailant but have made no arrests.
"We think our officer was ambushed," Harris County Precinct 7 Constable May Walker said.
The shooting happened while Clopton talked to another officer who had just finished a traffic stop, Walker said. He was leaning inside her patrol car and giving instructions on how to turn on the audio function of her video camera when shots were fired, Walker said.
Dr. Joseph Love of Memorial Hermann Hospital said Clopton had six "injury sites," some in the back, but he couldn't say how many times the officer was shot. He said Clopton should be discharged from the hospital in about a week.
The female officer got of her car and saw the suspect across the street, Houston police spokesman Kese Smith said. "Fearing for her safety, and that of her partner, who had already been shot, she returned fire," he said.
It's not clear whether the assailant was struck.
Shortly afterward, someone matching the gunman's description showed up at a local fire station. Homicide investigators were questioning him, Smith said.
"He was not injured, but as to why he showed up at the station, homicide (investigators have) to question him to find out," Smith said.
"We're interviewing people but don't have a suspect," Walker said.
A family affair
Walker said she was "very emotional" after the shooting because Clopton and his three brothers all work in local law enforcement. One of the brothers works in the same precinct.
"All the Clopton brothers, they grew up in my house," the constable said. "I've known them – some of them – since they were born."
Clopton's wife works as a deputy with the Harris County Sheriff's Office, CNN affiliate KPRC reported.
Clopton has six children, Walker said, and one of them, Todre Clopton, works as a Biloxi, Mississippi, police officer.
"We have a long legacy within the city," Todre Clopton said at the press conference.
He said he talked to his father, who signaled with a hand squeeze, though he didn't speak.
Ambush attacks against police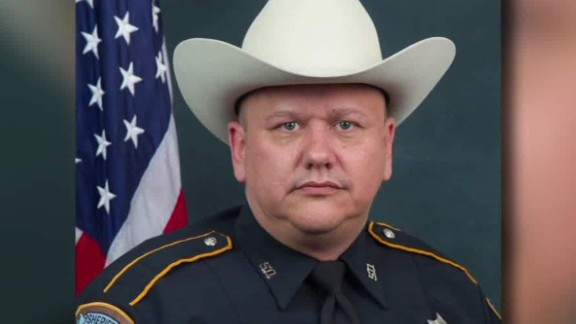 Clopton's shooting spurred memories of another Texas deputy shot in an ambush.
Last year, Deputy Sheriff Darren H. Goforth – who also worked in Harris County – was shot in the back and killed while filling up his patrol car at a gas station.
Goforth appeared to have been targeted "because he wore a uniform," Harris County Sheriff Ron Hickman said.
In 2014, New York police officers Wenjian Liu and Rafael Ramos were ambushed and killed while sitting in their patrol car.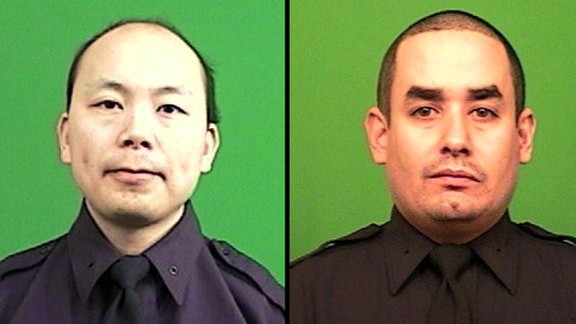 NYPD
The gunman in that attack, Ismaaiyl Brinsley, shot and killed himself shortly afterward at a subway station. Authorities discovered he had posted angry messages on social media against police and government, citing two black men killed by officers.
Walker, whose deputy was shot Wednesday, said she has no idea why someone would shoot Clopton.
"We can try and answer that question. We can speculate," the constable said. "But we really don't know because we don't know what was in that suspect's mind."
CNN's Joe Sutton and Lauren Leslie contributed to this report.