Story highlights
The Sewol ferry sank two years ago
The salvage operation plan is projected to finish by the end of July
South Korea announced an ambitious plan to recover a ferry that capsized two years ago off its southwest coast, the first time such an operation has been attempted, authorities said.
The Sewol sank on April 16, 2014, killing 304 people, mostly high school students on a field trip to Jeju island, off South Korea's southern coast.
Speaking two days before the second anniversary of the ferry's sinking, Yeon Youngjin, deputy minister for the Marine Policy Office, told journalists Thursday that the ministry has used long-term maritime data to put together a salvage operation plan, which is projected to finish by the end of July.
The operation will attempt to lift the 140-meter long ferry from beneath the water without having to cut it into pieces. Doing so will help recover bodies believed to be still trapped inside of it. Nine bodies are still unaccounted for.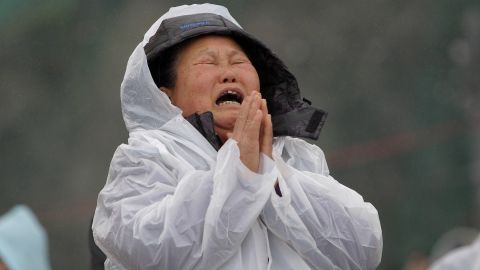 Dark day in South Korea
The disaster set off a bout of national soul searching, compounded by anger at what was determined to be negligence by the coast guard, and the actions of the crew and captain on the day.
As the ferry listed and sank, crew members repeatedly told passengers to stay where they were as rescuers would arrive soon.
Many of them listened to the instructions and remained in place.
As the ferry tilted sideways, water seeped in and objects in the ship toppled over, injuring people and blocking their way out.
Anger over how the crew failed to evacuate the passengers intensified when video surfaced of the captain, Lee Joon-seok, in his underwear leaping into the arms of the Korean Coast Guard, while hundreds remained trapped in the vessel.
He was found guilty of murder on appeal and sentenced to life imprisonment last year.
Groundbreaking salvage attempt
The area of the Yellow Sea, to the south of the South Korean mainland where the ship sank, experiences strong tidal currents, the deputy minister said, complicating an already-ambitious salvage plan.
Yeon said "lifting beams" will be inserted under the bottom of the 10,000-ton ferry and connected with wires on a crane.
Since March, crews have been injecting air into 10 tanks within the ferry in an attempt to make it lighter before attempting to lift it out of the water with the crane.
The plan is to install buoyant materials, including airbags and pontoons onto the ferry to make it lighter. Nineteen lifting beams will be installed under the ferry's body, and eight will be installed at the stern. The Sewol will be slowly lifted over 2 or 3 days and put onto a floating dock before being towed to land.
One year ago, on the first anniversary of the ferry's sinking, South Korean President Park Geun-hye said that the time had come to prepare to raise the wreck.
"I believe that it is now time to earnestly prepare to salvage," Park said.