Story highlights
Writer Allison Gilbert struggled with how to celebrate and grieve lost loved ones
"Passed and Present" offers ideas and projects to keep memories alive
(CNN) —
After several family members died in rapid succession, including my parents, I struggled with knowing how to keep their memories alive.
In the days and weeks immediately following their deaths, I never had to look far to tell a story or hear one. But all too soon, I hesitated to bring them up in conversation. Anecdotes I told my children seemed heavy or forced, and I didn't want to make my friends uncomfortable.
I also had so many questions that most of my well-meaning friends couldn't answer.
What should I do with all their belongings – the random collections of loose papers, official documents, silverware, dishes, gardening tools, photo albums, VHS tapes, film reels and 35 mm slides? What should I keep? Where do I even start? In some respects, because techniques for celebrating loved ones are seldom discussed, I felt lonelier at that later time, when I was wrangling their possessions and grasping for ways to honor what they still meant to me, than I did when my parents and other family members died.
Over time, I came to an important conclusion: Nobody is responsible for keeping my family's memory alive except me. For my parents and other loved ones to continue enriching my life, and for my children to get to know their relatives, it would be up to me to integrate them into our already full and busy routines. So the more I explored ways to rejoice in their memory – cooking reminiscent foods, imagining new applications for old clothing, using technology and social media to frame recollections in a contemporary context – the happier I felt.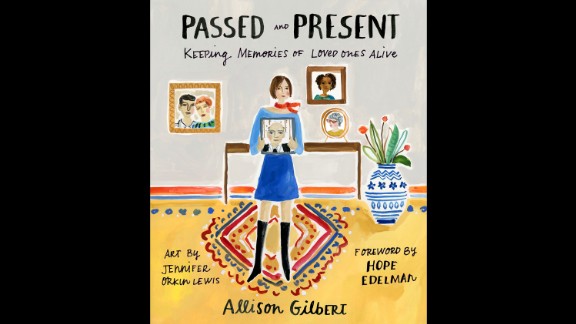 Being proactive about remembering has brought immeasurable joy and grace into my life. In fact, as I was researching and writing my new book, "Passed and Present: Keeping Memories of Loved Ones Alive," I learned something quite astounding: Grief experts agree that taking steps to appropriately remember loved ones is actually essential for healing. Individuals who keep the memory of loved ones alive almost always fare better emotionally than those who don't.
Honoring past relationships has proven to have such significant restorative power that grief expert J. William Worden developed an entire bereavement-recovery theory about it. Called the "tasks of mourning," the concept not only includes remembering as a mandatory tenet, but also underscores the obligation of mourners to take control of the process of remembering.
The reason, Worden says, is simple. "Death makes you feel out of control. Being proactive makes you feel stronger. Taking steps to remember leads to empowerment, and feeling empowered is absolutely necessary for living a full, happy, and loving life." Ultimately what's most essential, Worden says, is that the mourner "needs to take action."
But how?
There are 85 memory-preserving ideas in "Passed and Present" that aim to answer that question. I call these concepts Forget Me Nots. Below are some of my favorites, eagerly shared with me by readers.
Reach out on social media
Alexandra Zaslow is a role model for harnessing the power of technology for this commemorative purpose. In 2012 she lost her father, writer Jeffrey Zaslow, co-author of the runaway bestsellers "The Last Lecture" and "Highest Duty," in a car accident. "Being able to post is the best way I know to make sure my dad is never forgotten," Alexandra Zaslow says. She posts about her dad on his birthday, Father's Day, and when there's a story in the news she thinks he'd have an opinion about. She and her sisters keep his Facebook page active and tag him with every update.
I was gobsmacked by this post. Alexandra Zaslow didn't just inform – she proactively asked her friends and her father's friends to share their memories, too. Her request resulted in an ocean of virtual story-sharing from relatives, neighbors, friends, colleagues and co-workers.