Story highlights
AlShurqat is in critical condition in a government hospital in Gaziantep
He fought ISIS by teaching via a TV show that ISIS is not Islamic
ISIS claimed responsibility for his shooting
(CNN) —
TV personality and Syrian religious leader Zaher AlShurqat fought ISIS by teaching that ISIS' brand of cruelty was not Islam. On Sunday, in the southern Turkish city of Gaziantep, he nearly paid for those teachings with his life.
AlShurqat is in critical condition in a government hospital in Gaziantep, according to a family member. CCTV shows a masked attacker approaching the 36-year-old, firing and running away, according Turkish state news agency Anadolu.
ISIS claimed responsibility for the incident. "A security detachment that belongs to ISIS shot yesterday the journalist Zaher AlShurqat, who anchors anti-ISIS TV programs," according to a statement posted on ISIS outlet Al Amaq.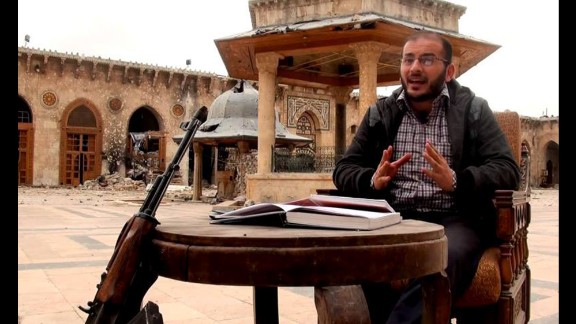 ISIS brutality has extended its reach from Syria across the border into Turkey in the past. But unlike some of the more secular media activists ISIS has targeted in Turkey previously, AlShurqat was a deeply pious man and a religious leader to his community in the town of Al Bab in Aleppo, Syria.
When the uprising against Syrian President Bashar al-Assad began, AlShurqat said he was on the frontlines, eventually forming his own pro-opposition fighting unit. When ISIS took over his hometown, AlShurqat made his way to Turkey were he hosted Free Syrian Army commanders critical of ISIS on his TV show, broadcast on pro-opposition Halab Today. His religiosity and TV show made him an ISIS target resulting in numerous death threats from ISIS, according to friend Mohammad Sarheel.
Those he knew said he posed a threat to ISIS with his piety, knowledge of Islamic law and ability to sway practicing Muslims in his community. "He is an Islamic law scholar and he knows exactly how to change the minds of the people that are thinking of joining ISIS or the people that are already with ISIS, and that was a redline for ISIS," said Sarheel, 30, who has worked closely with AlShurqat since the beginning of the Syrian uprising.
Sarheel recounted an early encounter between his friend and an ISIS leader. When ISIS first went into Al Bab, an Egyptian commander took AlShurqat's place in the front during the Friday prayers, said Sarheel. Alshurqat told the locals to follow him outside if they wanted to pray with his lead leaving the ISIS commander in a nearly empty mosque. "I think he was very dangerous to them because he is fighting them from an Islamic perspective," Sarheel said.
In December, Syrian activist and filmmaker Naji Jerf was shot and killed in the same area of downtown Gaziantep. And in November two media activists with the group Raqqa Slaughered Silently, which documents ISIS atrocities in Syria, were found with their throats slashed in the southeastern province of Sanliurfa. All three had received death threats from ISIS for their work.
Gul Tuysuz reported and wrote this story from Istanbul; Mohammed Eyad Kourdi reported from Gaziantep.