Story highlights
Emily Kramer-Golinkoff has cystic fibrosis with a rare "nonsense" gene mutation
Her nonprofit organization, Emily's Entourage, raises money for research studying the mutation
Bala Cynwyd, Pennsylvania
CNN
—
The dynamic between Emily Kramer-Golinkoff and her mother, Liza Kramer, is unique. They're not just mother and daughter, but also two executives working on a multimillion-dollar venture.
"It's all about connecting with people to make things happen," Kramer-Golinkoff said. "That's how everything happens."
They've raised millions for a worthy cause. But they'll be the first to say they didn't have much of a choice.
Kramer-Golinkoff has a rare form of cystic fibrosis, or CF, a genetic illness that affects the lungs. The mother and daughter are co-founders of a nonprofit organization known as Emily's Entourage, and they're on Facebook, Twitter, Instagram and Snapchat to make connections and raise money to study and treat Kramer-Golinkoff's disease.
Although she appears healthy, Kramer-Golinkoff spends three hours each day doing breathing treatments, including wearing a vest that vibrates to clear mucous from her lungs. She's had to cut back on her work at the University of Pennsylvania's Social Media and Health Innovation Lab as her health declined.
She's 31 years old, and the average life expectancy for someone with her type of CF is 35 to 37 years old.
But where most people would collect money for a foundation that aggregates funds and funnels it to research that could impact the most people, Emily's Entourage has a different approach.
"There were all these really exciting developments happening in the CF research pipeline, but none of them were for me or people like me," Kramer-Golinkoff said. "There wasn't much glimmer of hope, and that's like the worst feeling in the world."
Although there are new drugs on the market that target the cause of CF and can help more CF patients than ever before, Kramer-Golinkoff isn't one of them.
There are many mutations of the cystic fibrosis gene, and some are extremely rare. Kramer-Golinkoff has what's known as a "nonsense" mutation. About 5% of CF patients have a nonsense mutation, according to Kevin Foskett, a physiology professor at the University of Pennsylvania. Because nonsense mutations affect such a small portion of the CF community, there's less research.
"Getting the CF community to now focus on this kind of mutation was the goal," said Foskett, who is the lead scientific adviser to Emily's Entourage. "Emily and her family want research focused on her mutation to be as focused and accelerated as possible. At one level, that sounds a little selfish, until you realize that her type of mutation, a 'nonsense' mutation … is responsible for disease in many other genetically inherited forms of disease."
If the research they're funding leads to a more widely available way of attacking nonsense mutations, Foskett added – even if it's not specific to Kramer-Golinkoff – there could be "therapeutic implications for millions of people around the world."
It started with a video
At 31, Kramer-Golinkoff is approaching what's known as "end-stage" CF, at which point she would need a lung transplant, and even if she received new lungs, there is no guarantee of survival.
"It was the pressure of time," Kramer-Golinkoff said. "My disease was getting worse. We were running out of conventional treatment options."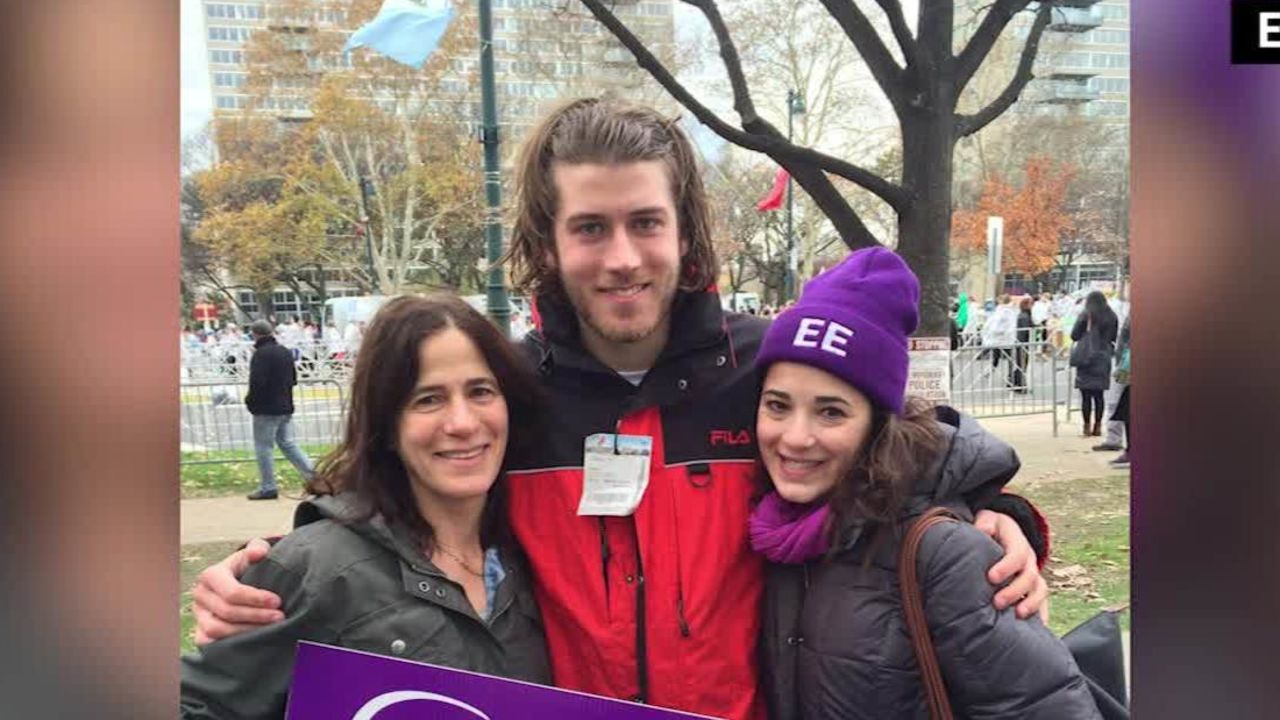 So, a few years ago, they decided to make a video. "We always believed from the very beginning that it's stories and people, and relationships that touch people's hearts," Kramer-Golinkoff said. "We wanted to make a video and we just wanted to tell the story. We had no grand plan."
After countless hours shooting testimonials with family and friends, then editing the video with help from the staff at their local Apple store, their "no-budget production" was ready for distribution.
"We sent it via email to everyone we knew," Kramer-Golinkoff said. They set a goal of $50,000 for the first year. They made $40,000 the first week.
"I remember being at work and getting notifications, and I had to step out from my cubicle because it became so overwhelming."
$2 million and counting
They've raised more than $2 million since they made that video in 2011, and with the help of Foskett's scientific knowledge and research connections all over the world, Emily's Entourage is well on its way to success.
"We had our first scientific symposium in January of 2015," Kramer said, "and just about every scientist that (Foskett) connected with came."
They've since held another. More than a dozen of the world's leading experts in the industries of biotech, academia and pharmaceuticals descended on Philadelphia for each gathering. Six major research institutions are doing some type of work directly related to nonsense mutations as a result of Emily's Entourage, whether they're being funded or have received Kramer-Golinkoff's cells with which to conduct studies.
Foskett said he believes it's a combination of scientific networking and one other X-factor: Kramer-Golinkoff.
"Emily's story is compelling," Foskett said. As a scientist he typically considers it "interference" for scientists to interact with patients. "But it's been very surprising to me that that's not true for most of the scientists that I've introduced Emily to. They are supercharged and energized by the interactions with her.
"If you've met Emily … you cant help but become engaged and energized."
Kramer-Golinkoff's lifeline: social media
If Kramer could stop everyone she passes on the street or send direct messages to every friend of a friend on Facebook, she would. "Every single person that we meet is potentially helpful," Kramer said. "And nothing will stop us from asking."
At a coffee shop, she makes the rounds with random customers, talking about their efforts to save her daughter. "We are doing like huge, huge research," she says to a college-age man. "So you should like it on Facebook and Instagram."
"Social media has been a huge part of this," Kramer-Golinkoff said, adding that the medium is essentially responsible for the large money haul after their first video. It "set the tone" for the whole organization.
And it's not just for advertising and fundraising. Kramer-Golinkoff sees it as a way to peel back the curtain, so to speak, and offer people a glimpse into the reality of living with CF. "(Posts about) my medical details and things I never thought anyone would care about … tend to generate the most interest."
She even refers to it as a "lifeline" for one very important and personal role it plays: to keep in touch with her closest friends, who happen to be people she will never be able to meet.
For those living with CF, a big threat to their health is another person with CF, due to the unique types of bacteria living in each patients' lungs. Kramer-Golinkoff said being able to communicate with a close circle of friends with CF through a private Facebook group has been "cathartic."
Follow CNN Health on Facebook and Twitter
"Thank goodness for the Internet because these people are my lifeline but also the biggest threat to my health … I literally know some of the most intimate things about them, but won't ever be able to meet them," she said.
But it goes without saying that Kramer-Golinkoff, her family and friends that are part of Emily's Entourage are hoping for another kind of lifeline, one with a more literal meaning. And they're getting closer.
Soon, Kramer-Golinkoff will begin an experimental drug trial developed specifically for her by the University of Alabama at Birmingham, which received Emily's Entourage funding.
"Obviously our prayer and dream is to have a breakthrough," Kramer-Golinkoff said. "But we also realize that it might not happen, or it might not happen in time for me. And I think that in the worst case scenario, even if it never could help me, there is a peace I get from at least knowing I'm doing everything I can, and its not for lack of trying."