Story highlights
NEW: Armenia says Azerbaijan is still attacking with missile artillery systems
Azerbaijan declares a unilateral ceasefire in conflict with Armenia
An Azerbaijani helicopter involved in striking Armenian forces is shot down, Azerbaijani state news reports
A long-simmering, violent feud in Eurasia is now on pause – at least according to one of the dueling countries.
Azerbaijan announced a unilateral ceasefire in its conflict with Armenia, a territorial riff that has been brewing for years but recently turned deadly.
The announcement Sunday came a day after dozens of soldiers from both countries were killed, Azerbaijani state media reported.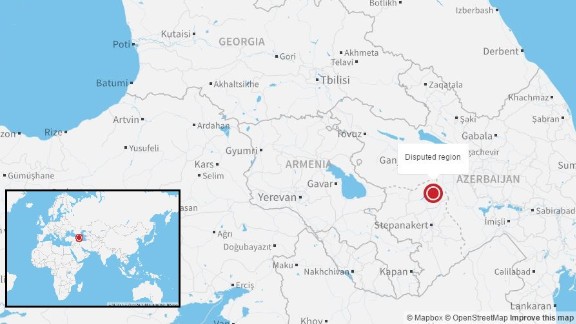 But moments later, the Armenian News Agency said Azerbaijan was still attacking with missile artillery systems.
"As a result of the rival's bombardment, houses, trees, as well as gas pipelines feeding the city (of Martakert) have been damaged, Armenpress reported.
Martakert is in Nagorno-Karabakh, a region at the center of the Azerbaijan-Armenian dispute. The region is occupied by Armenian forces but surrounded and claimed by Azerbaijan.
Azerbaijan said it reached a unilateral ceasefire decision "to stop counter-attacks and retaliatory action against the enemy in the occupied territories of the Republic of Azerbaijan" after international calls and the country's efforts to pursue a "peaceful policy," the Azerbaijan state news agency Azertac reported.
But Azerbaijan said it will respond to any continued "provocations" with "offensive operations in order to destroy the enemy."
Recent wave of violence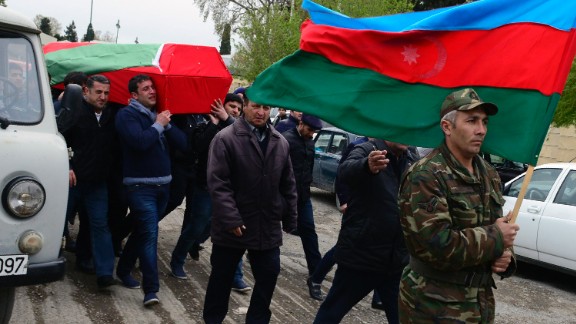 TOFIK BABAYEV/AFP/AFP/Getty Images
Over the past three days, Azerbaijani Mi-24 helicopter carrying out airstrikes on Armenian military positions was shot down, and a mine blast damaged a tank, according to Azertac.
The Azerbaijani state news agency also said six Armenian tanks and 15 artillery pieces were destroyed, while over "100 enemy soldiers were killed and injured."
The Armenpress news agency, meanwhile, said 18 troops were killed and 35 wounded "because of the provocative actions made by the Azerbaijani armed forces along the entire length of contact line with the Nagorno-Karabakh Republic."
U.S. weighs in
The U.S. State Department condemned the acts of violence, "which have resulted in a number of reported casualties, including civilians."
"We urge the sides to show restraint, avoid further escalation, and strictly adhere to the ceasefire," the State Department said "We reiterate that there is no military solution to the conflict."
It called for both sides to start negotiations.
Who's to blame?
Each country blamed the other for the fresh hostilities.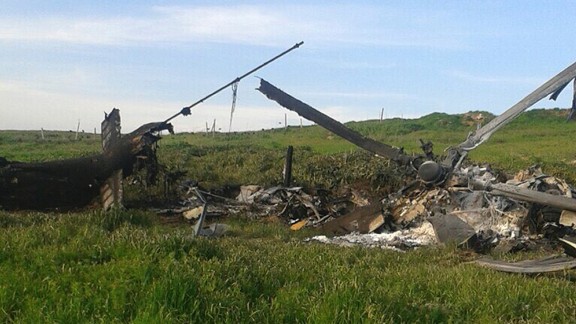 STR/AP
Armenia said "the adversary" undertook "offensive actions," trying to "infiltrate deep into the defensive lines of the (Armenian army) and seize tactical positions using tanks, artillery and air force," according to a Defense Ministry statement.
The "enemy retreated" after Armenian forces responded, with the Defense Ministry noting that "military operations are ongoing."
"Azerbaijani authorities are to be held fully accountable for the unprecedented escalation of tensions along the Nagorno Karabakh and Azerbaijan contact line," the Armenian Defense Ministry said.
The Azerbaijani government, by contrast, characterized the Armenian forces as the aggressor.
Hikmat Hajiyev, a Foreign Ministry spokesman, accused Armenia of intentionally and "intensively" shelling "settlements near the front line, where civilians closely live."
He said the Armenians "killed and injured several civilians," in addition to firing on Azerbaijani troops.
"As an aggressive country, Armenia bears responsibility (for) the current situation," Hajiyev said, the Azertac news agency reported.
How this all started
More than two decades ago, the two former Soviet republics fought a fierce war over the Nagorno-Karabakh region.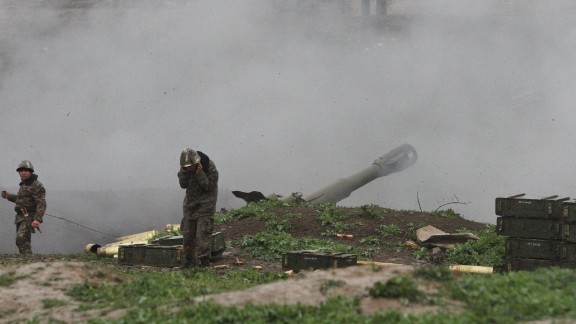 VAHRAM BAGHDASARYAN/AFP/Getty Images
Azerbaijan gained formal independence from the former Soviet Union in 1991 after initially declaring its national sovereignty in 1988. Since then, it has been locked in a territorial dispute with ethnic Armenian separatists.
Ax murderer's pardon stirs fears of war
A six-year conflict from 1988 to 1994 saw separatists, backed by troops from Armenia, and Azerbaijani forces fight over the Nagorno-Karabakh and Nakhichevan regions in southwest Azerbaijan.
In 1994, a ceasefire was reached. But by then, the separatists, who are seeking full independence from Azerbaijan, had taken control of Nagorno-Karabakh and seven surrounding provinces.
There's been less violence of late, though the area remains volatile.
CNN's Greg Botelho, Yousuf Basil and Jessica King contributed to this report.