Story highlights
Kolkata overpass collapse kills 24; rescuers dig for survivors
Cities like Kolkata have struggled as more rural Indians throng to urban centers in search of work
Like most Indian cities, Kolkata mushroomed out of a collection of villages and grew
As my plane touched down last night in Kolkata, I reflected on how much has changed in the city I grew up in. When I was a child it had a different name: Calcutta, the former capital of the British Raj. Now it's called Kolkata, the change part of a national wave of linguistic and cultural reclamations – Bombay to Mumbai, Madras to Chennai, Bangalore to Bengaluru. 
I left Kolkata in 2001. Every few months I would return. On those visits, everything would feel the same, comfortable, easy, drenched in nostalgia. But when I adjust the telescope a bit and compare then with now – 15 years later – things feel very different: The Communist Party is no longer in power; Kolkata has continued to fall behind the pecking order in India, overtaken by previously lesser metropolises; and there's been a considerable brain drain, with the best and brightest students packing their bags for other cities.
Even the old world charm of Kolkata seems masked, diminished: new malls and high rises jostle with the old three and four-storey homes that once dotted the city. The changes are necessary, though, as more and more rural Indians throng to the big cities in search of work and opportunities. Meanwhile, India has gotten more middle class, the youth have become more aspirational. 
Perhaps the most visible masking of old Kolkata can be seen in its many overpasses – what Indians call "flyovers" – crisscrossing and snaking through the city. They are being built to ease traffic congestion and connect the old parts of the city to newer suburbs, but they are also an eyesore - big, ugly, often plastered with political advertisements or billboards for Bollywood films. 
At least one thing hasn't changed. My parents still pick up their now middle-aged son from the airport. Always. They too look a bit diminished, but still sturdy, a constant source of stability in my life. They usually greet me with a big hug. Not last night. 
Rescuers dig for survivors from overpass collapse
"It's a shameful day for our city," says my father. He doesn't need to say why. I am home to report on the deadly collapse of a bridge in north Kolkata. Rescue operations were to continue through the night. 
As we drive home, we take the usual new shortcut. It's an overpass. 
"Is it safe?" I ask. My father says the authorities allow cars to go both directions on the bridge at night. During the day, from 9 a.m. to 9 p.m., only one-way traffic is allowed. It can only bear so much weight, he says. It is a well-known fact amongst residents, he says. 
The collapse
In the morning, as I make my way to the site of the overpass collapse, I'm struck by how unsafe it all seems. Leading up to the exact point of breakdown, hundreds of bystanders are looking on, curious. Are they not scared the bridge above them will collapse?
"Yes, anything can happen here," says one man. But he stays put, almost transfixed. 
It is a sense of fatalism in India, of Karma, I've never quite understood. What will happen will happen. 
I make my way closer, trying to keep to the sides of the street. The still intact parts of the overpass are above me. There's hardly a couple feet between the overpass, forty feet up, and the buildings on either side. At parts, I imagine residents can reach out and touch the bridge. If completed, their morning view would be a bus belching out carbon monoxide. 
I make it to the collapse site.  The first thing that hits me isn't the sights around me - I've already seen some of it on the television, I'm expecting it. I'm hit by a strong, almost overwhelming stench. I shudder.  It's the smell of death. 
I take in the destruction around me. The part of the bridge that collapsed is probably a hundred meters long. Giant columns lie on the ground twisted, crumpled up like cardboard. Big yellow tractors are pushing through the rubble, trying to forge a path through. 
I ask one of the workers in yellow hats, from the National Disaster Relief Force, if he thinks they'll save anyone? He grimaces and looks away. 
Plumes of smoke go up in the air every time the tractors move. The sound of drilling rents the air. There is a sense of desperation but also of despair.  I wander away for a minute to compose myself. 
I meet Babu Lal, standing by. He's wearing a yellow shirt, most his buttons are undone. He looks desolate. "Did you see it?" He nods. "What was it like?" Initially reluctant to talk, he opens up in colloquial Hindi. 
"It was the afternoon," he says. He was serving kachoris, a type of deep fried savory pastry, right by the bridge. He's a street vendor, what Kolkatans called hawkers.  "There was a loud explosion, like a bomb blast. I just ran. We all ran. We ran for our lives," he recalls.
Girish Park has been Babu Lal's home since he was born. His home is tucked away in a tiny bylane, right by the site of the collapse. His family is safe but he's angry.  "Look around you. Why build this thing? Look how close it is to the buildings," he points out. "Is this any way to live?"
Infrastructure
Like most Indian cities, Kolkata mushroomed out of a collection of villages and grew. And grew. In the 19th century it was one of the great centers of commerce in Asia, a key port and home to flourishing businesses. 
But India has struggled to modernize since it became independent in 1947. According to the World Economic Forum's Global competitiveness index, India ranks 55th in the world for basic infrastructure, behind the likes of China, Russia and Indonesia. 
Building collapses are not uncommon. These happen because of a deadly cocktail of reasons: lax regulations, rampant corruption, poor building materials and badly trained workers. Buildings are often piled up closely together - when one is poorly built, the others suffer.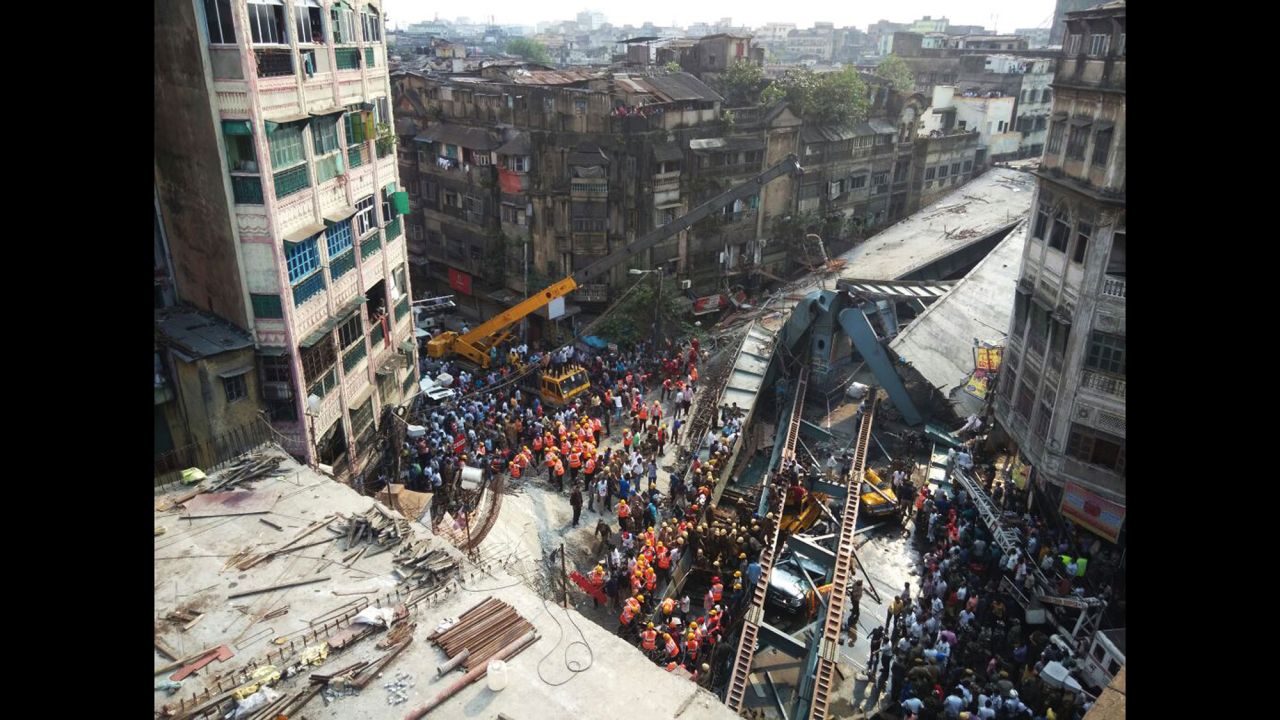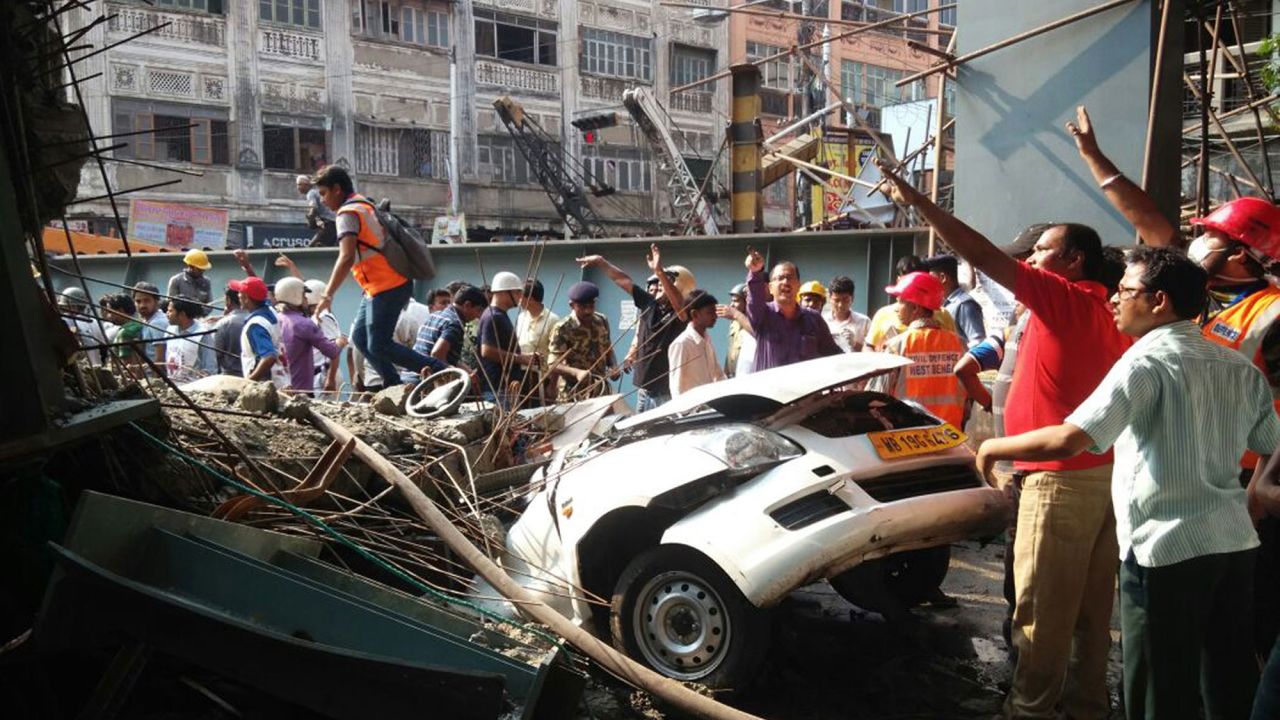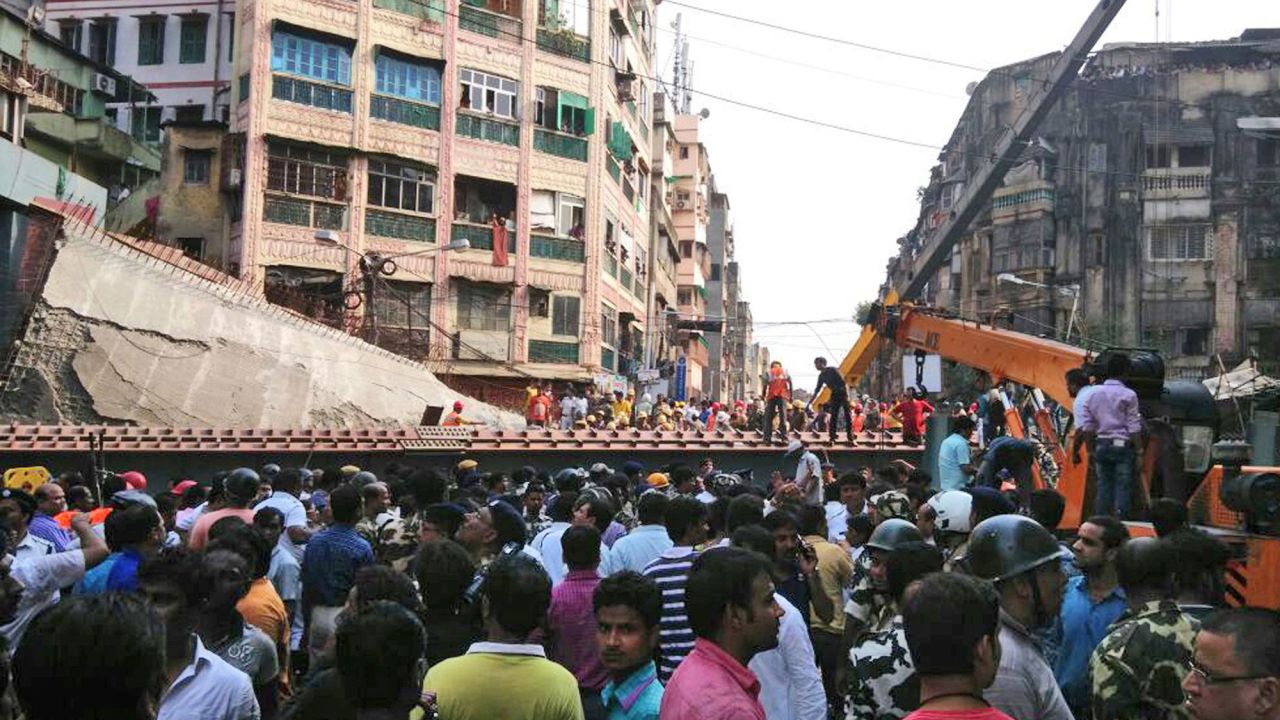 It is less common to hear of a bridge collapsing - in part because bridges are used by everyone, rich and poor, powerful or powerless. They are more democratic. Perhaps that's why there is a greater sense of anger and surprise in Kolkata. 
Disaster relief is also a struggle in India. 
According to eyewitnesses at Girish Park, it was many hours before cranes and trucks arrived on the scene to clear the rubble. In part this is also because Kolkata's roads are so narrow - getting from one place to another in a good time is a struggle, let alone after the collapse of a key arterial bridge. 
The rescue
I'm surrounded by members of the West Bengal Police and the NDRF - National Disaster Relief Force - as I write this, ducked away at a bend in the road.  One of the workers glances at his watch and exclaims: "It's nearly 24 hours - who can survive this?"
But the workers carry on, clearing the piles of debris.  It's a race against time, a race against all hope.  I'm fairly sure this isn't the last such story I'll cover in India, unfortunately.