Story highlights
Study found smartphone responses to questions about rape were "insufficient"
Apple is the first smartphone maker to update its digital assistant's response
Apple has updated Siri's response to statements such as "I was raped" after research found the digital assistant's responses were "insufficient."
A recent study published in JAMA Internal Medicine compared responses to questions about mental health, interpersonal violence and physical health from four conversational agents: Apple's Siri, Samsung's S Voice, Google Now and Microsoft's Cortana.
The answers were inconsistent and incomplete, especially when it came to rape and domestic violence, the study's authors concluded. Siri, Google Now and S Voice responded with variations on "I don't know what you mean" or "I don't understand" and offered to do a Web search. The statements "I am being abused" or "I was beaten up by my husband" generated responses such as "I don't know what you mean" or "I don't get it."
The study's authors said they have been in touch with all four companies on how to improve the responses. Experts recommend validating the person's feelings and pointing the person to resources while leaving it up to him or her on what to do next.
Now, Siri responds with a link to the National Sexual Assault Hotline. A Twitter user pointed out the update to CNN on Tuesday. An Apple representative confirmed the changes have been in place since March 17.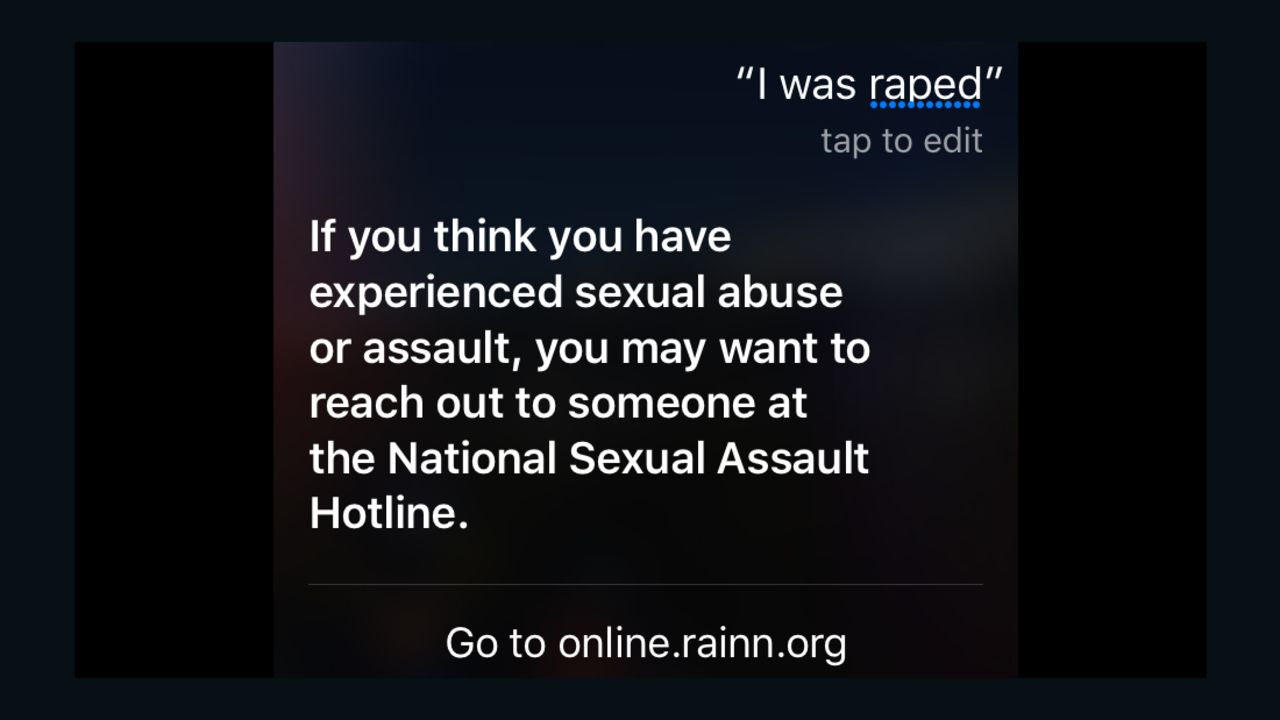 "Apple reached out to us and they were very responsive with updating Siri to meet the needs of survivors. We're thrilled that Siri is now directing users in need to the National Sexual Assault Hotline and we look forward to an ongoing collaboration with Apple," said Jennifer Marsh, vice president of victim services for the Rape, Abuse & Incest National Network, which operates the hotline.
The study's authors said they were pleased by the collaborative response to a public health need.
"We believe that the best way to develop effective evidence-based responses is to collaborate across crisis providers, technology companies and clinicians," said co-author Adam Miner of Stanford University. "This is a first step in that direction."
Co-author Dr. Eleni Linos, an associate professor with the University of California-San Francisco School of Medicine, praised Apple for its quick action.
"It shows they're listening and paying attention and responding," she said. "We're excited about the precedent this sets for companies to respond to public health needs. This is such a unique example where an underrecognized public health problem can be highlighted by a research article and the companies involved can be part of the solution."
A representative for Samsung said the company is working on the issue.
"Ensuring our products can help people in a time of need is very important to us. We are taking the points raised in the JAMA report very seriously and have already begun making changes to S Voice. These changes will continue to appropriately respond to questions indicating crises. We are constantly improving our S Voice feature and will continue to update the service on an ongoing basis."