Story highlights
Oklahoma senior guard Buddy Hield leads the No. 2-seeded Sooners to their first Final Four since 2002
Hield scored 37 points, including hitting eight 3-pointers, in Saturday's 80-68 win against No. 1 Oregon
Oklahoma faces second-seeded Villanova on Saturday (6:09 pm ET on TBS)
Editor's Note: For more stories, video and live game feeds from the NCAA men's basketball semifinals and finals go to cnn.com/marchmadness.
Oklahoma's Buddy Hield – aka Buddy Buckets – is putting on a show.
The senior guard's performance Saturday in the Elite Eight was breathtaking. He exploded for 37 points, including sinking eight 3-point shots, to lead the No. 2 Sooners to an 80-68 blowout win against No. 1 Oregon to advance to the Final Four in Houston – Oklahoma's first since 2002.
Numbers like that in college basketball usually are shocking. From Hield, it isn't. Those 37 points? That was just his third-best total in a game this season.
Quite frankly, the Buddy Buckets Show at NRG Stadium in Houston this Saturday against No. 2 seed Villanova (tipoff is at 6:09 pm ET on TBS) is something that shouldn't be missed.
"Buddy's passion for the game has been well-documented," Sooners head coach Lon Kruger said. "He's had a passion from early on."
An unconventional basketball background
Hield grew up in the Bahamas with his mother, three brothers and three sisters in the Eight Mile Rock neighborhood in Freeport. His given first name is Chavano, but his mother, Jackie Swann, nicknamed him "Bud" after Bud Bundy from the sitcom "Married … with Children." It was changed to "Buddy," however, after a drug dealer in the neighborhood named Bud was murdered.
His home, where track and field is the common sport of choice, isn't exactly a hotbed of basketball talent. Still, Hield was drawn to hoops, enjoying watching NBA and college basketball games on television.
In order to play the game he loved, Hield had to construct his own basketball goals, cutting out the bottoms of crates he would take from neighbors' back yards to use as makeshift hoops and nailing those to street posts.
It was on those dusty roads where Hield spent hours on the court, and his love for the game grew.
Hield moved to the United States in 2010 and played for Sunrise Christian Academy in Wichita, Kansas, before choosing Oklahoma. For the first and second rounds of this year's NCAA tournament, the Sooners played in Oklahoma City. There, he was asked about playing his final collegiate game in the state.
For more ...
For more stories, video and live game feeds from the men's semifinals and finals go to cnn.com/marchmadness
"It means a lot," he said. "Being given the opportunity to come over here and fulfill my dreams and play at a high level, coached at a high level. So I've been around a lot of great people, lot of fans, lot of people that accept me as family around here. Oklahoma will always be my second home."
Today, Bahamians are tuned in to the NCAA tournament for their countryman.
"We don't have to use Michael Jordan anymore," Charles Robins, president of the Bahamas Basketball Federation, said to USA Today. "We don't have to 'Be Like Mike.' We can 'Be Like Buddy.' "
Best NCAA shooter since Steph?
There hasn't been a scorer like this in the NCAA tournament since someone named Stephen Curry took the nation by storm with Davidson.
Well before he became an NBA superstar with the Golden State Warriors, Curry first made national waves in the 2008 NCAA tournament, when Davidson, a small school in North Carolina, improbably reached the Elite Eight as a 10 seed. Curry narrowly missed a trip to the Final Four with a 59-57 loss to Kansas.
Curry's points in those four NCAA tournament games that season: 40, 30, 33, and 25. That's an average of 32 points per game.
Hield's numbers this year are similar: 27, 36, 17 and 37, an average of just over 29 points per game in this year's tournament. Overall, Hield is averaging 25.4 points per game this season, second in the nation.
Other noteworthy numbers from Hield this season:
• First in the nation in 3-point field goals per game (4.06).
• First in the nation in 3-point field goals made (146).
• First in the nation in total points (916).
From unheralded to national player of the year?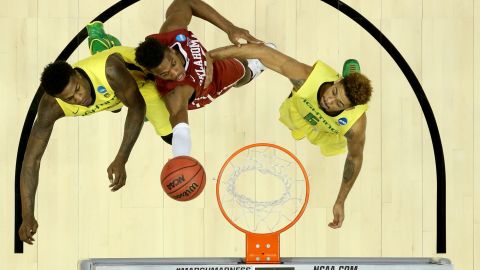 It was clear that Hield had talent – he was a four-star recruit ranked 86th nationally by Rivals.com coming out of high school – but there was no way to predict his astronomical rise in his collegiate career.
Hield connected on just 24% of his 3-point attempts as a freshman. Now, he's lethal from deep, shooting 47%, good for fourth in the nation this season. And as the year has gone on, his deep range has expanded.
"That's all confidence, really," Hield said. "Just believing I can make the shot."
As a senior, Hield's numbers have gone through the roof. He has scored at least 30 points for the 12th time this season. He is a finalist for the John R. Wooden Award, presented annually to the outstanding collegiate basketball player of the year, and a finalist for the Naismith Trophy.
Didn't plan on staying in college all four years
Hield contemplated jumping to the NBA after his junior season, but when he learned that he probably wouldn't be a first-round pick, he elected to return to Oklahoma for his senior year.
Wise move. Today, Hield is projected to be a top-10 pick in this summer's NBA draft.
"Buddy is a smart guy," said Kruger, the Sooners head coach. "He looked at his options, considered everything. He said, 'Hey, coach, a year from now I'm going to be a lot better. I'm going to be more mature. I'll be more able to secure a long career in the NBA.' That's exactly what happened for Buddy. Couldn't be happier for him because he's worked so hard at it."