Story highlights
Fire engulfs part of a residential complex in Ajman, United Arab Emirates
It is the third high-rise blaze in the Emirates in just over a year
A huge fire has engulfed part of a residential complex in the United Arab Emirates, police say. The blaze is now out, and no major casualties have been reported. At least two buildings were affected.
The buildings, along with neighboring towers in the Emirate of Ajman, were evacuated without incident, and the blaze has now been extinguished.
During a phone interview with local media, the head of Ajman Police, Brigadier Sheikh Sultan bin Abdullah Al Nuaimi, said that one injury was confirmed: a pregnant woman who had difficulty breathing.
The incident, which affected a complex in the Ajman Emirate, to the north of Dubai, is the third such fire to afflict the Emirates in just over a year.
Stuck on the 48th floor: Photographer's close shave in Dubai hotel blaze
In February 2015, a fire damaged the Torch skyscraper in Dubai, one of the world's tallest residential towers, and on New Year's Eve, flames engulfed the high-rise Address hotel in downtown Dubai.
Five people from the Ajman fire were treated on site for minor injuries. Nuaimi added that the fire started in a residential building in the Ajman One Towers complex, then partially spread to nearby buildings. The development contains 12 towers.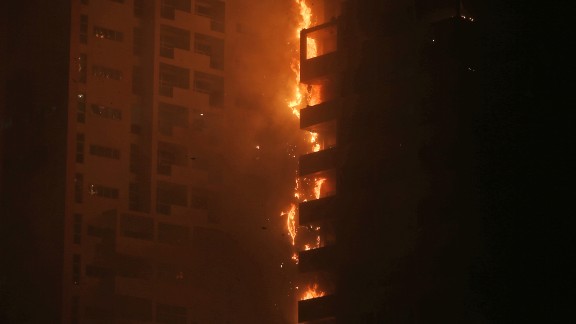 Kamran Jebreili/AP
The cause of the fire remains unknown, Nuaimi said, and there will be an investigation.
CNN's Roba Alhenawi contributed to this report.