Story highlights
The woman in yellow is Nidhi Chaphekar, 40, a flight attendant from India for Jet Airways
She is in stable condition under sedation in a hospital
She suffered burns to 18% of her face, a fractured foot, other burns to her body
She is the woman in yellow reeling after the Brussels airport attack. The blast ripped open her yellow tunic, exposing her bra and stomach. Dust and blood covered her head. A foot dangled, shoeless, bleeding, as she clung to a bench of seats.
She looked at the camera as if wavering between collapse and strength.
Her identity is now known: Nidhi Chaphekar, 40, is a flight attendant from India who works for Jet Airways, according to her sister-in-law, Madhuri Chaphekar, who spoke to CNN.
'I'm very lucky' – Brussels attack survivors tell their stories
Nidhi Chaphekar was joining the crew about to board a plane to Newark, New Jersey, when the terror attack occurred, the sister-in-law said Friday.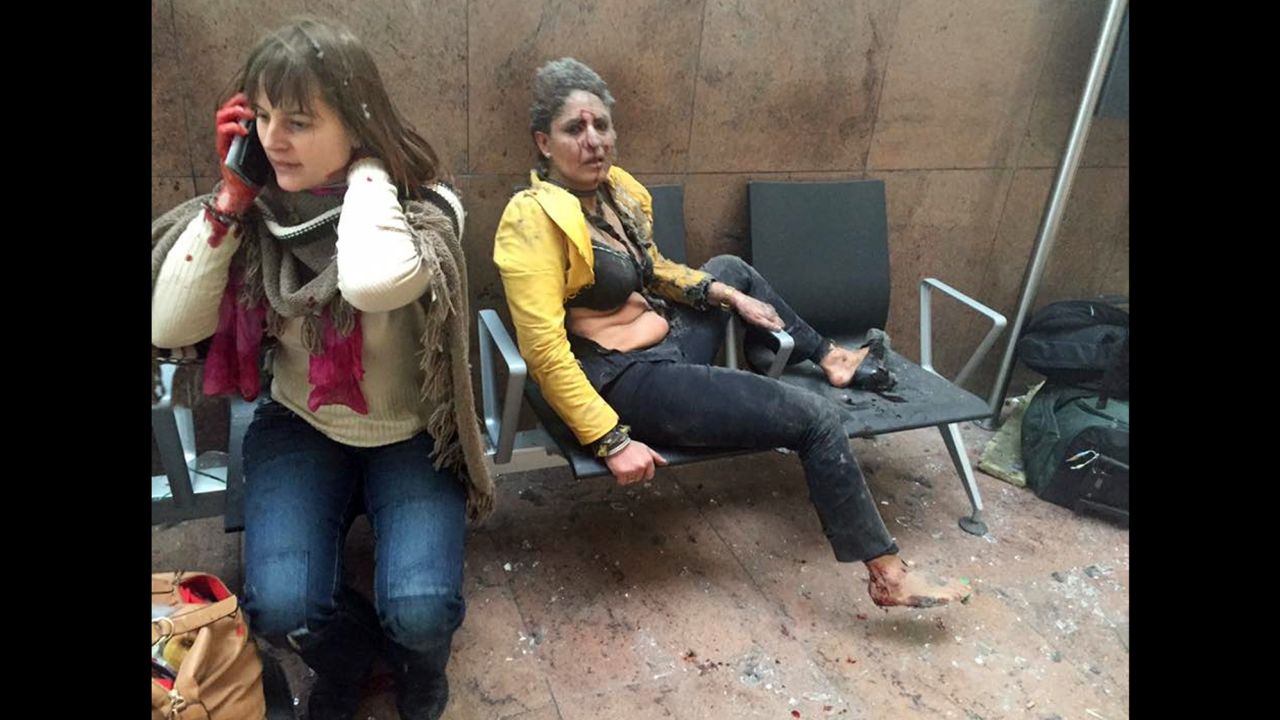 That explains why she was wearing the airline's uniform of yellow top with dark trousers.
Nidhi Chaphekar remains hospitalized, the airline said Friday.
Brussels stories: Grief for the lost, hope for the missing
"The doctor has confirmed that Nidhi is in a stable condition and not in coma. She is resting and under sedation for her comfort," Jet Airways said in a statement.
Nidhi Chaphekar suffered burns to 18% of her face, a fractured foot, and burns on other parts of her body, said Kumar Gaurav, spokesman for the Indian Embassy in Brussels.
She's been moved out of intensive care and put in a special care unit, Gaurav said.
She's showing improvement, he added.
Nidhi Chaphekar lives in suburban Mumbai, India, with her husband and two children. She has been working for Jet Airways for more than 19 years, according to the airline and her family.
Her husband arrived in Brussels Thursday from Mumbai, the embassy spokesman added.
Nidhi Chaphekar was described as an in-flight manager who is originally from Amritsar and had lived with her sister in Mumbai while working as a cabin crew member, according to The Indian Express, which interviewed her brother-in-law.
Her children, Vridhi, 11, and Vardhaan, 14, were told that their mother went through an accident, The Indian Express reported.
Attack survivor pens note to unborn child
She met her husband, Rupesh Chapekar, in Mumbai. He owns a factory in Chakala, and the couple married 16 years ago, the newspaper said.
The family has decided not to ask Nidhi Chaphekar to leave her job.
"It can happen anywhere — to you, to me," the brother-in-law told the newspaper.
Faces of fear and hope in Brussels
Her husband is glad he will be able to see her. He is looking forward to bringing her back to her children soon. "She just happened to be there. Why should terror attacks make someone leave their work," he told the newspaper.
CNN's Sugam Pokharel contributed from New Delhi.