Story highlights
NEW: Four people charged following the Trump event in Chicago
Donald Trump: Protests that canceled Chicago rally were "professionally done" and "planned"
He says his supporters are "nice," but they were "taunted" by protesters
Watch CNN's Democratic Town Hall, co-hosted by TV One, Sunday at 8 p.m. ET.
(CNN) —
Donald Trump on Saturday called for protesters who disrupt his rallies to be arrested, one day after altercations and protests forced him to cancel a campaign rally in Chicago.
The comments capped a tumultuous day on the campaign trail in which a demonstrator rushed a stage where Trump was speaking.
Trump also accused Bernie Sanders' supporters of sowing unrest at his events and the GOP front-runner refused to back down from his rhetoric that some have cited as the cause of heightened tension at his rallies.
Trump's call to arrest protesters came at a campaign event in Kansas City, Missouri, where he was repeatedly interrupted at the beginning of his address.
"I'm going to ask that you arrest them," Trump said to the police. "I'll file whatever charges you want. If they want to do this … we're going to go strongly for your arrests."
Trump said arresting protesters would "ruin the rest of their lives" by giving them a "big arrest mark."
"Once that starts happening, we're not going to have any more protesters, folks," Trump said.
Protesters pepper-sprayed
As dozens of protesters disrupted Trump's rally inside a Kansas City theater, crowds of demonstrators gathered outside.
Lining the sidewalks and four corners of the nearest intersection to the theater, the protesters voiced their opposition to Trump's policies and rhetoric, which many characterized as racist, xenophobic and fear-mongering.
Police used pepper spray at least twice Saturday night, with the Kansas City Police Department tweeting that "we had to use pepper spray 2 times outside Trump rally and arrested two people who refused to follow law."
As Trump supporters left the venue, protesters shouted and cursed at them – and any passersby coming from the direction of the theater – calling them "f***ing racists."
Alicia Valeanzela, who was shouting those words at people she believed to be Trump supporters, said she believed anyone supporting Trump supports a racist, xenophobic ideology.
"He's a f***ing bigot. He's an a**hole," she said.
"It's not right I'm not gonna let somebody ruin our country like that," said the 21-year-old native of Venezuela. "People need to know that they cannot vote for Trump, and Trump cannot become our President."
Among those targeted by the protesters' cries were the Toates family: father Phillip, his wife and their three children, including a 10-year-old son.
"How do they know I even attended the rally? They say Trump's all about hate, but we have not been about hate and that's the way we got treated when we came out," said Phillip Toates, who said he is leaning toward supporting Trump but is still undecided.
"It's not the way I expected to be treated coming out of a rally," he said.
'Our communist friend'
Trump began the day by blaming supporters of Sanders, the Vermont senator seeking the Democratic presidential nomination, of disrupting his Chicago event, where many in the audience chanted the senator's name after the rally was called off.
"Some represented Bernie, our communist friend," Trump said in Dayton, Ohio, his first campaign appearance since the Chicago event was postponed.
Later in the day, Trump said protesters at his Cleveland event are "Bernie's crowd."
"You know Bernie was saying Mr. Trump should speak to his crowd," Trump said. "You know where they come from? Bernie's crowd. They're Bernie's crowd."
And when a protester momentarily disrupted Trump's rally, the GOP front-runner again said the demonstrator was a "Bernie person."
"Get your people in line, Bernie," Trump said.
Sanders, however, pushed back against Trump, calling on him to denounce violence at his rallies and labeling him a "pathological liar."
'I don't think our supporters are inciting'
The progressive group MoveOn.org, which has endorsed Sanders, said in a statement Saturday that it helped students print signs for the protests at the Chicago rally and recruit members to attend the "student-led protest."
Sanders on Saturday said his supporters were not to blame for the unrest.
"I don't think our supporters are inciting. What our supporters are doing is responding to a candidate who has, in fact, in many ways, encouraged violence," Sanders said at a news conference in Chicago. "When he talks about … 'I wish we were in the old days when you could punch somebody in the head.' What do you think that says to his supporters?"
Sanders also referred to an incident this week in which a black protester was sucker-punched by a Trump supporter as he was being led out of a rally.
"So the issue now is Donald Trump has got to be loud and clear and tell his supporters that violence at rallies is not what America is about and to end it," Sanders said.
In a statement issued later Saturday, Sanders added: "As is the case virtually every day, Donald Trump is showing the American people that he is a pathological liar."
4 people arrested
Clashes broke out Friday night between protesters and Trump supporters after the campaign announced the rally would be canceled more than 30 minutes after it was scheduled to start. Hundreds of protesters had packed into the University of Illinois at Chicago venue for the rally, prompting the campaign to call off the event.
Four people have been charged following the event in Chicago, with charges ranging from aggravated battery to resisting arrest, Chicago Police Department said in a statement.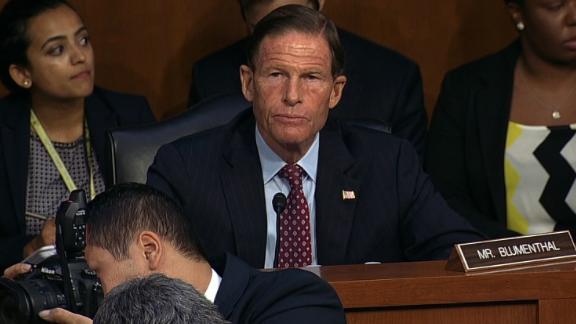 Now playing
02:13
See protesters rattle Brett Kavanaugh hearing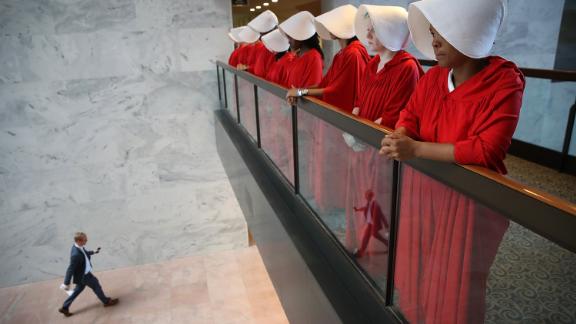 Now playing
01:48
'Handmaids' protest Kavanaugh confirmation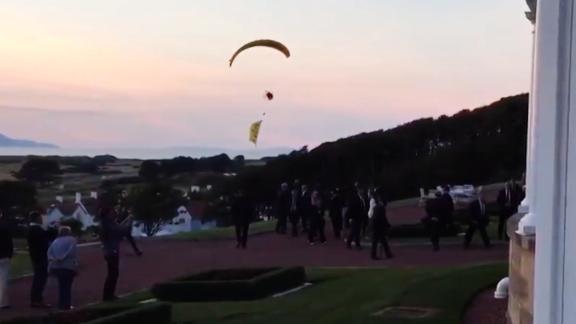 Now playing
01:21
Trump protester breaches security airspace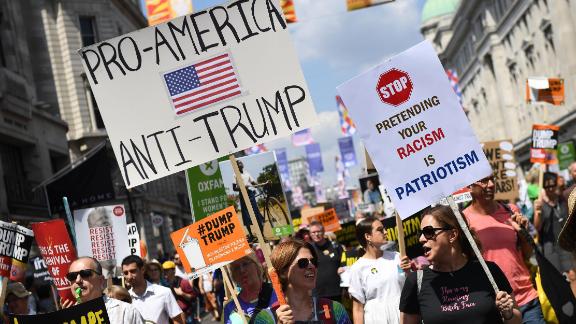 Now playing
00:54
Demonstrators gather in London for Trump visit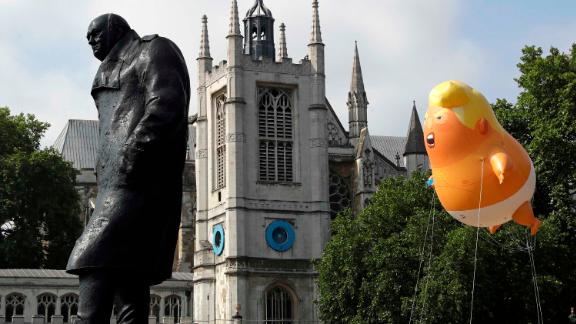 Now playing
01:24
'Trump baby' blimp takes to London's skies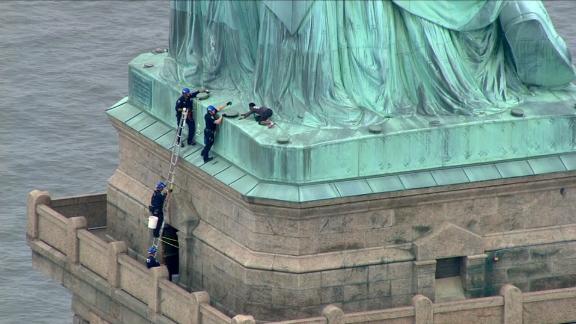 Now playing
01:04
Woman climbs base of the Statue of Liberty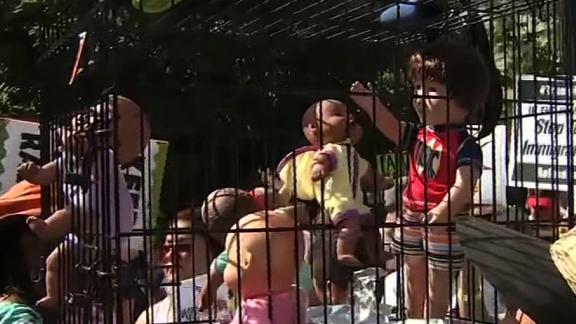 Now playing
00:58
Protesters carry a dog crate with baby dolls inside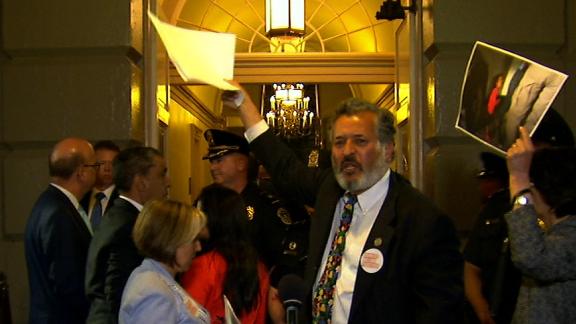 Now playing
00:48
Lawmakers yell at Trump after GOP meeting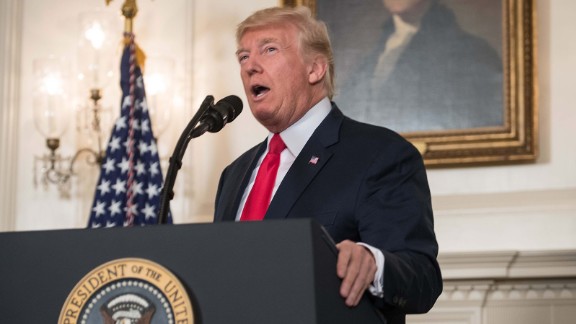 Now playing
01:49
Trump's day-by-day response to Charlottesville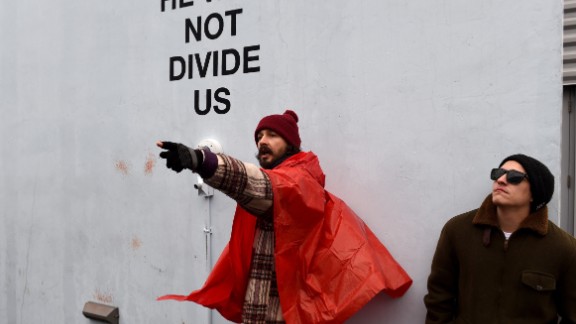 Now playing
00:45
Shia LaBeouf arrested at anti-Trump protest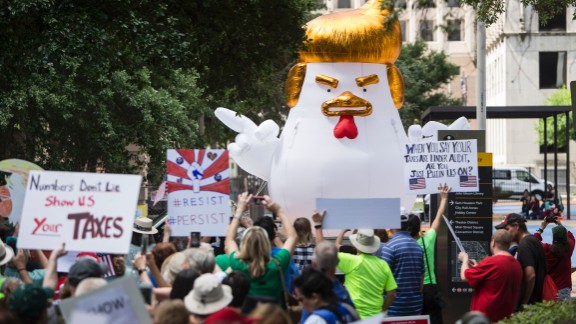 Now playing
01:15
Tax marches across the US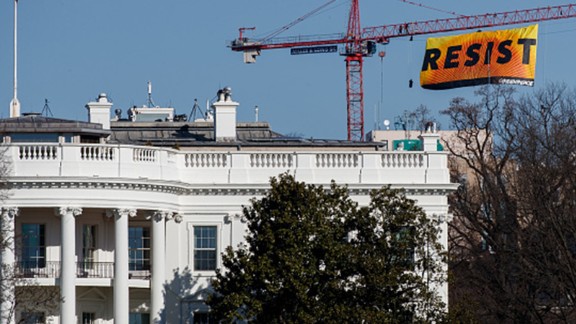 Now playing
00:57
Activists scale crane to protest Trump