Story highlights
Pyongyang says it will "liquidate" all South Korean businesses operating north of the border
Two North Korean missiles fired toward the sea, South Korea says
Launch follows a North Korean claim that it has miniaturized nuclear warheads
North Korea fired two short-range ballistic missiles early Thursday, according to the South Korean military, as already heightened tensions on the peninsula continued to worsen.
The two missiles were fired from North Hwanghae province, south of Pyongyang, toward the sea east of the Korean Peninsula, the South Korean Joint Chiefs of Staff said. The South tracked the projectiles and is monitoring the situation, it said.
The launch is the latest saber rattling on the peninsula that roils with tension. The show of force appeared to be confirmed Friday in a report from the state-run Korean Central News Agency. It follows a North Korean claim that it has miniaturized nuclear warheads to fit on ballistic missiles, according to KCNA.
Also Thursday, the agency published a statement that "all agreements on economic cooperation and business exchanges adopted by North and South are invalid."
This comes after Seoul last month ordered the closure of the Kaesong industrial complex, a rare symbol of cooperation between the two Koreas.
Describing the shuttering of Kaesong as a "unilateral" move, KCNA said Pyongyang "will completely liquidate all South Korean companies and relevant assets" within its borders.
Seoul condemned the suspension of economic ties Thursday, with the Unification Ministry saying in a statement it would "never accept" the move, which it described as a "provocative action."
The statement added it would hold Pyongyang responsible for any damage to South Korean assets north of the border.
'Ready at any time'
Tensions have heightened on the Korean peninsula following a fourth North Korean nuclear test and joint U.S.-South Korean military drills.
Around 17,000 U.S. military personnel and 300,000 South Korean troops are taking part in what the South Korean Defense Ministry described as the "largest ever" joint military exercises.
North Korea on Sunday warned it would make a "pre-emptive and offensive nuclear strike" in response to the joint exercises. On Friday, KCNA reported that North Korean leader Kim Jong Un had ordered more tests to improve his country's nuclear attack capability.
The South Korean military spokesman said the two allies were "closely monitoring" signs of North Korean provocation.
"As of now, there are no direct signs of provocation, but we are planning to continuously strengthen surveillance," Defense Ministry spokesman Moon Sang-gyun said.
Last week, KCNA reported that the North Korean leader said his country's "nuclear warheads need to be ready for use at any time."
"Under the extreme situation that the U.S. imperialist is misusing its military influence and is pressuring other countries and people to start war and catastrophe, the only way for our people to protect sovereignty and rights to live is to strengthen the quality and quantity of nuclear power and realize the balance of power," Kim said, according to the KCNA.
While Pyongyang often issues saber-rattling statements during annual U.S. and South Korean joint exercises, "this year the level of anger is much greater," says Mike Chinoy, a former CNN senior international correspondent and the author of "Meltdown: The inside story of the North Korean nuclear crisis."
Chinoy told CNN he was concerned if North Korea "takes even a modest military step, the South will feel obliged to respond."
Nuclear warheads
Pyongyang's claims that it has miniaturized nuclear warheads comes after the North reported a successful test of what it said was a hydrogen bomb in February.
State media reported Wednesday that Kim met with nuclear scientists and technicians, who briefed him on "research conducted to tip various type tactical and strategic ballistic missiles with nuclear warheads."
The agency also published photographs that appeared to show Kim visiting a facility where the warheads have been made to fit on ballistic missiles – the first time state media has released images showing its miniaturized weapons technology. CNN cannot independently confirm the photos' veracity or the claims of the KCNA.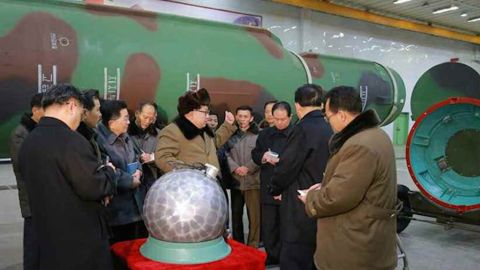 David Albright of the Institute for Science and International Security told CNN's Brian Todd on Monday that his group thinks the North Koreans had probably already miniaturized a warhead.
A South Korean Defense White Paper from 2014 also noted that its neighbor's ability to miniaturize nuclear weapons seemed, at the time, "to have reached a considerable level."
Chinoy said there was "no doubt (the North Koreans) are making progress, but it remains unclear whether they have actually miniaturized the warhead."
"No question they're moving in that direction."
CNN's Euan McKirdy, Judy Kwon, Ivan Watson, Greg Botelho, Dana Ford, Zahra Ullah, Dakota Flournoy and K.J. Kwon contributed to this report.