Story highlights
Nancy Reagan journeyed from Hollywood to White House
She was President Ronald Reagan's partner in many ways
Former first lady Nancy Reagan, who joined her husband on a storybook journey from Hollywood to the White House, died Sunday.
She was 94.
Reagan died at her home in Los Angeles of congestive heart failure, according to her spokeswoman, Joanne Drake of the Ronald Reagan Presidential Library.
"Mrs. Reagan will be buried at the Ronald Reagan Presidential Library in Simi Valley, California, next to her husband, Ronald Wilson Reagan, who died on June 5, 2004. Prior to the funeral service, there will be an opportunity for members of the public to pay their respects at the library," Drake said in a statement.
Political world mourns Nancy Reagan
The former first lady requested that contributions be made to the Ronald Reagan Presidential Library and Foundation in lieu of flowers, the statement said.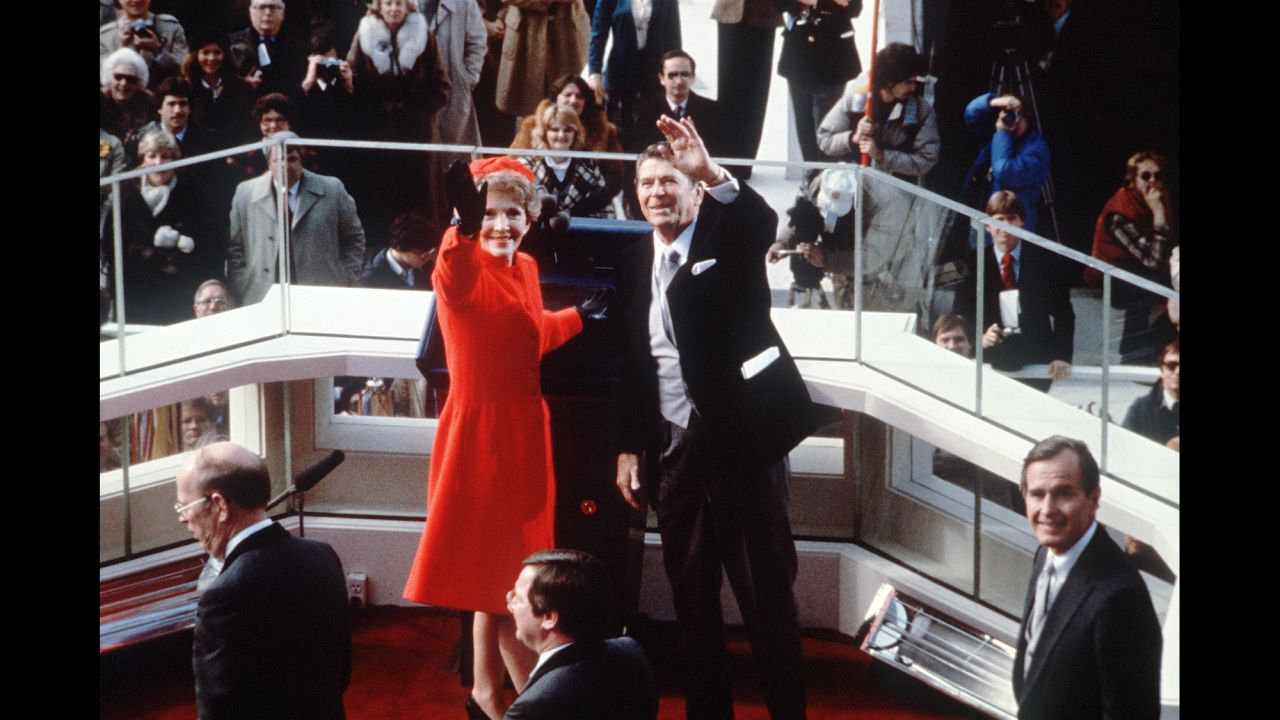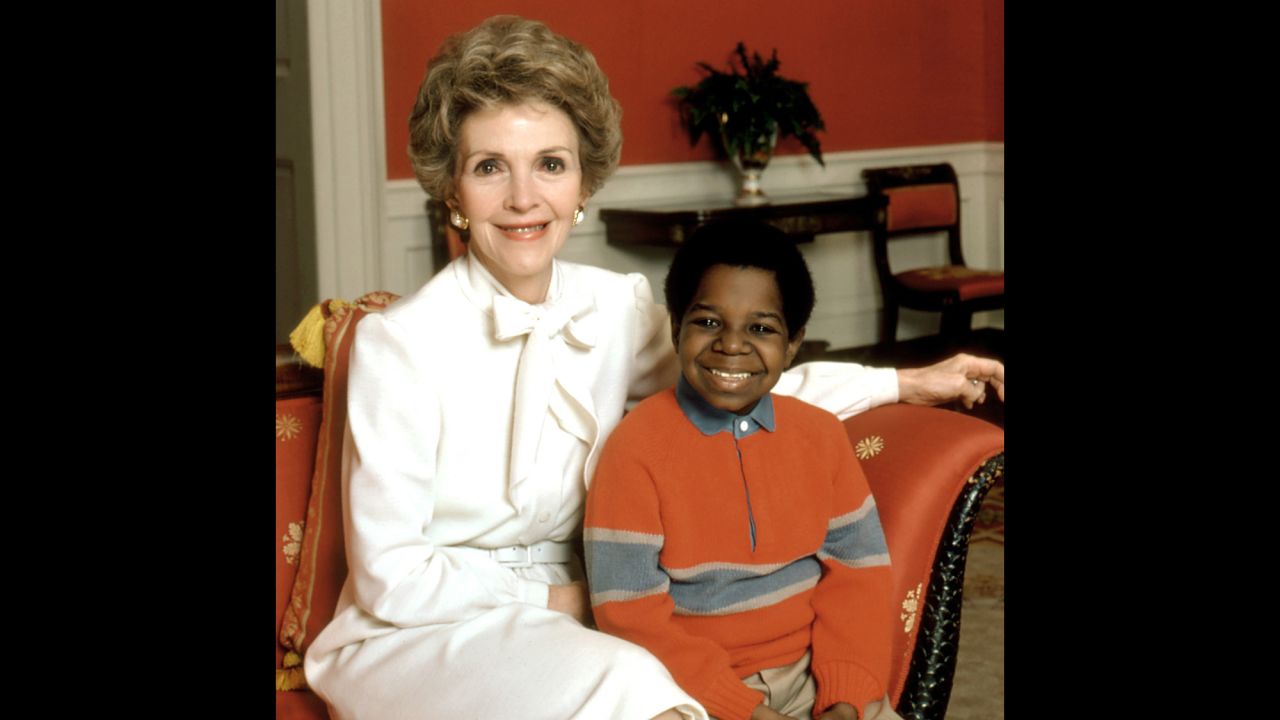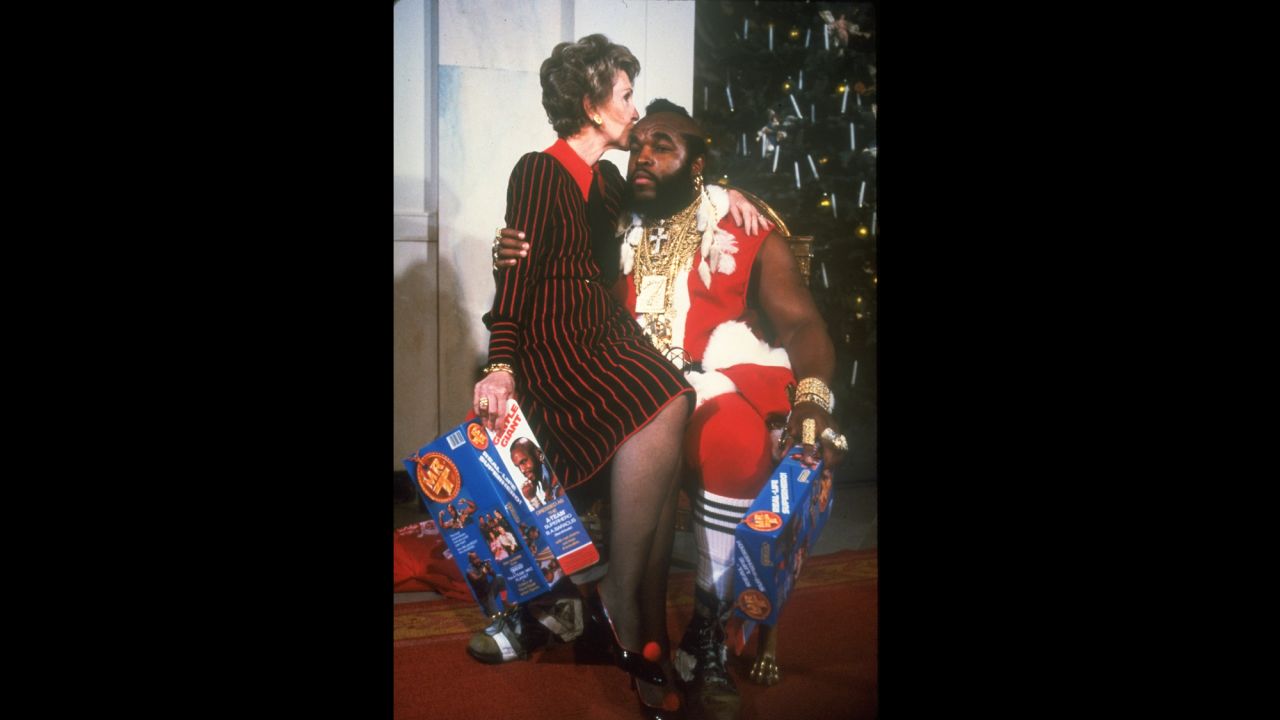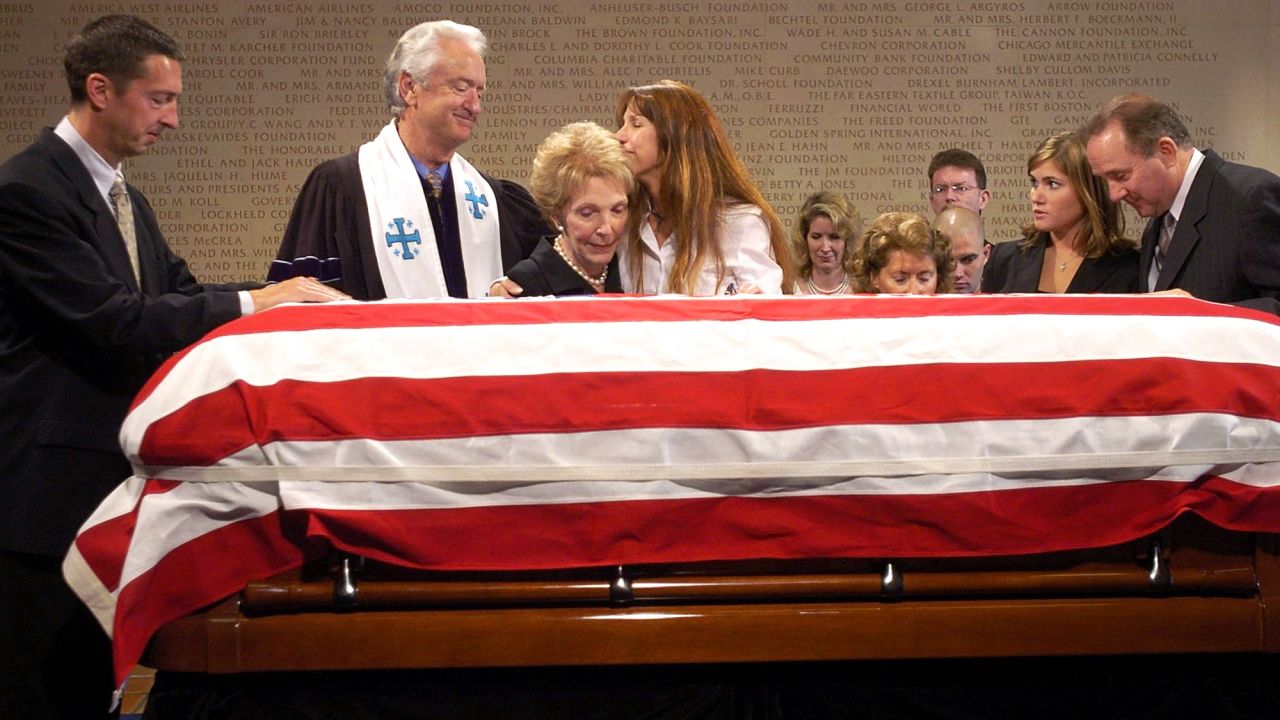 Celebrating the life of Nancy Reagan
In a statement, President Barack Obama thanked Reagan for her "warm and generous advice."
"Our former First Lady redefined the role in her time here," he continued. "Later, in her long goodbye with President Reagan, she became a voice on behalf of millions of families going through the depleting, aching reality of Alzheimer's, and took on a new role, as advocate, on behalf of treatments that hold the potential and the promise to improve and save lives.
"We offer our sincere condolences to their children, Patti, Ron, and Michael, and to their grandchildren. "
Republican leaders also paid tribute.
"With the passing of Nancy Reagan, we say a final goodbye to the days of Ronald Reagan," wrote 2012 GOP presidential nominee Mitt Romney on Facebook. "With charm, grace, and a passion for America, this couple reminded us of the greatness and the endurance of the American experiment. … God and Ronnie have finally welcomed a choice soul home."
Former first lady Barbara Bush, whose husband George H.W. Bush succeeded Ronald Reagan as president, said, "Nancy Reagan was totally devoted to President Reagan, and we take comfort that they will be reunited once more. George and I send our prayers and condolences to her family."
Former President George W. Bush and his wife, Laura, also were moved by Reagan's death.
"Mrs. Reagan was fiercely loyal to her beloved husband, and that devotion was matched only by her devotion to our country," Bush said in a statement.
He observed that her influence on the White House was "complete and lasting."
A fierce protector
As first lady during Ronald Reagan's eight years in the White House, Nancy Reagan was known as the "Just say no" spokeswoman of anti-drug campaigns and as a fierce protector of her husband, both personally and politically.
When Ronald Reagan was shot in a 1981 assassination attempt, Nancy Reagan never left the hospital where the president was treated until he was released, according to her press secretary, Sheila Tate.
After she and her husband left Washington, she became his protector again as he struggled with Alzheimer's disease until his death in 2004. Afterward, she remained a staunch guardian of his image and legacy.
"She was always the one who kept the flame alive," said CNN senior political analyst David Gergen, a former Reagan adviser.
Her official White House biography quotes Nancy Reagan as saying, "My life really began when I married my husband."
A marriage made in Hollywood
She was born Anne Frances Robbins in New York City on July 6, 1921. Her mother and father separated before her birth.
Her mother, Edith, toured with a theater company while Nancy lived with an aunt and uncle. Her mother married Chicago neurosurgeon Loyal Davis when the future first lady was young. He adopted her and she settled down in Chicago, before she adopted the stage name Nancy Davis and headed west to Hollywood.
"She told me that MGM was like a big family, that when she signed with MGM, she became part of that family. They took care of her," Tate said.
As part of the MGM stable, Nancy Davis made 11 films from 1949 until 1956, but her career almost ended before it began. Her name appeared on a list of people thought to have been communist sympathizers in 1949.
"She got a mailing that was for another Nancy Davis, and this other Nancy Davis was in connection with one of those Hollywood blacklists that were going on in the Hollywood red-hunting days," biographer Lou Cannon said.
Upset, she turned to a friend for help and he set up a meeting with the president of the Screen Actors Guild, a dashing leading man named Ronald Reagan.
It would be the start of one of Hollywood's and Washington's most enduring love stories. In fact, her final screen appearance was playing opposite her future husband in a movie called "Hellcats of the Navy."
The two wed on March 4, 1952, in a private ceremony at a small church near Los Angeles. She began her role as a wife of a politician when her husband won the 1966 California gubernatorial race.
In politics
Ronald Reagan's two terms as California governor catapulted him into the national spotlight, and he ran for higher office.
He swept into the White House and when he was inaugurated in 1981, Nancy Reagan brought to Washington a style and elegance that many loved.
But she was also criticized for wearing expensive designer gowns and ordering expensive new china for White House state dinners – even though the place settings were paid for with private funds.
"Nancy Reagan was hurt by it, it bothered her because people didn't understand," former White House Chief of Staff Kenneth Duberstein said. "But the impact was more on him, because 'Somebody was picking on my Nancy.' And that was unfair."
'A codependent presidency'
She had a sweeping influence on how the White House was run, especially when it came to the people who worked for the President.
"They had a codependent marriage that became a codependent presidency," CNN presidential historian Douglas Brinkley said.
"Ronald Reagan was the nice guy who liked to tell everybody how wonderful they were. She was the judge of character, and if she thought somebody didn't have her husband's interest in mind, she nixed them. You can't overestimate how important she was for the Reagan revolution and Reagan's eight years in the White House."
When President Reagan was shot in March 1981, only she and a few others knew how badly hurt he really was.
"I remember sitting in the anteroom with her and we were dealing with a few things that had to be dealt with, and there was this pounding," Tate said. "And she said: 'They're pounding on his back.' And it was really shocking – bam, bam – just to get everything moving. …
"She never left that hospital."
After the assassination attempt, the president's safety was Nancy Reagan's No. 1 preoccupation.
'I make no apologies'
Through it all, she had many admirers and critics.
Chief among the critics was her husband's former chief of staff Donald Regan, who wrote a blistering book about her influence, claiming that she used an astrologer to determine the president's schedule.
"I would have preferred it if he decided to attack me," Ronald Reagan said at the time. "From what I hear, he's chosen to attack my wife, and I don't look kindly on that at all."
A year after Reagan's final year in office, the first lady fired back at Regan in her 1989 book, "My Turn: The Memoirs of Nancy Reagan."
"I make no apologies for telling him what I thought," the former first lady wrote, referring to her husband.
Gergen said Sunday that she was not a woman to cross when it came to her husband.
"She thought her first and foremost duty was to be there with him," he said.
'Her beloved Ronnie'
Indeed, when observers describe Mrs. Reagan, their stories often involve the words "devoted" and "protective."
"Nancy was a powerful figure in the Reagan White House. (She was a) most protective person," former CNN Washington bureau chief Frank Sesno said Sunday. "Her agenda always, always, always was her beloved Ronnie."
Added CNN chief political analyst Gloria Borger, "Her real role was to protect her husband and to make sure everyone around him was on the same page. … Everything she did was in Reagan's interest. And like most politicians' spouses she really had his ear."
She had other more traditional roles at the White House, including as a spokeswoman for the anti-drug program – which was reduced to a phrase, "Just Say No." She even made an appearance on the 1980s sitcom "Diff'rent Strokes" to deliver the message.
"When I said, 'Just say no,' it was an answer to a question by a child in a classroom," she told CNN's Larry King. "Now, I didn't mean that was the whole answer, obviously, but it served a purpose."
Maintaining a legacy
Those closest to the former first lady said they were concerned about her when her husband of 52 years passed away of Alzheimer's in 2004, but she remained in the public eye.
During the 2008 presidential campaign, she hosted two debates for Republican candidates at the Reagan Library, according to her biography on the National First Ladies' Library website.
In 2011, she attended a debate for the 2012 Republican hopefuls at the library. She received a standing ovation.
But she believed some relationships were above politics. When historian Brinkley told her he wasn't a conservative, she asked, "What's your point?"
"She thought Ronald Reagan was an American president – after all, Ronald Reagan voted for Franklin D. Roosevelt four times, he used to be a Democrat," Brinkley said Sunday. "While the right in America celebrates him almost like a patron Saint Ronald Reagan, Nancy Reagan is the one that said my husband represented all of the American people, not just Republicans."
'A pretty fabulous life'
She'd had her own medical challenges. She was diagnosed with breast cancer in 1987 and underwent a mastectomy.
But she maintained an upbeat view – even when it didn't involve gazing adoringly at her husband, as she famously did in countless pictures.
In a 2001 interview which took place on Ronald Reagan's 90th birthday, CNN's Larry King asked the former first lady whether she felt that fate had treated her badly.
"No, no. When you balance it all out, I've had a pretty fabulous life," she said.
Nancy Reagan is survived by Patti Davis and Ron Reagan – her two children with Ronald Reagan – and Michael Reagan, a son from Ronald Reagan's first marriage to Jane Wyman. Maureen Reagan, Ronald Reagan's daughter with Jane Wyman, died in 2001.