Bernie Sanders and Hillary Clinton are in a dead heat to win the Nevada caucuses, and both campaigns have launched last-minute efforts to win over voters – including Latino voters.
In the latest CNN/ORC poll for Nevada, 48% of likely caucus attendees say they support Clinton, while 47% say they support Sanders, within the poll's margin of error.
But how does the Nevada Latino vote really stack up in the state?
RELATED: Clinton releases emotional ad to appeal Nevada Latinos
According to report by CNN en Español and CUNY's Center for Latin American, Caribbean & Latino Studies, the Latino electorate has increased from 45,506 eligible Latino voters in the state in 1990 to 332,268 voters in 2014 – increasing by more than seven times in 24 years.
Almost 30% of the Nevada population identifies as Latino, according to the U.S. Census Bureau.
The report shows that in 2012, President Barack Obama won Nevada's six electoral votes by 6.7%, and researchers link this to his appeal to Latinos. Exit polls show that 71% of Latino who cast ballots voted to re-elect the president, comprising of 15% of all ballots cast.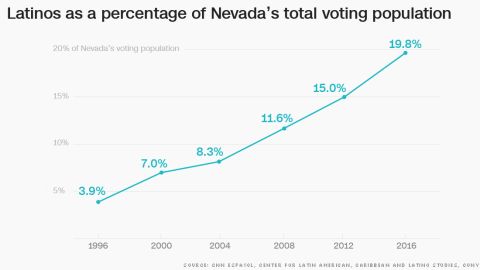 The report predicts that almost 20% of ballots cast for the 2016 election in Nevada could come from Latino voters, giving Latinos the power to swing the state's election.
The voter registration rate for Latino's in the state has increased over the years as well, from 39.7% of Latinos registering to vote in 1996 to 59.9% of Latinos registering in 2012.
Democratic strategist Maria Cardona told CNN's Juan Carlos Lopez that Latinos have the power to decide this election.
"I can assure you on the Democratic side, the Latino vote in all of the swing states will be a priority because I think they understand given that it was demonstrated by President Obama twice, that the Latino vote can and was decisive for him in a lot of these key states that are where the Latino electorate is not as big as in California or in Texas, but certainly made a difference," she said.
CORRECTION: A previous version of this story misstated the number of years in which the Latino electorate has increased in Nevada.