Story highlights
Latino candidates in Republican Party are already making history
Now Latino voters want to make history too, in selecting next president
Battle may lie in nine key states where Latinos could swing the election, CUNY study says
Rudy Zamora senses history in the making for that long-sleeping giant in the presidential election: the Latino vote.
He will become a first-time voter in the November general election, taking one step toward erasing Latino voters' spotty record of registering and actually going to vote.
"We need to show the country that we're ready to take on the battle," said Zamora, 29, who will become a U.S. citizen later this year, allowing him to cast his first ballot.
"I clearly believe Latinos have the power to elect the next president of the United States," he added.
Already, this year's election is making Latino history – if only among the candidates.
Specifically, Sen. Ted Cruz, a Cuban-American, became the first Hispanic candidate to ever win a presidential caucus or primary when he won the Republican caucus in Iowa.
Sen. Marco Rubio, also a Cuban-American and Republican, came in third. With Cruz's 28% of the vote and Rubio's 23%, each surpassed results achieved by any other Latino candidate in any previous presidential contest, analyst Roberto Suro wrote in The New York Times.
But what about the other side of the voting booth?
Will Latinos – now the nation's largest minority – choose the next president and make history, too?
Nine states may have the answer
The answer may boil down to Nevada and eight other states, all places where Latinos could determine who becomes the next president – if they vote in sufficient numbers, according to a new study by City University of New York in partnership with CNN en Español.
The signs are optimistic.
Latinos are already voting in higher numbers: In 1992, they cast only 3.9% of all votes at the national level, but their share is projected to approach 10% in November, the study said.
The study identifies nine small and big states where Latinos could flex their growing muscle and actually swing the vote for the White House: Nevada, North Carolina, Virginia, Colorado, New Hampshire, Pennsylvania and Wisconsin, as well as the delegate-rich states of Florida and Ohio.
"States with relatively small percentages of the total national Latino electorate will probably determine who will be the next president of the United States," the study said.
"However, in very close elections in each state, Latinos may determine the victor despite the fact that they will be a small portion of those who vote," said the report by CUNY's Center for Latin American, Caribbean & Latino Studies.
Nevada is one of those bellwether states: A good Latino turnout is projected here in November, at 53% of those eligible in the demographic. If that projection is right, they will account for 20% of all voters casting ballots, the study said.
Just how influential Latinos are in Nevada was highlighted in the 2012 presidential race: President Barack Obama won Nevada by 6.7 percentage points, and exit polls showed he won 71% of the Latino vote here, the study said.
In Nevada, the Democrat caucus will be held Saturday, and the Republicans will hold theirs on Tuesday.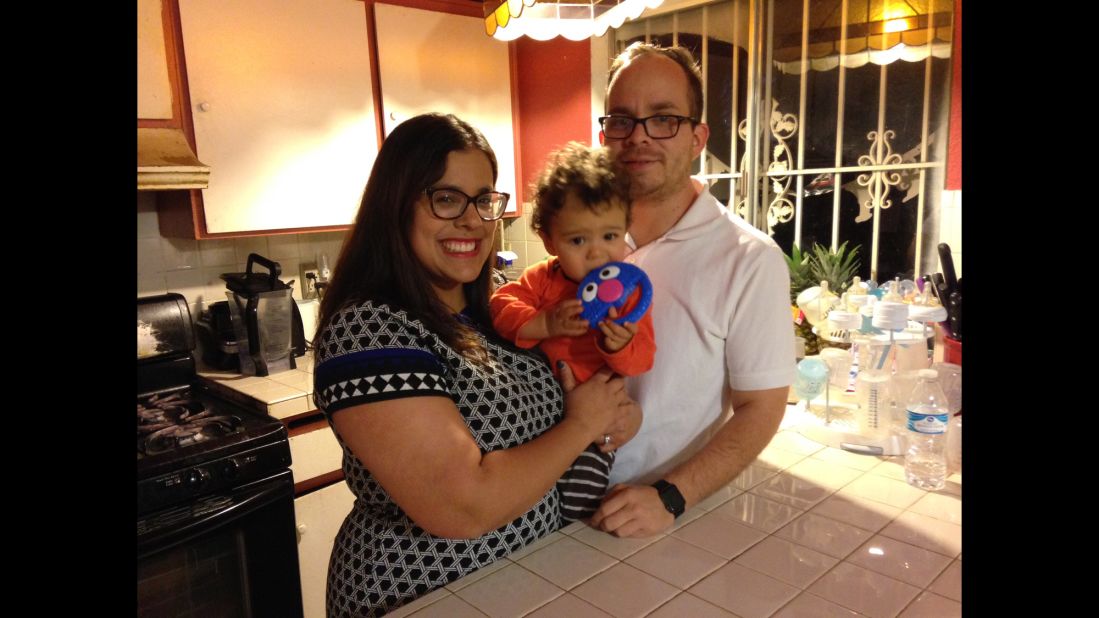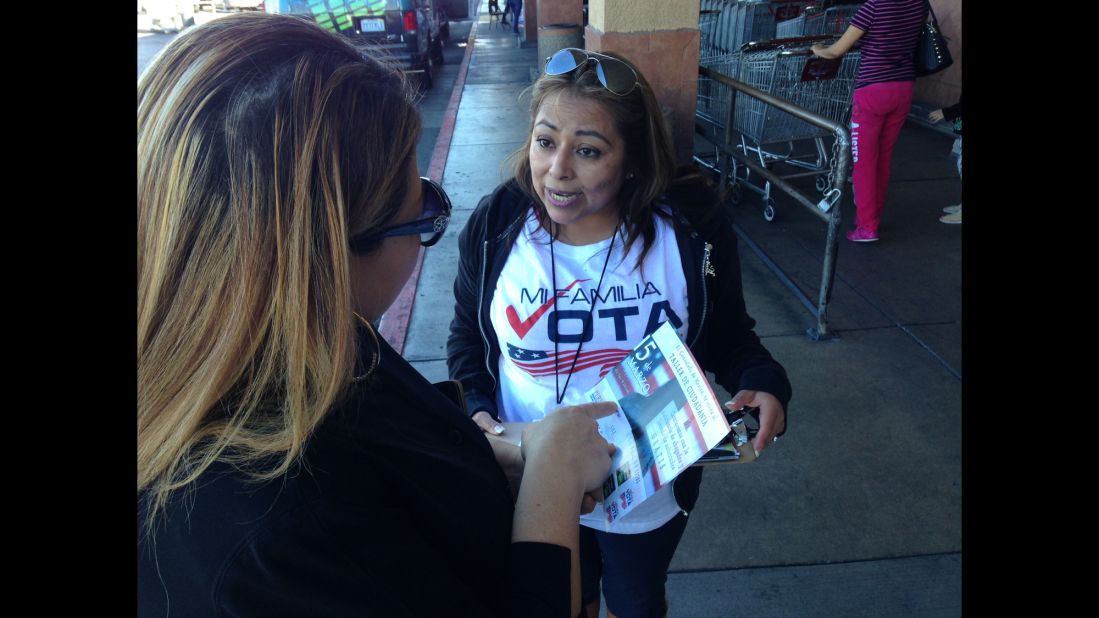 Could Latinos choose the next president?
Silver State isn't really silver
Voter registration groups know this well: The Silver State is really purple, they say.
"If you can get the Latino vote here in Nevada, you can get the Latino vote in the whole United States," said Jocelyn Sida, deputy director for the nonpartisan group Mi Familia Vota – My Family Votes – in Nevada.
"Nevada is a key state here in the U.S. because it's a swing state," Sida added. "It's not red and it's not blue. It's purple."
The red and blue parties know this well, too.
They are working energetically to leave their mark on Nevada for Super Tuesday in March and for the general election in November.
Democrats in Nevada describe their efforts as intense.
"The Democratic Party has been engaging in a very aggressive and intensive campaign to make sure that Latinos are educated about the process," said Andres Ramirez, vice chairman of the Democratic National Committee's Hispanic Caucus.
"We've engaged with partners through a very aggressive voter registration campaign to ensure that Latinos who want to participate are registered and can participate in the process," he said.
Republicans are emphasizing face-to-face interaction with potential Latino voters.
Ruth Guerra with the Republican National Committee in Washington said the GOP learned a lot from the last presidential race.
"2012 taught us that we couldn't just parachute into communities two to four months before an election, that we needed to go in there and have a real relationship and really earn the trust and respect," Guerra said.
'My parents are illegal'
Emotions run high on the front lines where Latino voter registration drives occur.
That's because many families are divided between children, who are citizens, and parents or other relatives, who are immigrants without documentation.
For example, Zamora will dedicate his first ballot in November to relatives who can't vote because they are undocumented immigrants. He is well aware of how Congress and the White House have been deadlocked for years on what to do with the nation's 11.3 unauthorized immigrants.
"I think it's going to be a crucial vote not only because it's going to be my first vote, but a vote I'm casting for my family and friends that don't have that right to vote," Zamora said.
Naomi Guigui, a U.S.-born citizen, comes from another family divided.
"It's really hard," she said, choking back tears. "My parents are illegal so I want to vote for them, so they can have a voice, since they can't (vote)."
Her parents have been in the United States illegally for more than 20 years, and she's seen the sacrifices they made to give her a better life.
"I finally can be able to vote and be the voice to my parents," she said. "I want to be the person who is a voice for them and to make a difference."
Undocumented immigrant mother joins fight
That's why Guigui says she signed on to volunteer with Mi Familia Vota. She gives her time on weekends registering eligible Latino immigrants to vote.
And her mother, Mirna, joins her.
On a recent day outside a supermarket, the mother helped her daughter and the group by steering eligible Latinos to the Mi Familia Vota booth, where the registration paperwork begins.
Because she's an immigrant without legal status, the mother can't do any of the actual registration.
"I wish I could vote," Mirna Guigui said. "I've lived most of my life here. I learned a lot of things about the United States."
She now knows more about this country than her native Mexico.
"There's a lot of people that doesn't know their vote is very important in this country," she declared.
CNN en Español's Jaqueline Hurtado reported from Las Vegas, and Michael Martinez wrote from Los Angeles.