Story highlights
The darts are being tested to ensure they were not coated in chemicals
The victims were evaluated at the scene and released
(CNN) —
Police in California are asking for the public's help after blow darts hit two people who were walking on the Golden Gate Bridge.
The victims were struck Friday afternoon, the California Highway Patrol said in a statement. They were evaluated by paramedics at the scene and released.
The darts were fired from an uncommon weapon: a blowgun.
The blowgun is a simple weapon that dates back to ancient cultures. It is basically a tube from which darts are fired by blowing into it.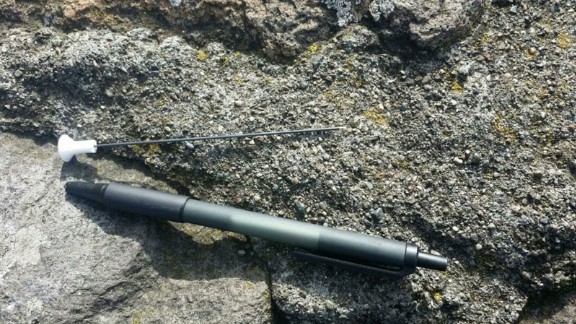 California Highway Patrol/California Highway Patrol/California Highway Patrol
The darts that injured the pedestrians were about 5 inches long, with one end sharpened to a fine point, the California Highway Patrol said in a news release. The back end of the dart has a plastic cap that allows it to be fired from a blowgun, the agency said.
"Right now, we are hoping to narrow down exactly where they were and at what time," Highway Patrol spokesman Andrew Barclay said.
The darts are being tested to ensure they were not coated in chemicals.
Investigators are working to determine whether any footage exists of the crime, and they are asking anyone who may have seen what happened to contact the California Highway Patrol.
"I can honestly say I've never heard of anything like this happening, ever," said Barclay.