Story highlights
NEW: 40,000 people displaced by fighting around Aleppo, U.N. group says via twitter
A main supply route is cut off, isolating tens of thousands of civilians
Turkey's Prime Minister says 300,000 people from Aleppo area may be headed to Turkey
The battle for Aleppo – once Syria's commercial heart – is intensifying, and video has surfaced appearing to show thousands of civilians streaming out of the devastated city.
CNN could not independently verify the authenticity of the video, but the United Nations Office for the Coordination of Humanitarian Affairs said via Twitter Friday that 40,000 people have been displaced by the ongoing fighting around Aleppo.
Reports said forces loyal to Syrian President Bashar al-Assad's government, crucially aided by Russian air power, have cut the city off from supplies and are advancing.
Increasingly intensive Russian airstrikes are pushing thousands of Syrians north, away from the northern outskirts of the once bustling city, according to the National Coalition of Syrian Revolution and Opposition Forces, the main opposition group.
A sense of panic among those fleeing
One of the most important trading cities in the Middle East, Aleppo has historically been a city to which people flocked when they were looking for work.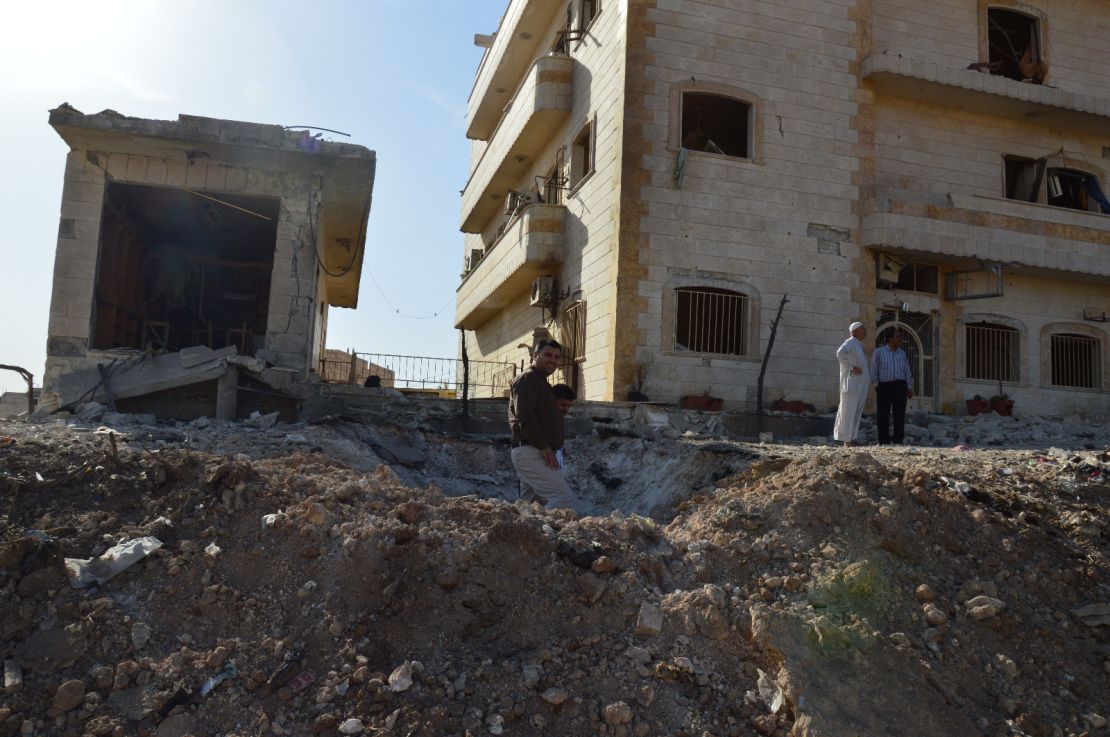 But the latest video appears to show a sense of panic among the thousands streaming out of the northern outskirts of the city, fleeing for their lives – bound, most probably, for the Turkish border, 60 miles (97 kilometers) to the north.
And from there, they will push onward, perhaps, to Europe, which is experiencing one of the most significant waves of migration in recent decades.
A U.N. official, citing estimates made for emergency relief planning, told CNN that 321,000 civilians are thought to be in a rebel-held area east of Aleppo.
Families are fleeing what could be one of the worst fights yet in Syria's brutal civil war, a battle that has been brewing for days.
"Now 10,000 new refugees are waiting in front of the door of Kilis because of air bombardments and attacks against Aleppo," Turkish Prime Minister Ahmet Davutoglu said Thursday in London, referring to a city across the border in Turkey.
"Sixty to seventy thousand people in the camps in north Aleppo are moving toward Turkey. My mind is not now in London, but in our border – how to relocate these new people coming from Syria? Three hundred thousand Aleppo people, living in Aleppo, are ready to move toward Turkey."
Aleppo has been home to moderate opponents of Assad, but the more radical al-Nusra Front is now issuing a call to arms inside the city.
And the government has managed to cut the rebels' main supply route, which lies east of the city. That could isolate hundreds of thousands of civilians.
And it is also keeping aid from getting into Aleppo.
U.N. refugees chief: Syria donations are a stopgap but won't end suffering
Innocent civilians 'running for their lives'
The intensified fighting and airstrikes have cut off the main humanitarian route into the city, according to the global organization Mercy Corps.
Since Wednesday, the organization's operations in northern Syria have effectively been cut in half, the group said.
"We are cut off from Aleppo City," said David Evans, Mercy Corps' regional program director for the Middle East. "It feels like a siege of Aleppo is about to begin."
The U.N. Humanitarian Office said the fighting is also making access to the Syrian population in the area "increasingly difficult."
The civil war has left many civilians reliant on humanitarian assistance. With one of the largest food delivery operations in north Syria, Mercy Corps has been reaching up to 500,000 people per month.
"Innocent civilians are running for their lives," Evans said. "Right now, we are seeing tens of thousands of people make their way to the border with Turkey."
You thought Syria couldn't get much worse. Think again
CNN's Hamdi Alkhshali contributed to this report.