Watch CNN's Democratic town hall, airing live from Iowa on Monday, 9 p.m. ET
Story highlights
Trump leads Sen. Ted Cruz, R-Texas, who is in second place in the GOP race, among likely Republican caucus-goers, 37% to 26%
Sanders, meanwhile, has opened up an eight-point lead over Democratic rival Hillary Clinton, leading her in Iowa 51% to 43%
Donald Trump holds a commanding lead in Iowa as Sen. Bernie Sanders takes control of the Democratic race in the critical first-in-the-nation voting state, according to a new CNN/ORC poll released Thursday.
Trump leads Sen. Ted Cruz, R-Texas, who is in second place in the GOP race, among likely Republican caucus-goers, 37% to 26%. Sen. Marco Rubio, R-Florida, is in third at 14%, the only other Republican in double digits. Ben Carson failed to register half of Rubio's support and is in fourth place at 6%.
Sanders, meanwhile, has opened up an eight-point lead over Democratic rival Hillary Clinton, leading her in Iowa 51% to 43% among likely Democratic presidential caucus-goers.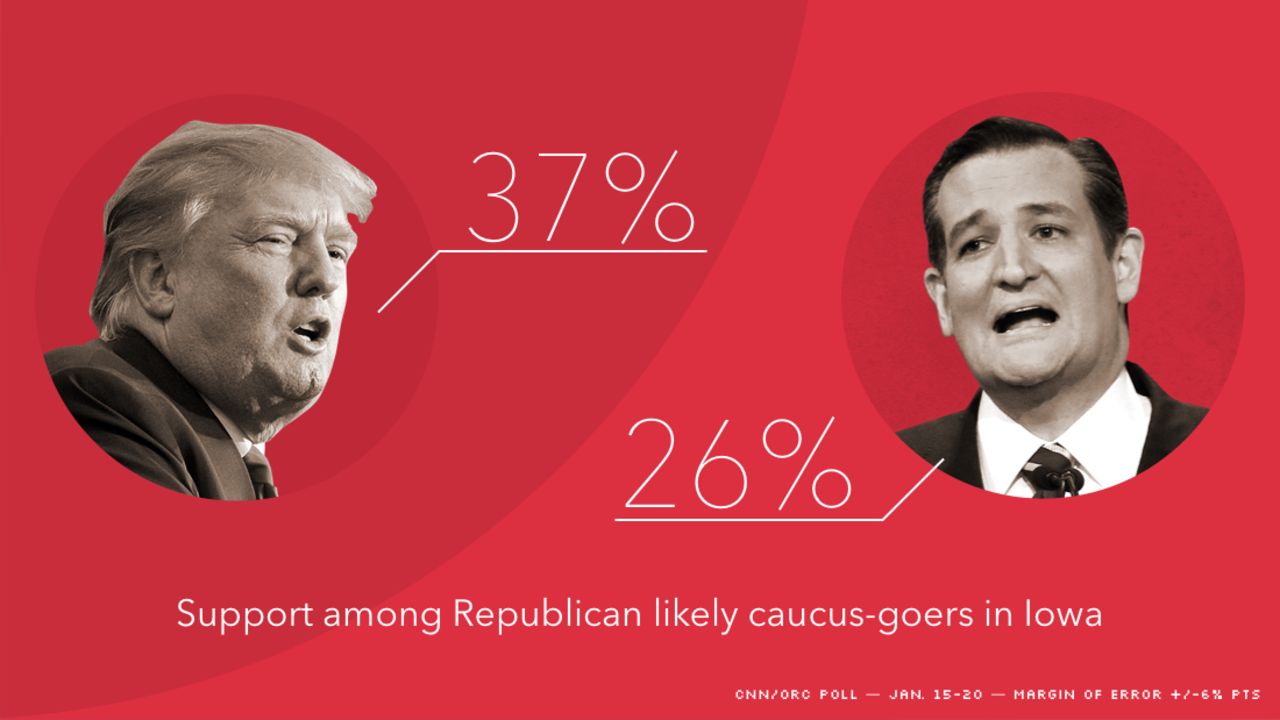 The sampling is key for both leaders: Only including voters who previously caucused in their party's most recent competitive caucus, Cruz is neck-and-neck with Trump, with 30% for Cruz to 28% for Trump. Rubio is steady at 16% in that sample.
Of Democrats who caucused in 2008, Clinton leads Sanders, 55% to 38%.
In December, Clinton led Sanders in the Hawkeye State by 18 points in CNN/ORC's polling, 54% to 36%.
Sanders' lead is in part built on his economic policies. Democratic caucus-goers said they trust the Vermont senator over Clinton on the economy by 22 points, and 67% said they thought he would do more to help the middle class, as opposed to 30% who felt that way about Clinton.
Clinton, a former secretary of state, led on foreign policy, garnering more trust by 40 points. She also was seen as more likely to win the general election in November, 60% to 38%.
Meanwhile, likely Republican caucus-goers are more divided when it comes to who would best handle foreign policy, with Trump (27%), Rubio (26%) and Cruz (25%) in a virtual three-way split. On the question of which candidate better represents Republican values, 29% choose Cruz, 28% side with Trump and 15% favor Rubio. Cruz holds an edge as the one who would better handle social issues, however, with 29% to Trump's 18%, while 12% name Rubio, 10% Carson and 9% former Arkansas Gov. Mike Huckabee.
Sarah Palin's endorsement of Trump came while the survey was in the field, but the sample size is not large enough to assess whether it made any difference in the race.
CNN/ORC surveyed 2,002 Iowa adults by telephone Jan. 15 to Jan. 20, including 266 likely Republican presidential caucus-goers and 280 likely Democratic presidential caucus-goers. Both party samples have a margin of error of plus or minus six percentage points.