Story highlights
School system asks judge to make teachers return to work
Republican leader of the Michigan House calls for teachers to be fired
NEW: School system says all schools open Thursday
An attorney for the Detroit Public Schools has asked a judge to issue a restraining order and preliminary injunction to force teachers to stop sickouts and return to work, according to court documents filed Wednesday.
The motion names the Detroit Federation of Teachers, interim teachers union president Ivy Bailey and 23 Detroit Public Schools teachers.
"DPS has requested the court's intervention in addressing the ongoing teacher sickouts that are plaguing the district," Michelle Zdrodowski, the spokeswoman for the Detroit Public Schools said in a statement.
The teachers union responded to the filing, noting "Detroit deserves better."
"It is regrettable that the Detroit Public Schools seeks to punish those who speak out about the deplorable conditions in our schools," Bailey said. "It would be so much more productive to actually do something to fix Detroit schools rather than file restraining orders against those who expose the miserable conditions."
Nearly all Detroit's public schools were closed Wednesday as many protesting teachers called in sick, turning what was supposed to be a day to celebrate into one shining a harsh spotlight on one of Michigan's struggling cities.
President Barack Obama was in Detroit for the North American International Auto Show. He praised the American automotive industry's resurgence, which many people view as a major victory for Detroit.
But those inside the city tell a sharply different story, one illustrated in leaflets showing pictures of dead rats found at public schools, mildew taking over ceilings and walls and damage to school buildings.
Detroit teachers have pressed their case against what they call deplorable conditions and inadequate funding. They've also decried decisions made by the school system's emergency manager, who was appointed by Republican Gov. Rick Snyder – criticism that echoes complaints in Flint, a Michigan city mired in a water crisis after state officials largely took over because of budget troubles, just as they did in Detroit.
Detroit teachers have backed up their words with mass sickouts, starting January 11, when 62 schools closed as a result.
Bailey estimated the doors of "over 30 schools" ultimately would be affected.
Zdrodowski said there would be no class Wednesday in 88 schools, about 90% of those in the system.
But as of Wednesday night, the Detroit Public Schools' Facebook page indicated all schools will be open Thursday. The announcement included a request for students and parents to check the page again for updates.
The speaker of the House in Michigan called for absentee teachers to be dismissed.
"These teachers deserve to be fired for turning their backs on the children in their care," said Kevin Cotter, a Republican from Mount Pleasant. "Their actions also go against any possible resolution on potential (Detroit Public Schools) reforms, because any long-term agreement on Detroit schools has to put the kids first."
Cotter said more than 700,000 instructional hours have been lost.
Budgets leave children by wayside in 2 Michigan cities
Obama meets with Detroit's mayor
The timing – on the day of Obama's visit to the Detroit auto show, with the national media attention that it brought – was no coincidence.
The Detroit Federation of Teachers indicated as much on its website, saying now is the time to "fight for Detroit kids (who) are struggling in schools with hazardous environmental and safety issues (and) educators have made significant sacrifices for the good of students."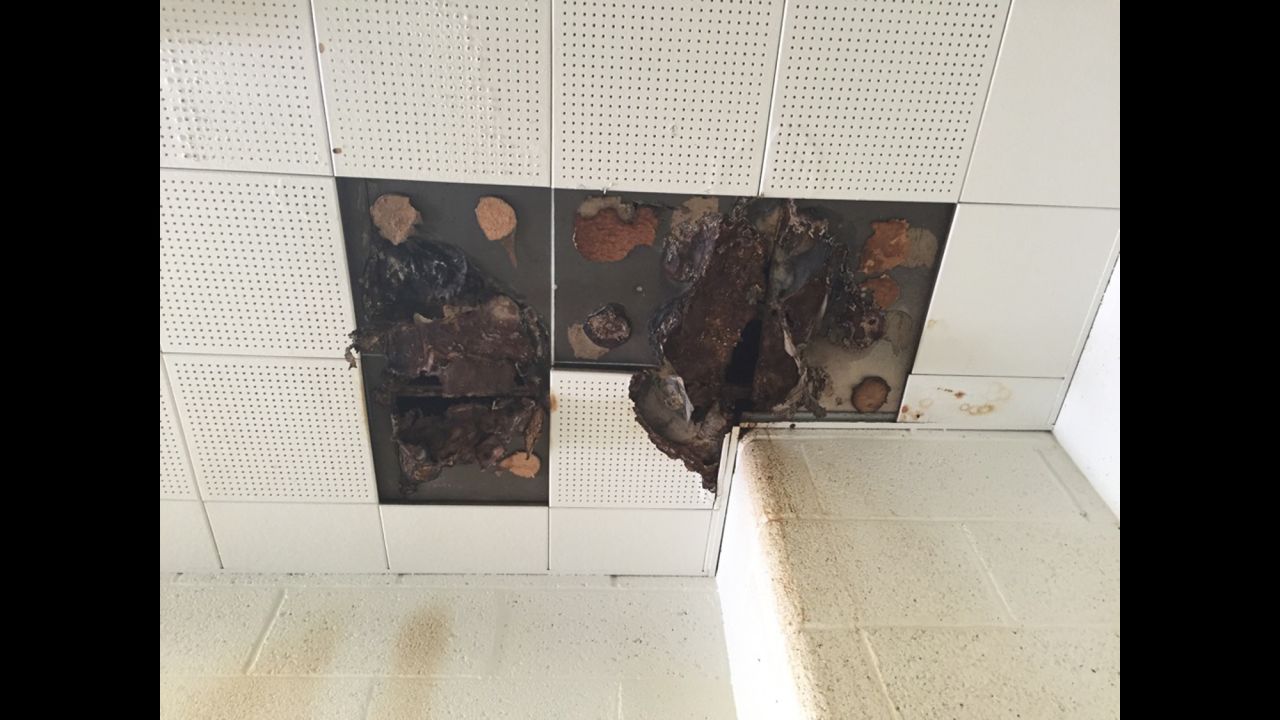 "As the city celebrates this 'ultra-luxury' automobile event," the teachers union said, "Detroit's public schools are in a state of crisis."
Protesters planned to hand out fliers to car show attendees and urge them to sign a petition – which had over 11,000 signatures as of Wednesday morning – entitled "Our Kids Deserve Better."
"Enough is enough!" the petition states. "… We demand real answers and fully funded schools."
Obama had lunch with Detroit Mayor Mike Duggan. Before the meeting the White House said they would likely discuss the mass school closures as well as larger funding problems plaguing the city.
Duggan has "met with several teachers and understands what they're going through," his spokesman John Roach told CNN. But he doesn't think that calling in sick is the right approach.
"(The mayor feels) the best thing for them to do is go back to school and teach," Roach said.
Governor: 'Time to act is now'
This isn't just Detroit's problem. It's one for all of Michigan, which took control over much of the city's government due to its well-documented financial woes.
One man who has been a frequent target of critics is Darnell Earley, appointed by Snyder a year ago to oversee Detroit Public Schools.
Michigan Senate Democrats took a swipe at him in a tweet: "Crumbling #DPS schools are a direct result of damage that can be done by unelected emergency managers."
Bailey, the teachers union chief, piled on, saying, "If the goal was to destroy DPS, emergency management has done an excellent job."
Before going to Detroit, Earley served as the emergency manager in Flint. He was in that position in April 2014 when Flint's water supply switched from Lake Huron to the Flint River, a decision reversed more than a year later after reports of corroded pipes and elevated blood lead levels.
How tap water became toxic in Flint
Earley has said he was not responsible for the decision, only for implementing it after it was approved. Whoever was to blame, Flint still faces a serious health crisis and the costly, complicated task of cleaning up its water and possibly replacing damaged water pipes across the city.
Another person Detroit and Flint have in common is Snyder, the governor who sent Earley to both cities and who is officially in charge.
In his State of the State address Tuesday night, the governor called for money spent on debt service, close to $1,200 per student, to be shifted into classroom funding to give teachers what they need to do their jobs.
"(The) time to act is now," he told lawmakers. "The Detroit schools are in need of a transformational change.
"The state needs to ensure that a complete failure to educate schoolchildren never again happens to this extent in one of Michigan's districts."
Governor's outlook for school reforms
'Teachers are fed up and have had enough'
A proposal introduced last week in the state Legislature would appear to find a way of doing that while handling the school system's massive $515 million debt.
It would create a second school district within the city that assumes control over all of its schools and students, while leaving the current Detroit Public Schools system with only the district's debt, said Republican state Sen. Goeff Hansen, author of the proposal.
"It's a high priority. It's an emergency situation," Hansen said.
About $7,400 of school funding is allocated per student each year. But close to $1,200 of that goes to pay down debt and other costs, Hansen said.
Under the proposal, tax revenue would continue to pay off the debt isolated in the DPS system, but the state would gain room to inject additional funding into the new school system.
It has left many teachers worried that Detroit Public Schools will go out of existence, said Bailey, the teachers union leader. Under the current system, funding could run out by April.
Teachers feel pushed over the edge to protest against a litany of resulting troubles. There have been recent concessions. The school district agreed to demands on staff meetings, sick leave accrual and a labor-management committee on curriculum, the teachers union said.
And last week, Duggan ordered inspections of all the city's public schools.
Duggan hopes to have the first 20 school buildings fully inspected by month's end and all of them wrapped up in about three months, according to Roach, his spokesman.
Yet Bailey says a lot more still needs to be done.
"It's because of the lack of respect that has been displayed toward teachers in this district, the hazardous working conditions, oversize classes, lost preparation periods, decrease in pay, increase in health care cost, uncertainty of their future," she said.
"I could go on and on. Teachers are fed up and have had enough."
Detroit teachers demand fix to 'hazardous' school
CNN's Jean Casaraz, John Newsome, Dominique Debucquoy-Dodley, Phil Gast, Steve Almasy, Mallory Simon and Eliott C. McLaughlin contributed to this report.