Story highlights
Marc Eliot: Glenn Frey's death marks end of a style that defined the vibe of a generation; a sobering wake-up call about aging
He says Frey, a co-writer of the weary "Hotel California," was a talent who long understood when it was time to move on in his career
Editor's Note: Marc Eliot is the author of "To the Limit: The Untold Story of the Eagles." He is also the author of the books "I Feel Good: A Memoir of a Life of Soul," about James Brown, and "Reagan: The Hollywood Years," among many others. The opinions expressed in this commentary are solely those of the author.
The passing of Glenn Frey both recalls and closes the book on one of rock's most celebrated rock 'n' roll songwriting teams, but for many of us it also signals something more personal: the passing of a time when the Eagles' "Hotel California" was the anthem for the youth of America in the '70s – the way Beatles music was for the children of the '60s.
For people who came up in that time, the death of Frey – and earlier this month the death of David Bowie – comes as a reality check, a resounding reminder that the days of "Take it Easy" and the promise of "One of these Nights" are long behind us.
Courtesy of Marc Eliot
Instead, music, the blood of our youth, has somehow been replaced by mortgages, credit cards, spouses, children, divorces, alimony, expanding waistlines and diminished dreams. Some of us may feel like an oldies act, but Glenn Frey never became one.
Formed in 1970 at the front bar of L.A.'s legendary Troubadour nightspot, the duo of Frey and Don Henley united to be part of the backup band for Linda Ronstadt at a Disneyland engagement. It was the nucleus of what would become the Eagles, the hugely influential band that introduced the "L.A. sound" to the world—and whose album "Eagles: Their Greatest Hits 1971-1975" still holds the record as bestselling album of the 20th century by a group.
Henley brought a Texas-style country sound to the band, but it was tempered and made more sophisticated by Frey, who gave it its essential urban rhythms. Frey was born in Detroit and raised in the nearby suburb of Royal Oak, Michigan. (None of the Eagles were, in fact, from Los Angeles.)
An Eagle gets started
While still a teenager, Frey became a local sought-after studio musician, and in 1966 had his first exposure to greatness, playing for one of Detroit's own, Bob Seger, who was becoming a hot touring act, and one of the first to spot young Frey's abilities as a rhythm guitarist and lead singer.
Photos: People we lost in 2016
Photos: People we lost in 2016
Photos: People we lost in 2016
Photos: People we lost in 2016
Photos: People we lost in 2016
Photos: People we lost in 2016
Photos: People we lost in 2016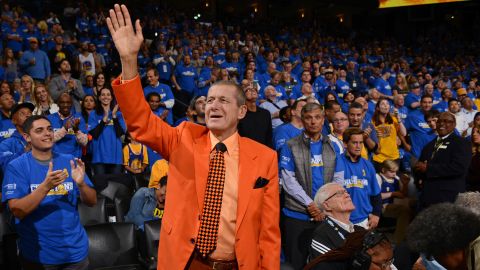 Photos: People we lost in 2016
Photos: People we lost in 2016
Photos: People we lost in 2016
Photos: People we lost in 2016
Photos: People we lost in 2016
Photos: People we lost in 2016
Photos: People we lost in 2016
Photos: People we lost in 2016
Photos: People we lost in 2016