Story highlights
Tsai Ing-wen was elected president of Taiwan by a landslide
She will be the first woman to hold that office
Tsai is a supporter of marriage equality and proud cat owner
With her landslide election win on Saturday, Tsai Ing-wen became the first woman to be elected president of Taiwan, and is poised to be the most powerful woman in the Chinese-speaking world.
But the 59-year-old opposition party leader, who can often be seen on the campaign trail with her two beloved cats, first came to Taiwanese politics as an outsider.
Called "Little Ying" by local media, Tsai grew up in Fenggang, a village in southern Taiwan, before moving to Taipei as a teenager.
A lawyer by training, she first studied at National Taiwan University, where she once reportedly failed a criminal law class.
Nonetheless, she kept furthering her law studies with a masters from Cornell University and a Ph.D from the London School of Economics, teaching the subject for some time. She's speaks English fluently and is regarded as the most internationally-minded leader the island has seen so far.
The world's most powerful women in politics
It wasn't until 2004 that Tsai joined the Democratic Progressive Party (DPP). By 2008 she was made the party's chairwoman but it wasn't always smooth sailing.
She lost her first bid for the presidency to the incumbent Ma Ying-jeou in 2012 and resigned as DPP chairwoman after the defeat. It wasn't until 2014 that she resumed the position and made her second, this time successful, attempt at the presidency.
Self-made woman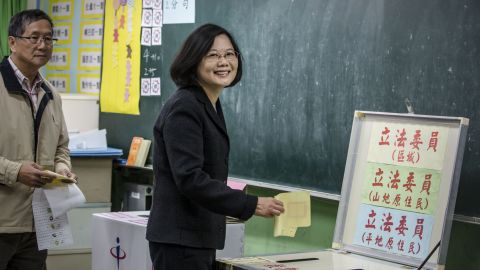 Tsai isn't the first woman in Asia to be elected head of state – Myanmar's Aung San Suu Kyi and South Korea's Park Guen Hye, among others, come to mind – but she is the first to do so without being some kind of political legacy.
Suu Kyi's father helped negotiate independence for Myanmar from the British for example, while Park's father served as South Korea's president from 1962 until his assassination in 1979.
In a speech to the Council on Strategic and International Studies in Washington, D.C. last year, she touched on whether Taiwan was ready to embrace a woman president.
"Of course, there are some people in Taiwan that are still rather traditional and they have some hesitation in considering a woman president. But among the younger generation, I think they are generally excited about the idea of having a woman leader. They think it is rather trendy," she said.
A tough negotiator, cat-lover, and LGBT supporter
Jean-Pierre Cabestan, a Hong Kong Baptist University professor who studies cross-strait relations said although she is from the DPP – which has traditionally supported Taiwanese independence – Tsai is "a pretty moderate leader who is interested in maintaining the status quo."
"She's tough, she's patient and ready to negotiate," Cabestan says.
"Comparisons have been made to Margaret Thatcher, you know as an Iron Lady, but a more accurate comparison is Angela Merkel of Germany because she's trying to build a consensus."
Those negotiation skills were honed in a previous stint serving as the chairwoman of the Mainland Affairs Office, the government arm that handles Taiwan's interactions with Beijing.
When she is inaugurated in May, Tsai has said her priority will be addressing the weak economy while helping to establish Taiwan's distinct identity from mainland China, a debate that has become heightened in recent days after a young Taiwanese pop star was forced to apologize online after she allegedly offended mainland fans by waving the Republic of China flag on TV.
People can also expect to see progress on Taiwan LGBT rights. Tsai been vocal about her support for same-sex marriage, posting pro-marriage equality videos on her Facebook account.
And much to the internet's delight, she is the owner of two cats: Tsai Hsiang Hsiang and Ah Tsai.
MORE: Taiwanese voters turn their backs on closer ties with China