Story highlights
China says missing citizen Chinese "first and foremost"
Purported letter from Lee Bo raises more questions
(CNN) —
Britain has confirmed that one of five missing people connected to a Hong Kong publisher of books critical of the Chinese government is a UK citizen, the latest twist in a case that has unsettled many in the former British colony.
Speaking in Beijing late Tuesday, British Foreign Minister Philip Hammond said that he had urgently inquired of both Hong Kong and mainland Chinese authorities of the whereabouts of Lee Bo, who went missing last week.
Opposition leaders in Hong Kong say they believe he has been taken across the border to China against his will.
Wang Yi, China's Foreign Minister who appeared with Hammond, said that Lee was "first and foremost" a Chinese citizen and "it was not necessary for anyone to make groundless speculations."
Under the "one country, two systems" policy agreed as part of Britain's 1997 handover of its former colony to China, the 7 million residents of Hong Kong – defined as a "Special Administrative Region" of China – have greater civil liberties than those in the mainland.
But there have been growing concerns that some of these freedoms are being eroded as Beijing asserts more control and the mysterious disappearances have sparked angry protests in the city.
Why these books are banned in China
Letter raises more questions
Lee was a shareholder in a bookstore owned by publisher Mighty Current, best known for gossipy titles about China's ruling elite.
Four others linked to or employed by the publisher have also gone missing, including the Swedish-Chinese owner.
Sweden's foreign ministry said its embassies in Bangkok and Beijing were investigating reports that one of its nationals had been detained in Thailand or China.
Lee was reported missing to police Friday. His wife contacted police on Monday requesting to cancel the case report. However, under Hong Kong law, only the subject of a missing person report can cancel it.
A letter dated January 3 purportedly written by Lee that was faxed to his colleague and made public Tuesday has raised further questions. The letter says that Lee left Hong Kong of his accord and assured he was safe.
Lee's wife told reporters Tuesday that it was his real handwriting and she believes he wasn't forced to write it.
CNN cannot authenticate the letter and called Lee's wife several times but could not reach her.
'Forced disappearance'
Albert Ho, a pro-democracy lawmaker, told CNN Monday that he believed Bo had been taken across the border to China against his will.
"It's a forced disappearance," said Ho. "All those who have disappeared are related to the Causeway Bay bookshop and this bookshop was famous, not only for the sale, but also for the publication and circulation of a series of sensitive books."
Ho added that the publishing house had been planning on publishing a book about the "love affairs" of China's President Xi Jinping during his time working "in the provinces."
Hong Kong's Chief Executive C.Y. Leung said there was "no indication" that those reported missing had been taken to mainland China by Chinese security agents.
Tributes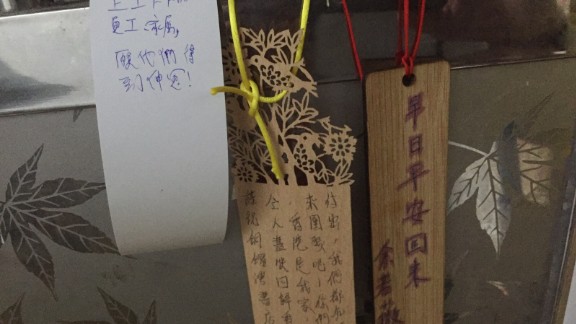 Sophie Richardson, China director of Human Rights Watch, said the case has stoked fears in Hong Kong about encroachment by the Chinese government, despite the city's supposed autonomy.
"People in Hong Kong have been concerned, from media freedom to basic public policy issues, about whether their government is really representing their interests or increasingly doing Beijing's bidding. "
Meanwhile, well wishers have been posting tributes and notes of support at the Causeway Bay Bookstore, the shop owned by Mighty Current that has been closed since last week.
"Wishing everyone from Causeway Bay Bookstore can return to Hong Kong soon. Hong Kong is our home, please come back. We know what you've contributed," read one.
CNN's Ivan Watson and Zahra Ullah contributed to this report