Story highlights
Armed protesters are occupying a federal building in Oregon
The occupation is the latest in a line of well-known occupations and standoffs
Arguably the most infamous incident is the Branch Davidian standoff in Waco, Texas
When armed protesters took over a federal building in Oregon over the weekend, they stepped into a storied history of occupations and standoffs in the United States.
Although their exact demands are not clear, demonstrators have vowed to stay for as long as it takes to get what they want.
"We have no intentions of using force upon anyone, (but) if force is used against us, we would defend ourselves," said protest spokesman Ammon Bundy.
"This is about taking the correct stand without harming anybody to restore the land and resources to the people so people across the country can begin thriving again."
Here's a look at some other standoffs and occupations through history:
Wounded Knee (1973)
The occupation of Wounded Knee started on February 27, 1973, and continued for 71 days.
The South Dakota town was seized by members of the American Indian Movement.
Wounded Knee was named for the Wounded Knee Massacre, which took place in 1890 and resulted in the deaths of some 300 men, women and children.
Gunfire was exchanged during the 1973 siege, and two American Indians were killed. A U.S. Marshal and an FBI agent were also injured.
MOVE (1985)
The MOVE standoff took place in Philadelphia and was substantially shorter than the occupation of Wounded Knee but more deadly.
Police arrived at the MOVE home to serve arrest warrants on several members of the radical group that was dedicated to black liberation.
Authorities say they were met with gunfire and a battle ensued.
Later that day, police dropped a bomb that started a fire, burning an entire city block.
Eleven people died in the ensuing chaos, including five children.
Ruby Ridge (1992)
The violent confrontation at Ruby Ridge, Idaho, involved Randy Weaver, his family and a friend.
An FBI sniper wounded Weaver, a white supremacist, and killed his wife, Vicki, in a shootout at the couple's mountain cabin.
A day earlier, Weaver's armed 14-year-old son, Sam, was killed in a gun battle with a U.S. marshal, who also died. Family friend Kevin Harris was wounded.
In a settlement announced in 1995, the U.S. government awarded the surviving Weaver family members more than $3 million.
Each of the three remaining Weaver children received $1 million for the loss of their mother and brother. Randy Weaver received $100,000.
Waco (1993)
The word Waco has become almost synonymous with the 51-day standoff that happened there between armed members of the Branch Davidian church and federal authorities.
Six Davidians and four agents with the Bureau of Alcohol, Tobacco and Firearms were killed in a February 28 raid, triggering the siege.
Negotiations took place and some adults and children left the religious compound, but others did not.
The final assault on April 19 resulted in a fire and the deaths of some 80 people, including children and cult leader David Koresh.
Montana Freeman (1996)
The responses at Ruby Ridge and Waco were widely criticized for their deadly results.
Officials hoped to do better handling an armed anti-government group known as the Montana Freeman that held federal authorities at bay outside a farmhouse in Montana.
The group refused to pay taxes or be evicted from the property, which had been foreclosed.
The standoff ended peacefully when the so-called freemen surrendered.
Cliven Bundy (2014)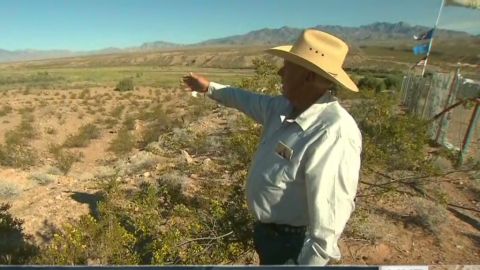 Cliven Bundy drew national attention after staging an armed confrontation with federal authorities.
An estimated 300 people, many toting weapons, joined Bundy when the federal government began to round up his cattle after he refused to vacate federally owned land and pay more than $1 million in fees.
The standoff was the culmination of a two-decades-long fight between Bundy and the Bureau of Land Management, which said Bundy illegally tended his cattle on taxpayer-owned land about 100 miles northeast of Las Vegas.
Bundy became a conservative symbol of government overreach as some high-profile politicians, including Sens. Ted Cruz of Texas and Rand Paul of Kentucky, flocked to his defense.
His mainstream support diminished, however, after he made racist remarks.
CNN's Leigh Ann Caldwell contributed to this report.