Story highlights
NEW: Source: "This was the Saudis saying, 'Enough. We've had it'
Saudi Arabia says it's severing ties with Iran after an attack on the Saudi embassy in Tehran
That attack came amid protests of Saudi Arabia's execution of a Shiite cleric
(CNN) —
First, one man's execution spurred sectarian protests and violence in the Middle East. Now, it appears to have sparked a serious diplomatic rift.
Saudi Arabia's foreign minister said Sunday that his country is severing ties with Iran. Iranian diplomats in Saudi Arabia have 48 hours to leave the country, Saudi Foreign Minister Adel al-Jubeir told reporters.
The two countries have long been at odds, but Saudi Arabia's execution of Shiite cleric Nimr al-Nimr Saturday kicked off a new round of sparring between them that analysts say could mark a dangerous shift in an already volatile region.
"I think you're going to see a period of very harsh rhetoric, and the cutting of diplomatic ties comes at a very bad time. … This is Saudi Arabia saying, 'The gloves are off,' " said Bobby Ghosh, a CNN global affairs analyst and managing editor of Quartz.
Al-Jubeir said his country was severing ties with Iran after an attack this weekend on the Saudi embassy in Tehran.
That attack came after Saturday's execution of al-Nimr, a fervent dissident against the Sunni Muslim Saudi royal family who called for their deposal during the Arab spring uprisings in 2011.
Later that night, in predominantly Shia Iran, Molotov cocktails smashed into the Saudi embassy in Tehran. Protesters shouted as it caught fire. Some went inside and ransacked offices.
Saudi anti-terror coalition challenges U.S. role in Middle East
Severing ties was a last resort, a source familiar with Saudi Arabia's decision said, because Saudi Arabia views Iran's behavior as unacceptable and feels no country is doing anything to counter it.
"This was the Saudis saying, 'Enough. We've had it,' " the source said.
Iran: 'Divine revenge'
Earlier, the Iranian government had summoned the Saudi ambassador to condemn al-Nimr's execution. Saudi Arabia returned the slap, summoning the Iranian ambassador in Riyadh to vehemently object to Iran's condemnation.
In Iran, the last word belongs to Supreme Leader Ayatollah Ali Khamenei. And on Sunday, he tweeted, "Doubtlessly, unfairly-spilled blood of oppressed martyr #SheikhNimr will affect rapidly & Divine revenge will seize Saudi politicians."
Al-Nimr was an outspoken critic but nonviolent, Khamenei said.
The supreme leader also posted to his website a critical illustration that compared a Saudi Arabian executioner to an ISIS Jihadi preparing to behead a victim. The illustration calls them "white ISIS" and "black ISIS" and asks, "Any differences?"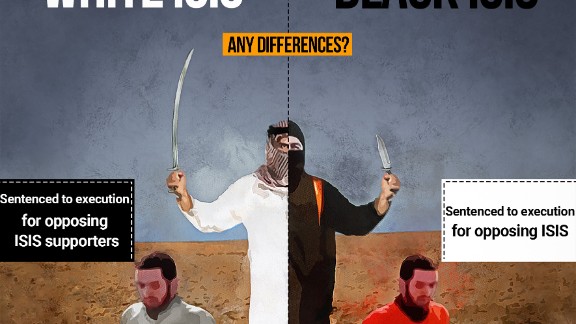 Ayatollah Ali Khamenei official website
After the embassy attack, police donned riot gear and arrested 40 people.
Iranian President Hassan Rouhani condemned al-Nimr's execution in Saudi Arabia but also blasted the attack on the Saudi embassy in Tehran and on a Saudi consulate in another Iranian city.
"In no way is this justifiable & foremost disrespects #Iran. All Iranian officials are fully committed to confront these illegal acts," he said in a tweet.
Saudi Arabia and Iran are already bitter rivals. And current regional conflicts have stoked animosity between them.
In Yemen, Saudi Arabia is fighting against Houthi rebels, who are allied with Iran. And in Syria, Saudi Arabia advocates the overthrow of President Bashar al-Assad, who is an ally of Tehran.
On Sunday, protesters took to the streets again in Iran, as well as in Iraq, to condemn al-Nimr's execution.
Iraq: 'Topple the Saudi regime'
In Iraq, a Shia icon directed followers to protest in front of the Saudi Arabian embassy in Baghdad. Cleric and politician Muqtada al-Sadr also called on Shia-dominated government to shut the embassy down.
The 47 condemned were either shot by firing squad or beheaded. Though the Saudi government did not say how al-Nimr died, beheading has a special meaning to Shiites, as it was the fate of a historic cleric, Imam Husayn.
Al-Sadr made the assumption that al-Nimr had suffered the same fate. "He was executed with a sword, the same way ISIS scoundrels (do it)," he said.