Story highlights
The State Department released 5,500 pages of Hillary Clinton emails Thursday, fewer than the 8,000 it was originally expected to release
It has been ordered to release all of Clinton's work-related emails by Judge Rudolph Contreras as part of a Freedom of Information Act lawsuit
The State Department on Thursday afternoon released new emails from former Secretary of State Hillary Clinton, but the tranche was smaller than required for this month.
"We have worked diligently to come as close to the goal as possible, but with the large number of documents involved and the holiday schedule we have not met the goal this month," the State Department said in a statement to reporters Thursday morning.
The State Department was supposed to release over 8,000 pages of emails Thursday – 16% of Clinton's total available emails – but released approximately 5,500. Additional emails will be released "sometime next week," the department said.
Here's a sampling of what you'll find in the final email dump of 2015:
Mark Penn suggested HRC 'consider resigning' after Obama's 'more flexibility' hot mic moment
During a meeting at the 2012 Nuclear Security Summit in Seoul, President Barack Obama was caught on a live mic telling Russian President Dmitry Medvedev he would have "more flexibility" to negotiate sensitive issues, like missile defense, "after my election."
The content of their discussion was quickly transmitted around the world, eventually making its way to Clinton by way of an enraged former aide and longtime pollster Clinton family pollster Mark Penn.
"This could be about the stupidest thing ever said by a president in foreign policy," Penn wrote in an email to Clinton, then suggesting she "consider resigning" if the kerfuffle compromised her politically.
"What is this referring to?" a puzzled Clinton asked, forwarding Penn's message to foreign policy adviser Jake Sullivan, who explained the situation, adding a dose of calm: "It is not good – at all," he writes, "but I think Mark may be pushing it a bit far."
'You look cute'
When a photo Hillary Clinton went viral – "The Texts from Hillary" meme, which repeatedly featured an image of her wearing sunglasses and thumbing away on her Blackberry – all chief of staff Cheryl Mills said was, "You look cute."
Clinton was tipped to the viral hit in an April 5, 2012 email from Russell Potter, a State staffer, who wrote "Not sure if you're aware of this and its recent 'life' on Facebook. "Seems everyone is posting it."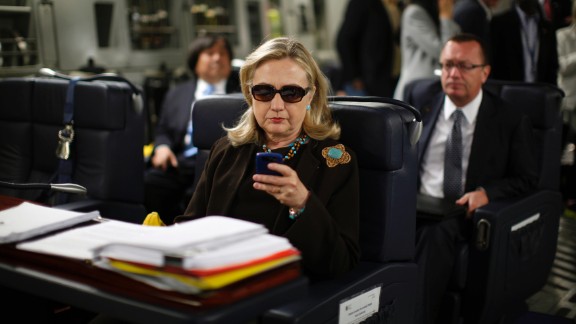 KEVIN LAMARQUE/AFP/Getty Images
Clinton replied later "Why now? That was on way to Libya?"
Clinton later rode the hit to some fame but also saw it used by opponents after it was discovered she had been using a private email server.
Who gets to ride with Hillary?
As flow charts and organizational structures go, perhaps none was as important as the one top Clinton aide Philippe Reines set up to determine who rides with the former secretary of state.
Looking like it was punched up on a MS-DOS word processor, it starts with one simple question: "Is Huma here?" and ends, more than a page later with the ever-important question of whether Reines himself gets in with Clinton.
And if Reines is already in the limo/SUV? "Chutzpah!"
And when nobody showed him any love, Reines sent it around again to show how much work he put into it.
"I did NOT/NOT receive sufficient appreciation for the below. Only Jake reacted. It took HOURS to get the formatting right. Literally hours to ensure it would work on every size font," Reines wrote. "Without positive reinforcement I'm not sure I can continue to really invest myself in these missives/diatribes."
Sullivan forwarded the chart to Clinton with just one line "See below."
Kissinger gets impatient
For anyone out there thinking it takes too long to declassify old State Department email, you've got a friend in Henry Kissinger.
The former secretary of state and top foreign policy adviser to Presidents Richard Nixon and Gerald Ford wrote to Clinton in February 2012 complaining that, despite having paid $150,000 to have his files digitized in an effort to to "accelerate" the process, "that has clearly not happened."