Story highlights
4 international soldiers die after their car is swept away in Missouri
After getting hit with tornadoes, the Dallas area will get snow and near-freezing temperatures
A mammoth storm system engulfing much of the United States has claimed 24 lives, including four soldiers in Missouri. And it's not over yet.
The rash of severe weather has spawned deadly tornadoes in Texas, intense flooding in the Midwest and blizzard conditions in New Mexico.
"The storm system will gradually pull away by Tuesday, but flooding and treacherous travel could (linger) into midweek," the National Weather Service said.
There have been about 43 weather-related deaths in the past week across the country, with the current severe storm system blamed for 24.
The 24 deaths include 11 in the Dallas area, eight in Missouri and five in southern Illinois.
The death toll may increase by two, as two bodies were recovered Monday in Gordon County, Georgia. Chief Deputy Sheriff Robert Paris said one victim was found in a submerged vehicle, and the second incident appeared to involve a boat.
The first death is almost certainly related to flooding, but the second is still under investigation, he said. The county has witnessed widespread flooding this week.
The weather was so bad in Iowa that all the presidential candidates canceled their live events on Monday, except for former Maryland Gov. Martin O'Malley. His campaign said his events "will happen regardless of the snow."
CNN meteorologist Michael Guy said the storm system will move east in the next few days, with parts of New England seeing snow, ice and rain. Temperatures will drop in the Southeast after days of record warmth, he said.
Here's what to expect across the country, including areas already hit hard by the storm: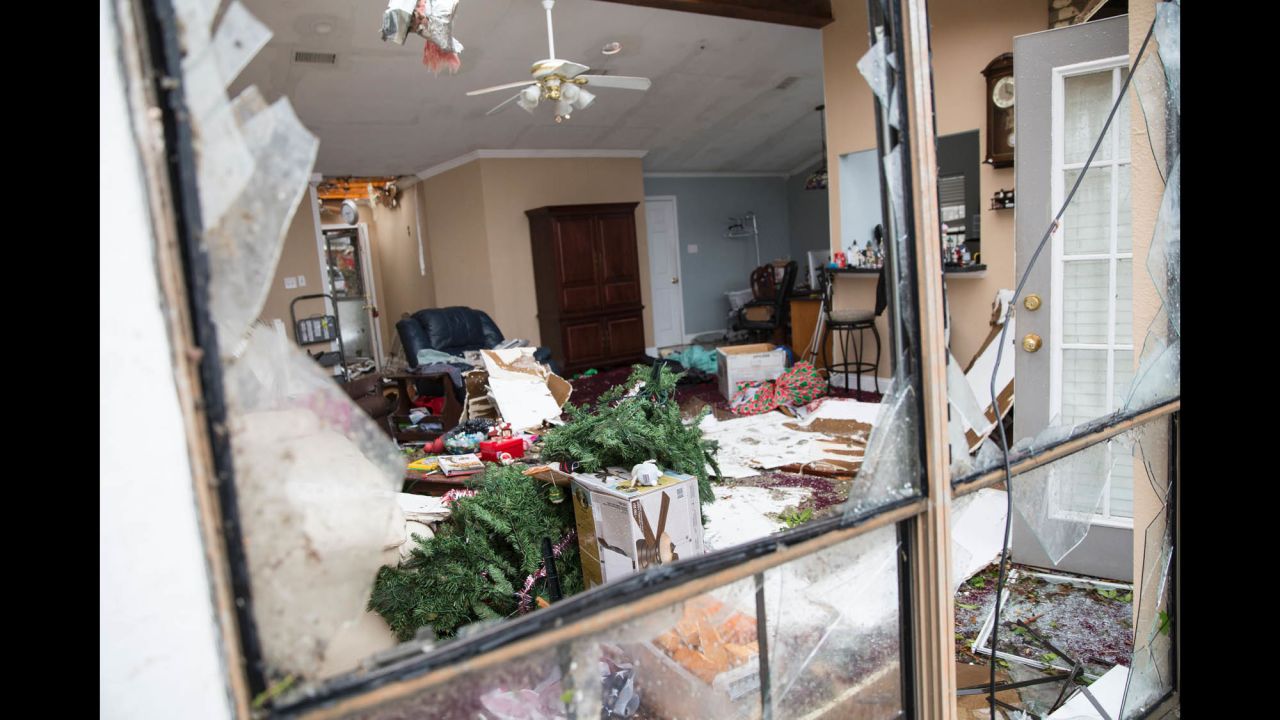 Dallas-area tornadoes
Missouri
Intense rain and flooding are expected across much of the state Monday, along with snow and freezing rain in the northern part of Missouri.
Over the weekend, eight people died in flash flooding, including four international soldiers temporarily stationed at Fort Leonard Wood for training.
A witness reported the soldiers' car driving onto a flooded road and immediately getting swept downstream, the Pulaski County Sheriff's Office said.
Authorities found their car several hundred yards from the road, entangled in some brush, the sheriff's department said.
Two soldiers found in the car Saturday night had drowned. The bodies of the other two soldiers were found Sunday morning.
"The possibility of a fifth occupant of the car exists, since an acquaintance of the above men is still missing," the sheriff's office said.
The names and nationalities of the four soldiers have not been released.
Two other people in Pulaski County also drowned when their car drove onto a flooded road and was also swept several hundred yards away, authorities said.
Pulaski County Sheriff Ron Long said flash flooding can be particularly dangerous at night.
"Streams turn into rivers, and people sometimes don't see the road has flooded over when they are driving at night," he said.
After the Lake of the Ozarks in central Missouri reached dangerously high levels, the gates on the 148-foot Bagnell Dam were opened to release 100,000 cubic feet of water per second, according to a meteorologist for CNN affiliate KY3.
Texas
Dallas-area residents trying to recover from a spate of deadly tornadoes will get hit with snow and near-freezing temperatures Monday.
The area is already grappling with the effects of several tornadoes, including a twister in Garland that killed eight people.
Cars that had been in driveways ended up inside homes. At least one car flipped and landed upside down near a highway overpass.
In Garland, Terri Sykora and her partner, Ronnell Lincoln, were among families of an apartment complex granted access to their homes Monday for the first time since the storm hit the complex.
There were no sirens to warn of the coming twister, Sykora said.
"It got real quiet," she recalled. Her partner "went out and said 'tornado,' and we all went to the bathroom."
The couple and their three children hid in the bathroom.
On Monday, Sykora reflected on what the family lost.
"I feel so bad for my kids because everything they were so excited for (at Christmas) is gone now," she said.
Josh White, another apartment resident, said the storm hit quickly with incredible force.
"I was running toward my closet and the doors and everything started caving in," White said. "And stuff started flying through the windows. Things were just hitting us. I could feel it hitting us, bricks, everything."
He hid under a mattress with his wife and 5-year-old son.
"This has made me realize how fragile life is," he said.
Other tornadoes touched down in nearby Collin and Rockwall counties. At least three people were killed by the storm in Collin County, the sheriff's office said.
David Green walked by the highway Monday, carrying some clothes on hangers. It was his first of several trips to salvage items from his home.
Green said that during the height of the storm he saw both terror and love – destruction, followed by neighbors helping each other out.
"You take your worst fears, and you roll them up into one big ball, and you take your best feelings and put them in a ball, and combine them, that's what you come out with," he said.
Illinois
The National Weather Service has issued winter storm or flood warnings for much of Illinois on Monday.
As in Missouri, several people died over the weekend in Illinois when a motorist tried to drive over a flooded roadway.
Three adults and two children died after their car was swept into a creek in Marion County, Coroner Troy Cannon said.
In Mascoutah, an occupied school bus and a tractor-trailer were swept off the road by floodwaters Monday. Everybody in the vehicles was rescued without injury.
New Mexico, Oklahoma and West Texas
Parts of eastern New Mexico and the Texas and Oklahoma panhandles are under a blizzard warning through Monday evening.
Those areas could get walloped with more than 8 inches of snow, with possible snowdrifts higher than 6 feet, the National Weather Service said.
In Oklahoma, Gov. Mary Fagan declared a state of emergency in all 77 counties. The Oklahoma Corporation Commission reported more than 147,000 power outages statewide. In the eastern part of Oklahoma, many highways remain closed because of flooding, according to the state Department of Emergency Management.
Already, parts of New Mexico have seen more than 16 inches of snow, with drifts as high as 8 feet. That made roads impassable in several counties, Gov. Susana Martinez's office said.
In response to the snowstorm, the governor declared a state of emergency.
On Monday, the eastbound lanes of I-40 outside Albuquerque were reopened to traffic after being closed over the weekend. The state transportation department is opening the interstate in phases, CNN affiliate KOAT reported. Hundreds of tractor-trailers were lined up alongside the interstate waiting to move, KOAT said.
CNN's Sonia Moghe, Melissa Gray, Christine Sever, Jessica Jordan, Chuck Johnston, Chandler Friedman and Rachel Aissen contributed to this report.