Editor's Note: CNN Opinion columnist John D. Sutter is reporting on a tiny number – 2 degrees – that may have a huge effect on the future. You can subscribe to the "2 degrees" newsletter or follow him on Facebook, Twitter and Instagram. He's jdsutter on Snapchat. You can shape this coverage.
This is a fairy tale, but a true one.
The setting: An island in central Denmark called Samsø. It's a land of corduroy-row potatoes, strawberry patches and olive-colored seas – a tidy farming community where people listen to each other and try to get along. It's a charming place, sure. One that could be described as a land far-far away in one of Hans Christian Andersen's storybooks. ("The Ugly Duckling," "The Little Mermaid" – those stories came from this tiny Nordic nation, after all.) But doing so would miss the point. Samsø isn't all that distant or magical. It's a lot like any other place.
It's only superpower: People here believe they can change destiny.
And they've done it.
The hero of our tale: Søren Hermansen, a stout man with duck-fuzz hair and a gentle smile. He helped convince this tiny island, years ago, that it could do the impossible – that it could ditch fossil fuels, and, in doing so, energize the local economy and help with climate change.
If only more people would listen to him.
World leaders and diplomats have convened in a Parisian suburb this week for the COP21 UN climate talks. The goal: Figure out how to ditch fossil fuels by 2050 and avoid 2 degrees Celsius of warming. That temperature increase, measured since the Industrial Revolution, likely would wipe low-lying island countries off the map, intensify droughts, push countless species toward extinction and supercharge deadly heat waves. We don't want to cross that line, or even approach it. But we've already warmed the atmosphere about 1 degree.
As part of the U.N. summit, delegates are asking big questions: Is it possible to move away from fossil fuels and toward a cleaner energy system? What will it cost? How long will it take?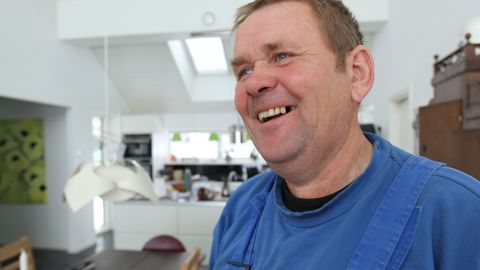 Those conversations are a world away from Samsø.
This 3,700-person island – and this country, Denmark, which has arguably the most ambitious climate change plan in the world – already are doing what it takes to avoid disastrous climate change.
The island produces more renewable energy annually than it uses.
And it's trying to ditch fossil fuels completely – as soon as possible.
They've been at it for decades.
In 1997, Samsø residents responded to a challenge: The federal government asked communities to compete for the title of the country's first town powered 100% by renewable energy. Samsø won the bid, and achieved that goal. It didn't get any special help to do it, according to Hermansen. Aside from some technical consulting, the island only had access to energy subsidies and other assistance that would be available to any Danish locale.
How'd they do it? Hermansen 56, told me there was no special sauce, really.
It was "meetings and meetings and meetings – I mean, hundreds of meetings," he said. Which is fitting for an island with a name that roughly means "the place of gatherings" and which, he told me, is thought to have been a major meeting place for Vikings back in the day.
Hermansen was among those pushing this transition, but it was important to him and others that everyone in the community (then about 4,400 people) had a say. He's fond of saying the island turned the "NIMBY" attitude (for "Not In My Backyard") into "YIMBY" (for "Yes In My Backyard") by asking residents to invest in the 21 large wind turbines that now dot the island's landscape and generate power from offshore. "A (wind) turbine looks much prettier when it's yours," he told me.
After winning the contest, residents started pooling their money – $80 million in credit in the first 10 years, split among 4,000 locals as well as private investors and the municipality, according to Hermansen – to buy the wind turbines and invest in a centralized heating system powered partly by leftover straw from farms, and other ongoing projects.
Not everyone invested, and they didn't do so equally. But each investor, Hermansen said, has an equal say in the administration of the project.
It's worked. Samsø now says it is powered by 100% renewable energy and is "carbon neutral." There are still some gas-powered cars and tractors on the island, so it hasn't ditched fossil fuels completely (it plans to by 2030). But it does produce more energy from renewable sources than it actually can use. It exports wind power to the rest of Denmark, a country where a staggering 40% of all electricity comes from the wind. On September 1, according to Gitte Agersbæk, an engineer at Energinet, which helps manage the power grid, the country made so much wind power it covered all of its energy needs for that day. Coal power plants temporarily were shut down, and the excess clean energy was sold to nearby countries like Germany.
"It's not the windmills that make it interesting," Hermansen said of the island where he grew up and the 21 wind turbines installed in recent years. "It's the story: The little community that did good, turned green, and actually realized something."
"You're in the country of fairy tales," he told me.
I spent a day on this fairytale energy island in late November, on my way to the climate talks in Paris. It was a windy day – I'm told the average wind speed is 16.3 miles per hour – and the first snow of the year. Near-blizzard conditions almost canceled my departure by ferry, but lent a certain charm to the steep-angle roofs and winding roads.
One question I had going into the short voyage was whether it felt any different to live on Samsø, knowing you're not really contributing to climate change.
I have a lot of climate guilt from flying around the world reporting about this stuff, and when I checked into my hotel room on Samsø and turned on the lights I felt a rush of relief. This power was nearly guilt-free, I thought. How incredible. I decided to ask Jørgen Tranberg, a farmer wearing bright blue overalls on top of a bright blue shirt, if it felt the same way to him, too.
"It's normal for Samsø – and me," he said, simply. "We don't use oil."
People here aren't on a save-the-world bent, necessarily. ("We don't wake up in the morning and say, 'How do we save the polar bear,'" Hermansen said). They're trying to live better lives, to make smart investments, and to create jobs. Tranberg, the farmer, for example, invested a sizable sum of his money – through low-interest loans the municipality helped provide – on wind turbines. He's made it back and more, the 61-year-old told me, using the extra money to build an energy-efficient house with geothermal heat, solar energy and thick insulation in the walls.
"It's a very cheap house to live in," he said.
Stefan Wolffbrandt, 49, told me he installed the solar panels on his roof during the COP15 U.N. climate summit, which was held in Copenhagen in 2009. I asked if he went to the super-green Danish capital (43% of people there cycle to work or school daily, according to Klaus Bondam, director of the Danish Cyclists' Federation) to participate in protests there.
Nope. Not his style.
"I'm a person who's acting instead of talking," he said.
"That's the spirit of the whole island," he said. "That's how we think."
(This decisiveness applies to his love life, too, by the way. Wolffbrandt's now-wife, Ann Nørgaard, moved to Samsø to be with him 20 days after the couple met).
It's not like Samsø is paradise, of course. Some locals told me there's not enough work and that young people are leaving. The island has the lowest family disposable income rate in Denmark, according to 2012 government data, at about $38,400 per year, compared to the national average of $46,200.
The energy transition hasn't been flawless either. The price of wind electricity has dropped considerably in recent years, and some locals grouch about that, since they sell excess clean power to the mainland. Some wind turbines have needed expensive repairs. Others say the island still has a long way to go if it wants all of its cars and homes to be fully electrified and heated without any fossil fuels.
But you get the sense Samsø will figure things out. It's what they do. This is the "place of gatherings" and meetings, after all. People here work together to fix things.
The world needs this cooperative, yeah-we-got-this attitude now more than ever.
All of us will have to work together to beat climate change.
It will take real work, and substantial shifts. Denmark taxes cars, subsidizes clean energy and puts a price on carbon pollution to help create a market that will support cleaner energies.
Samsø has been able to thrive in this environment that supports innovation, helps communities get loans for clean energy and creates economic incentives not to pollute. There's no reason these policies couldn't be replicated elsewhere, especially in high-polluting countries like the United States and China, which are doing more to cause global warming than anyone.
"I do not want to make it sound as though it's just like this – snap – and we're very, very green," said Connie Hedegaard, former EU commissioner for climate action.
"People (in Denmark) think it makes a difference what you do," she said. "And it makes a difference whether you do something or not. You're not sitting passively waiting for somebody else, or for the politicians, to do it. That is something that hopefully could inspire others."
It's inspired me.
Other communities should be having clean-energy discussions, too.
And then they need to act.
We don't have to wait for world leaders at COP21 in Paris.
Actually, we don't have time to wait for them, with the fates of low-lying islands, Arctic communities and millions of the world's poor hanging in the balance of climate change.
"You have to go through a hell of a lot of trouble before you get the princess," Hermansen said.
But fairy tales, of course, don't happen unless we make them come true.
Sign up for the Two° newsletter
John Sutter on Twitter
Read more in the Two° series