Story highlights
China blames separatists in its restive western province
Activists point to repressive religious policies and economic marginalization
In a raid last month, Chinese paramilitary forces killed 28 suspects accused of a bloody September attack on a coal mine, flushing them out of a cliffside cave with flamethrowers, according to state media.
The attack and police response took place in Xinjiang, an ethnically divided and resource rich province in the China's far west, that is home to the mainly Muslim Uyghur ethnic group.
China blamed Uyghur separatists for the attack, and it claims they are no different from ISIS or al Qaeda terrorists.
But exile groups and human rights activists say repressive religious policies and economic marginalization are provoking the unrest.
Beijing complains that the world applies double standards and China doesn't receive the same level of sympathy as other countries that have fallen victim to terror attacks.
"We cannot understand why terrorism, when taking place in other countries, is regarded as terrorism but ethnic and religious issues, when taking place in China," Hua Chunying, China's Ministry of Foreign Affairs spokesperson, said Wednesday.
"And we cannot understand why other countries' counter-terrorism acts are justified, but China's counter-terrorism actions are so-called repression of ethnic groups," she added.
So what's going on, and what are the root causes of the issue?
What happened in the latest attack?
There are conflicting reports.
The knife attack on a coal mine in the town of Aksu was first reported on by Radio Free Asia, which has a Uyghur-language service and is funded by the U.S. government. It said that 50 people were killed and more than 50 injured on September 18.
The mine, according to Radio Free Asia, employed mostly ethnically Han Chinese workers, who made up the majority of those killed.
The incident was acknowledged by Chinese state media only on November 20. The Tianshan web portal reported that 16 people, including five policemen, were killed when a group of people attacked the mine and 18 others were injured.
The report said on November 12, after a 56-day manhunt, authorities located the people responsible for the attack in a cave.
State media reported that the troops, like "eagles discovering their prey," had used flamethrowers to force people out of the cave, after stun grenades and tear gas failed to draw them out.
Photographs showed heavily armed police perched on rocky cliffs and another of them being helped a by a large group of local herders wielding spades, sticks and pitch forks.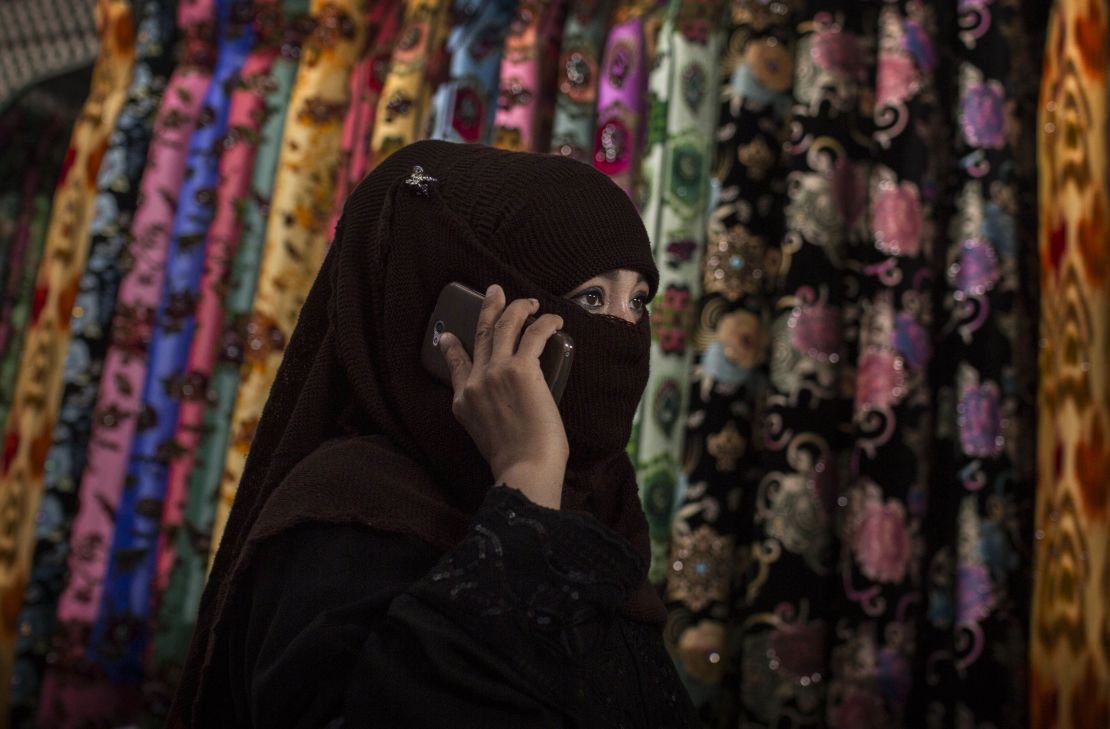 By the official account, some 28 people were reported to have been killed as they emerged from the cave, and one surrendered in the operation.
Radio Free Asia, citing local police, said that 17 people were killed in the raid and of them, seven were women and children.
CNN called Xinjiang's provincial spokesperson for clarification but they declined to comment.
READ: Photographer's rare access to China's far west
Are there Uyghur terrorist groups?
In the wake of the Paris attacks, China called for the world to support its own efforts fighting terror in Xinjiang.
"China is also a victim of terrorism, and cracking down on ETIM should become an important part of the international fight against terrorism," Foreign Minister Wang Yi said, according to Reuters.
Beijing has blamed the violence on Islamic militants, led by the East Turkestan Islamic Movement (ETIM), which the U.S. State Department listed as a terrorist organization in 2002 a year after the September 11 attacks.

But many analysts dispute its characterization as an Al Qaeda or ISIS-style group.
They say that much of the civil unrest inside Xinjiang is carried out by individuals or small groups, rather than an organized militant group.
It's difficult for independent journalists to verify the claims.
The Chinese government tightly controls access to the area. Journalists are closely monitored when in the province, and sometimes are prohibited from accessing the region all together. The same applies for non governmental organizations.
"Violence aimed at terrorizing the population is always utterly deplorable, but it does not shield the government's response from scrutiny. The death toll in China's counterterrorism campaigns is deepening skepticism about Beijing's tactics and goals," said Sophie Richardson, China director at Human Rights Watch.
"If China truly has nothing to hide, then it is past time to allow United Nations experts, independent journalists, diplomats, and other observers free access to the region to examine all such incidents."
Why is China so concerned?
Hundreds of people have been killed in Xinjiang in recent years and authorities have blamed there has been a spate of high-profile attacks outside the province.
In 2014, 31 people were stabbed and killed at a rail station in the southern China town of Kunming. In 2013, 5 people were killed in Beijing after a car drove into a crowd of tourists outside Tiananmen gate.
And the Global Times, a state-run tabloid, said in 2014 that 300 Chinese nationals were fighting alongside ISIS in Iraq and Syria, raising fears that the militants could return and pose a threat to national security.
Xinjiang is one of China's most resource-rich provinces, home to large deposits of coal, natural gas and rare earth metals.
And the region plays a key role in the "One Belt, One Road" initiative, championed by President Xi Jinping, that aims to improve economic ties with central Asia as China battles an economic slowdown.
READ: Uyghur photographer battles stereotypes with fascinating portraits
Who are the Uyghurs?
Xinjiang shares borders with Mongolia, Russia, Kazakhstan, Kyrgyzstan, Tajikistan, Afghanistan, Pakistan and India and Uyghurs, who speak a language related to Turkish, and regard themselves as culturally and ethnically close to central Asia, despite a long history of Chinese rule.
Tensions have arisen between the Uyghurs and the Han, the predominant ethnic group in China, which have migrated to the province in large numbers over the past 60 years.
Xinjiang is now home to more than 8 million Han Chinese, up from 220,000 in 1949, and 10 million Uyghurs.
The newcomers take most of the new jobs, and unemployment among Uyghurs is high. They complain of discrimination and harsh treatment by security forces, despite official promises of equal rights and ethnic harmony
Uyghur exile groups and human rights activists say repressive religious policies and economic marginalization have provoked much of the recent unrest. They add the education system undermines use of the Uyghur language.
China has been criticized for apparent efforts in Xinjiang restricting Muslims from observing Ramadan and, in one city, authorities banned men with beards and women wearing veils from public transportation during a weeks long sporting event.
"There are concerns amongst many Uyghurs about the use of their language as a medium of instruction in school, to practice a constitutionally protected right to freedom of religion, to wear clothing that they deem to be part of their ethnic culture such as the headscarf, to pray at mosques, to observe Ramadan," said James Leibold, a senior lecturer at Australia's La Trobe University and an expert in China's ethnic policies.
Journalist Tiffany Ap contributed to this report