The trial for the first of the six police officers charged in the death of Freddie Gray is due to begin Monday in Baltimore. The death of Gray while in police custody sparked some of the most violent protests the city has ever seen.
It's been seven months since Gray's death. We returned to Baltimore to photograph residents as the city works to make sense of the year's events.
Ma'lae Jones
Ma'lae lives in Sandtown-Winchester, the same neighborhood in which Freddie Gray was raised. She is a kindergarten student at New Song Academy. "I want to be a ballet teacher" when I grow up, she said.
Kondwani Fidel
Born and raised in Baltimore, Kondwani Fidel had a tough upbringing and knows what it means to lose loved ones to violence. Fidel is a substitute teacher and spoken word artist. His poems tell stories of a rough upbringing in Baltimore while attempting to inspire change. When using poetry to connect with students, "I used my story as a blueprint for them," said Fidel.
Kevin Davis
As the new police commissioner of Baltimore, Kevin Davis came into his role in the immediate aftermath of the unrest. This is a pivotal point for the city, said Davis. "People who find themselves in the midst of a historic moment don't always realize that they are in the midst of a historic moment," he said, "I realize that's where we are." Davis is starting by establishing relationships with various groups in the community to prevent the type of unrest the city experienced in April and May.
Nancy Neilson
A 44-year veteran of Baltimore schools, Nancy Neilson, principal of New Song Academy, says there is something special about her current school. All of the students come from the immediate neighborhood in west Baltimore. Her students perform better than many of their counterparts, but unfortunately, it is not rare for them to be touched by the prevalent violence in the community. During the unrest earlier this year, "they were frightened because they didn't know what was going to happen," Neilson said.
Niamke Nnamdi
Niamke Nnamdi graduated from high school last year, and he is ready for the next step. "I am joining the Army," he said. After taking entry exams, Niamke qualifies for almost any position in the Army.
William Murphy
"There was a sense of collective outrage about what happened to Freddie Gray that tapped into a deep well of despair," said William Murphy, the attorney for the family of Freddie Gray. He says the biggest lesson that Baltimore can take away from the year's events is "that you can only ignore a group of people for so long."
Sheila Dixon
Former mayor of Baltimore, Sheila Dixon has emerged back into the spotlight after her 2010 resignation as part of a plea agreement in a criminal case. "I am beyond that," Dixon said, "That doesn't define who I am." Dixon says she is focused on rallying behind communities, addressing the dramatic rise in homicides and providing strong leadership. Neither Freddie Gray case nor the unrest that followed prompted the campaign, Dixon said.
Lincoln Kosmas
A bartender at restaurant in the Canton neighborhood of Baltimore, Lincoln Kosmas remembers the days after the riots. During the citywide curfew, Kosmas said residents looked out for each other, and people checked on their neighbors. "It's affected the city in a good way," he said. "People have come together." While the spotlight remained on Baltimore, Kosmas said, "I really hope that we show we're a good city. I hope we do ourselves proud now that everyone is watching."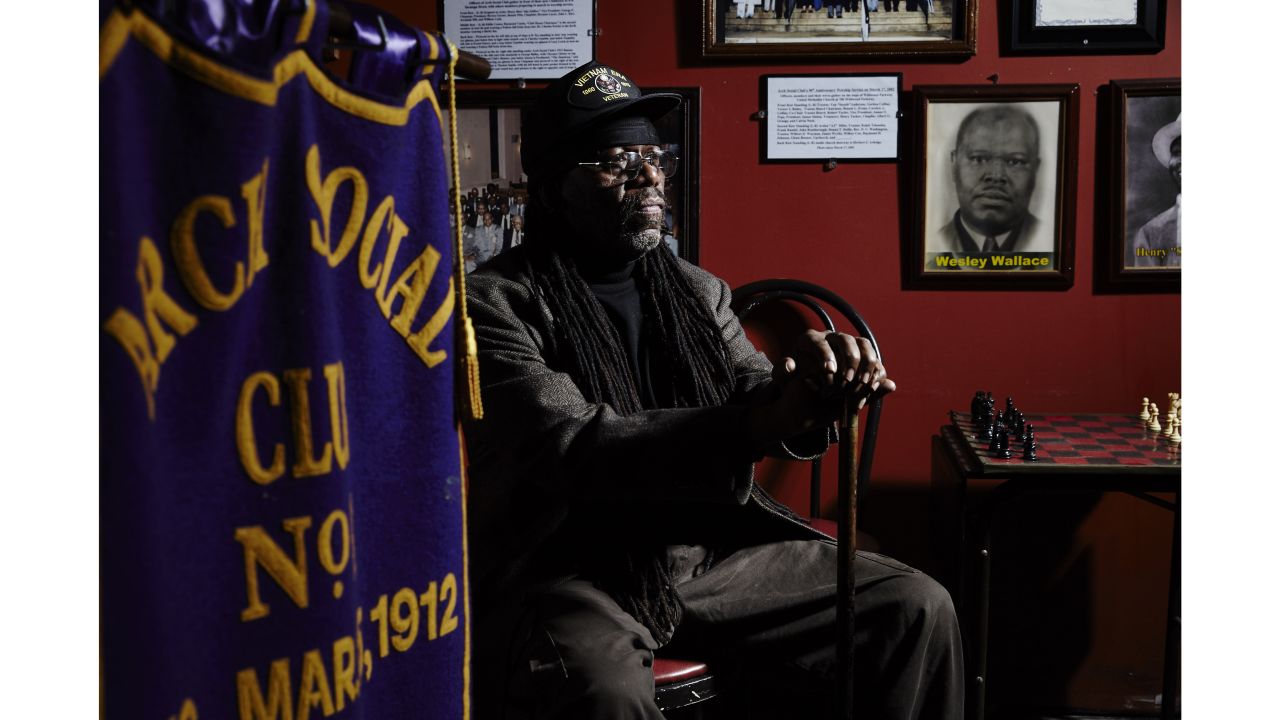 Kaleb Tshamba
Kaleb Tshamba belongs to the historic Arch Social Club. More than 100 years old, the club has been traditionally African American and for males only. "We are one of the only historic black places left in Baltimore," Tshamba said. The club sits across the street from the CVS store that was burned during the April riot. Tshamba and other members of the club participate in the 300 Men March, which calls for a stop to violence. A sign on the front of the club's building reads, "We must stop killing each other."
Tyler Fullwood
Tyler Fullwood, 13, make A's and B's in school and wants to be a lawyer when he grows up. As the oldest of three siblings, Fullwood said he sometimes fears for the safety of his family and friends. "There was a shooting behind the school and a student almost got hurt," he said. Some parts of Baltimore are dangerous, but it's not all bad, he added.
Brittony McKenney
Brittony McKenney had traveled around the world with the Navy by her mid-20s. Though she loved traveling, after six years, she said, "That was enough for me." Now McKenney is a year away from earning her bachelor's degree in broadcast journalism. "I thought coming back to Baltimore would taint my growth and the frame of mind I had," she said, "But it did the opposite. It enhanced me even more." Baltimore is rich with culture, compassion and love, McKenney said. "No matter where I go, I'll always be Baltimore."