Story highlights
NEW: NFL commissioner: "We are working now to improve the safety of our game"
Frank Gifford's family says he suffered from chronic traumatic encephalopathy
The family says they decided to publicize the diagnosis to promote player safety
The family of Frank Gifford says the revered sportscaster and NFL star suffered from chronic traumatic encephalopathy, a progressive brain disease linked to the types of brain injuries and head trauma common in football.
"While Frank passed away from natural causes this past August at the age of 84, our suspicions that he was suffering from the debilitating effects of head trauma were confirmed when a team of pathologists recently diagnosed his condition," the family said in a statement released Wednesday.
Gifford's family said they decided to have his brain studied "in hopes of contributing to the advancement of medical research concerning the link between football and traumatic brain injury." And they decided to make his diagnosis public to honor Gifford's commitment to promoting player safety, dating back to his involvement in creating the NFL Players Association, a union representing players' interests, in 1956.
"His entire adult life Frank was a champion for others, but especially for those without the means or platform to have their voices heard," the statement said.
CTE can be diagnosed only after death.
Gifford's diagnosis comes amid a growing focus on the risks athletes face from suffering repeated concussions, and just hours after the NFL admitted its concussion protocols had failed when St. Louis Rams quarterback Case Keenum kept playing Sunday even after his head slammed into the field.
Family: Disease is 'an urgent problem'
Gifford's family said that shortly before his death, he delved into better understanding the connection between "repetitive head trauma and its associated cognitive and behavioral symptoms – which he experienced firsthand."
87 of 91 tested ex-NFL players had brain disease linked to head trauma
Gifford, who was married to TV host Kathie Lee Gifford for 29 years and who was the play-by-play announcer for "Monday Night Football" for 27 years, played football for the University of Southern California Trojans before joining the New York Giants in 1952. There, he played running back and defensive back until 1964. He was inducted into the Pro Football Hall of Fame in 1977.
"We miss him every day, now more than ever," the family statement said, "but find comfort in knowing that by disclosing his condition we might contribute positively to the ongoing conversation that needs to be had; that he might be an inspiration for others suffering with this disease that needs to be addressed in the present; and that we might be a small part of the solution to an urgent problem concerning anyone involved with football, at any level."
In a statement Wednesday, the New York Giants said the team had great respect and sympathy for the Gifford family.
"We support the family's decision to contribute to the discussion and research of an issue we take very seriously," the Giants said.
Brain tissue shows protein buildup
The brain tissue of people found to have CTE displays an abnormal buildup of tau – a protein that, when it spills out of cells, can choke off, or disable, neural pathways controlling memory, judgment and fear.
It's not unique to athletes, but the disease has drawn growing attention in the sports world.
Dozens of former NFL players, including Junior Seau and Dave Duerson, have been posthumously diagnosed with the disease. In study results released earlier this year, 87 of 91 former NFL players who donated their brains to science after death tested positive for the disease.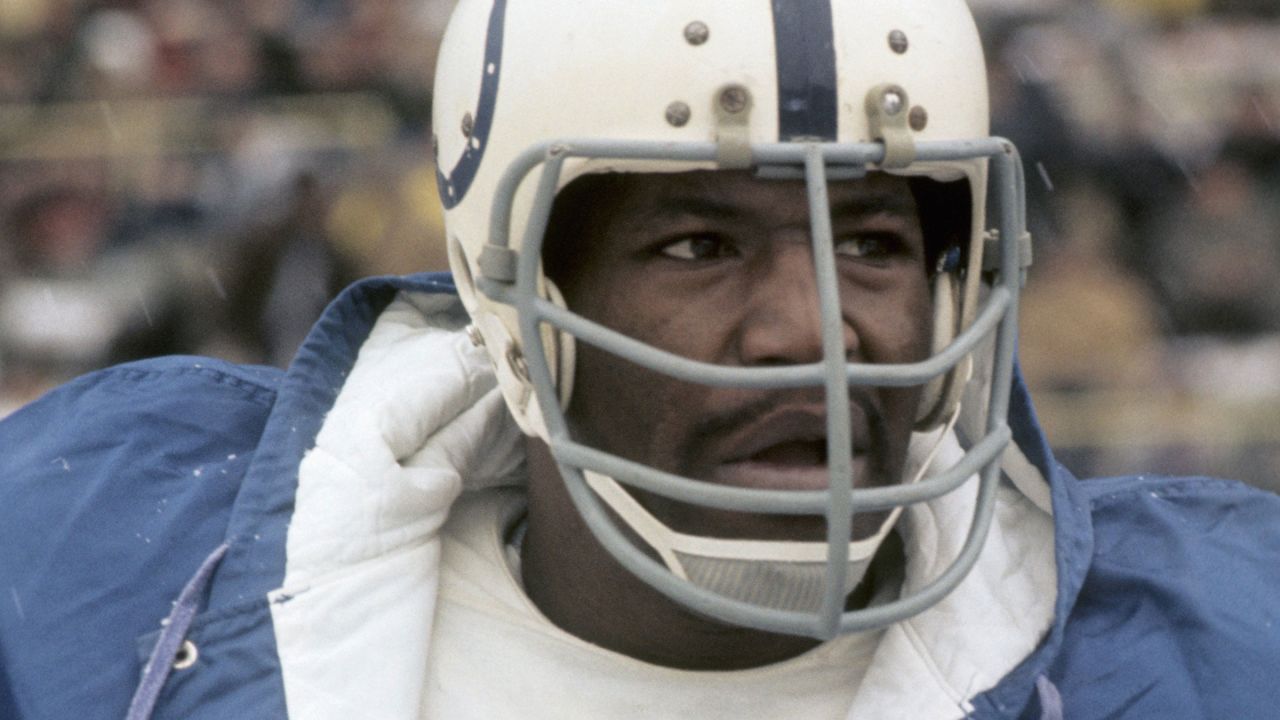 Athletes and CTE
In April, the NFL and thousands of former players settled a lawsuit that provides up to $5 million per retired player for serious medical conditions associated with repeated head trauma.
After the Gifford family's announcement, NFL Commissioner Roger Goodell released a statement thanking them and saying the health and safety of players is the league's highest priority.
"At the NFL, we are supporting grants to NIH and Boston University as well as other independent efforts to research the effects of repetitive head trauma," he said. "But we are not waiting until science provides all of the answers. We are working now to improve the safety of our game. The NFL has made numerous rules changes to the game, all to enhance player health and safety at all levels of football. "
Among the measures, he said, are 39 rule changes and improved training and practice protocols "that are yielding measurable results."
Medical adviser: NFL has responsibility to focus on player health
Analyst: Revelation will raise awareness
The revelation that Gifford suffered from CTE could play a significant role in raising awareness about the disease, CNN sports analyst Christine Brennan said. And it comes just as "Concussion," the Will Smith film about the effects of head trauma on football players, is getting ready to hit theaters.
"Frank Gifford takes this to another level," Brennan said.
There have been other high-profile former NFL players tied to the disease, but Gifford's role as a sports superstar and celebrity sportscaster could change the conversation, she said.
"Frank Gifford is perhaps the biggest name for everyone, from Topeka to Toledo to Spokane, of someone now who has had CTE. … And once you put a very famous face on something horrible, it does tend to have an impact unlike anything else," Brennan said.
CNN's Brian Stelter, Brooke Baldwin, Jill Martin, Michael Martinez, Jason Hanna, Debra Goldschmidt and Kevin Flower contributed to this report.