Story highlights
Pope Francis has Wednesday embarked on his first visit to Africa since being ordained
The Catholic Church is growing faster in Africa than anywhere else in the world
(CNN) —
Pope Francis is visiting Africa for the first time since being ordained.
The Catholic Church is growing faster in Africa than anywhere else in the world and millions across the continent are anticipating his visit to Kenya, Uganda and Central African Republic over the next few days.
What do you want to say to the Pope about pressing issues in your country and across the continent?
If you have a message for Pope Francis, write it down and send us a picture like this: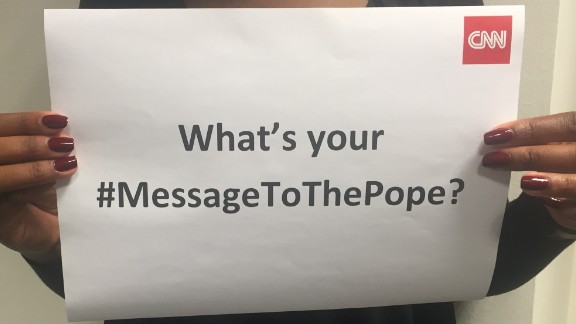 You can send us your pictures on Twitter and Instagram using the hashtag #MessageToThePope.
Alternatively, if you'd like the record a short video message, you can also send it to us on social media using the same hashtag.
Keep an eye out for regular updates on the pope's visit across CNN Africa Twitter and Instagram, and CNN International's Twitter and Facebook accounts.