One woman curled into a fetal position and held her breath as bullets flew. Another took the hand of a stranger dying in a pool of blood. A man pulled a blanket up to warm a young girl's feet, only to see the fatal wound on her side.
The terrorist assault on Paris killed 130 and injured hundreds more – most at a rock concert at the Bataclan, others while unwinding at restaurants, cafés and a bar.
The attacks also left thousands reeling – their minds scarred by indelible images and grief. Here are their stories, in their own words, of a Friday night interrupted.
'Terrorists are shooting, please come!' Denys Plaud The Bataclan
Denys Plaud was inside the concert hall to hear his favorite rock 'n' roll music when the shooting started.
"I heard the sound of firecrackers mixed with screams and I realized something scary was happening.
"I ran up the stairs to the third floor and found a small room up there; I was followed by others who were also trying to hide, so it quickly became full.
"We closed the door and put a fridge that was in the room up against the door to make it difficult for the terrorists to open it. Then we called the police and said, 'There's an emergency, terrorists are shooting, please come!'
"They told us to stay in the room and not to come out until the emergency response team arrived, so we turned off the lights and our phones.
"We were in there for an hour and a half; there was shooting and then silence, shooting, then silence.
"Eventually we heard the terrorists shooting very close to the room where we were. Bullets hit the wall that I was next to, and I felt the impact. I kept thinking, 'I hope the wall will stand.'
"One of the bullets hit a pipe or something so there was water pouring down, and one of the girls in the room was wounded; it was very, very long and difficult, and even in the last hour when there was no shooting we followed our instructions and waited in the darkness.
"When the police, the emergency team, finally came they said, 'Don't look around, keep straight.'
"They told us not to look around, but [it] was a bloody mess, there was blood everywhere – even people alive were covered with blood.
"I saw dead corpses all over the place – it was like a battlefield, a bloody battlefield.
"The police made us walk close to the wall in case there were other terrorists around, and they led us into a courtyard nearby.
"The inhabitants of one of the homes around the courtyard were very kind. They provided me with clothes because I had been dancing with a bare torso – it was very warm inside – and I left everything behind.
"I love to dance while listening to rock 'n' roll music. That's probably what saved my life. I had thought to myself, 'Let's go up to the balcony, there's space up there, you'll be able to dance,' and it meant I was not in the direct line of fire from the terrorists' machine guns.
"I love to dance, and that saved my life."
'OK, this is the end … I'm ready to die' Jerome Lorenzi The Bataclan
"I was with my … friends and I said, 'Lay down. And don't move. Don't touch. We need to stay calm, as calm as we can.'"
In seconds, one of the gunmen was behind him.
"He was a normal person, like you and me. You cannot imagine the guy wanted to kill so [many] people.
"This is scary, because he could have been your neighbor. He was reloading his weapon and shooting. … They did [this] about three, four times.
"One of my friends on my left was saying, 'I need to see my daughter and my wife. I cannot die. It's important to stay alive for them.'
"I don't have any children. And I was just telling myself, 'OK, this is the end. So just how you are going to go away from this world to death. Do you want to be in stress, or do you want to be like calm and having a kind of serenity?
"I closed my eyes and spoke to my father, who died three years ago. And then I said, 'OK, I'm ready to die.'
"The guy shot my two friends on the right side and he missed us, and he [shot] between my friend on my left side and myself."
Lorenzi said two things will stick with him always: the smell of the gunpowder and the sounds of the Kalashnikovs.
"It's in my mind, turning, turning, turning in circles. And saying, 'Wow, I'm alive. … Why me? Why me instead of another person?'"
'You need to think about Syria' John and Oscar Leader The Bataclan
John Leader was at the concert hall with his 12-year-old son, Oscar.
John: "We heard this bang, bang, bang, and like everybody else, we thought it was fireworks or part of the show. And then I felt something go past my ear. … Was it a bullet or something? I didn't know what it was.
"Everybody threw themselves on the ground. Because I stuck my head up … to see what was going on, I saw two shooters. One was changing his magazine. He had a whole lot of magazines in front of him. He had a big vest on."
Oscar: "He said, 'You need to think about Syria,' but in French. Like there wasn't any accent or anything."
John: "These guys were organized. One guy was covering the crowd. The other doing the shooting."
'It felt like the worst horror film' Isobel Bowdery The Bataclan
Isobel Bowdery, 22, dropped to the ground on the main floor of the concert hall and curled into a fetal ball. A wounded man nearby shielded her body. "Don't run," he told her. "Just stay."
"Those words saved my life," she said.
She played dead among the bodies of dozens of other concert-goers.
"Holding my breath, trying not to move, not cry, not giving those men the fear they longed to see. I was incredibly lucky to survive but so many didn't.
"I couldn't believe this was happening. It felt like the worst horror film. You don't move. You pretend like you're already shot. You pretend like you're already dead. That's what I did. I was so worried.
"The fact that I didn't cry is shocking given how scared I was. It was important not to – not to move, not to flinch, not to do anything to alert them that I was still alive.
"Minutes before the attack, everyone was dancing, everyone was smiling. People were happy.
"And then, when the gunmen came in, it all changed. But the people didn't."
She heard a wounded couple tell each other they loved each other. She thought of her family and friends – everyone she's ever loved.
"It's what you do when you're so close to death. It's all you want to be – you want to be with your family. You want to tell them that you love them. And you don't want them to think of the pain you're going through. You don't.
"This is the only thing I did. I said out loud: 'I love you.' I pictured their faces and whispered.
"It was important that if I was going to die – if the next bullet was for me – that I left saying, 'I love you.'"
'Run baby, run!' Maria Moore The Bataclan
Maria Moore, 50, is a housewife and mother of two from Southampton, southern England. She was with her husband, Pat, 49, and a group of French and English friends who meet up at gigs all over the world because of their shared love of Eagles of Death Metal and other bands.
"We were stood off to the one side, watching, and about five songs in they did 'Save a Prayer,' their new Duran Duran cover. I don't like that song, so I took the opportunity to go to the toilet, which was up at the back.
"Afterwards, I walked past the merchandise stand and wormed my way through the crowd to where we were standing. Two minutes later, the shooting started. If I'd been in the bathroom two minutes later, I'd still have been at the back where it all started.
"When it started we thought it was fireworks; I thought 'Oh, is this a new part of the show? They've never done this before.' The back of the auditorium was all lit up by it, then I looked back at the stage and noticed that some of the band members were moving away.
"By about the third round, everybody was on the floor, they'd dived down, and I thought, 'Is this what French people do when they hear fireworks?' Then my husband grabbed me and pushed me towards the door – we always stand in the same spot at gigs, and we're fortunate that that meant we were really close to the exit at this venue.
"We got out but realized our friend Brian Sanders wasn't with us, so we turned back to find him.
"He'd been caught in the crush and trodden on, and his shoulder was broken, his collar bone snapped. He was in so much pain that he thought, 'I'm done for,' but he managed to grab hold of a bar above him and haul himself up, and he got to the door just as we got back to get him.
"He was screaming in pain, and as soon as we were outside he wanted to sit down, but we said 'Oh no you don't!' and got each side of him and forced him to run up the street. We had to do it – he still owed us for tickets for another gig!
"As we were going up the street, I saw the singer [Jesse Hughes] and his girlfriend shoot past us, and he was saying 'Run baby, run!' I thought, 'If Jesse's going, there must be something wrong!' – that's the point where I was really, really scared.
"We ran up the main road at the back of the Bataclan; there were already lots of police and ambulances there, and there were six or eight people on the curbside who had been shot.
"Eventually an ambulance man suggested we walk to the nearest hospital; it took us about 20 minutes to get to St. Antoine. We were there about four hours while Brian had X-rays and was prescribed painkillers, and all the time they were bringing in people who had been shot. There was even a special forces guy who kept his balaclava on while he was being treated."
Moore said four of her friends were shot, including Mark Backwell, who was hit with two bullets. But all of them are "doing OK," she said.
"They've all got such a lovely positive attitude – we've even nicknamed Mark 'Two Bullets Backwell.' We've had so much support, there's been an overwhelming amount of love, and even laughs, in the past few days."
Moore said the event that brought the group "really close together" was another terrorist attack in a European capital 10 years ago.
"Queens of the Stone Age were due to play Somerset House in London on the day of the London bombings, and so we spent hours desperately trying to find each other and make sure everyone was OK. Over the 10 years, a really intense friendship has brought us ever closer together.
"The main reason we were all at the Paris gig was that another friend from the group, Lorene Lenoir, a rock photographer and journalist, committed suicide last year, and so we said that next time the band was in Paris we'd all get together.
"We think she was looking after us all in there, because even though four were shot, we all made it out. I don't know if I believe in that stuff, but it's a comforting thought."
Moore says their experience hasn't put them off Paris – "not at all, we'll go back the first chance we get" – or rock gigs: "We're going to another at the end of the month in London.
"We're going to keep doing what we love – the camaraderie in this group is too strong and precious to lose."
'We rushed to the roof' Frederic Nowak The Bataclan
"We heard the noise like firecrackers. We turned around and saw two young guys. They were pretty far away, but they were two guys with rifles shouting at the crowd.
"We laid down on the floor. There were panic and screams. They kept shouting again and again.
"On the right side of the stage, one door was opened. We all tried to rush in. There was a staircase. … Up there, we saw some doors that people tried to force open. Those doors just entered into some dressing rooms. Someone managed to finally open the access for the roof, and then we rushed to the roof.
"A man who had his apartment facing the roof opened his window and let us crawl through. We stayed in there in the dark, waiting for things to pass. We could keep on hearing the noise of explosions, shouting, guns, and screaming without really knowing what was going on."
'The concert hall floor was covered in bodies' Pierre The Bataclan
Pierre, 35, took refuge from the shooting in a bathroom, where he and three others hid for more than two hours. Before the siege ended, he could see the terrorists' feet through the bottom of the bathroom door and hear them talking about hostages and preparing a bomb. He lost two friends in the attack.
"Those guns, like ta-ta-ta, ta-ta-ta, and you just see all the people just falling to the floor with all the blood. They are just like 17 years old or 20 years old. Just so young. … Arabic ones, black ones, white ones.
"When the SWAT team launched the raid, they started shooting at the door. They started shooting at everyone. The terrorists responded by shooting back and they blew themselves up and everything exploded. The lights went down. There was smoke everywhere.
"Then we understood it was the police, so we opened the door and they put the gun to my forehead. … The concert hall floor was covered in bodies, blood. Blood on the walls. Blood everywhere. Bits of fabric, bags. It's the apocalypse."
As to the future, Pierre says: "We have to love everybody. We have to love the differences. We have to smile. That's our fight against the terrorists."
'They were shooting at us like we were birds' Julien Pearce The Bataclan
Julien Pearce, a radio reporter, was near the stage when the shooting started.
"It was a huge panic. The terrorists shot at us for like 10 or 15 minutes. It was a bloodbath.
"They were just standing at the back of the concert room and shooting at us like if we were birds.
"It was overcrowded … so it was easy for them.
"I've seen one of the guys, very young, he was like 18 years old, 19 years old, 20 maximum, and he was executing people on the floor.
"I said to the people around me just to calm down and play dead basically. And we waited.
"They shot at us and they reloaded again several times, multiple times. … I escaped because they reloaded. I just waited for the time they reloaded to run."
Pearce said he and others dashed into a small room and hid for five minutes. When the gunmen reloaded again, they ran for an exit.
"It's when I found an exit that I discovered a young girl that was shot twice in the leg. She was bleeding very badly, and I grabbed her and I put her on my back and we ran together in the streets for 200 or 300 meters. And I found a cab, and I stopped the cab, and I said to the taxi driver, 'Go to the hospital with her.'
"But she was bleeding so badly. … I don't know if she's still alive."
'The grief is here and we keep it as a treasure' Antoine Leiris The Bataclan
Antoine Leiris, a radio journalist from Paris, lost his wife, Hélène Muyal, in the attack. Muyal, 35, was at the concert with the couple's mutual friend Nicolas Strohl, who was shot but survived. Leiris' Facebook tribute to his wife and message to the terrorists has since gone viral.
"Friday night you took away the life of an exceptional human being, the love of my life, the mother of my son," Leiris wrote, "but you will not have my hatred."
Leiris told CNN how events unfolded for him:
"Her sister sent me a message [Friday night] to say 'How are you?' like she wasn't worried about anything, but just in case, so I turned on the TV and learned the awful truth.
"I was floored, I kept thinking 'Anything is possible.' But it also crossed my mind that she could have been killed.
"I spent the night on the road with my brother to see every hospital in Paris, and in the suburbs.
"I learned of her death on the Saturday evening when the medical examiner's office called me to tell me they had my wife's body.
"I went to the M.E.'s office that night and tried to force the doors, but it was closed and I couldn't get in.
"I felt really bad to have left her alone for two nights – that she could have lived through this and I wasn't even there. Dead or alive, that was not the point, I just wanted to be with her.
"I was finally able to see her on Monday morning.
"I saw her and I felt I had to force myself to write what I wrote – I didn't have a choice if I wanted my son to grow up as a human being who is open to the world around him, like his mother, to grow up as a person who will love what she loved: literature, culture, music, cinema, pictures.
"If I had given in to hatred, he might grow up to do the same, and then I would have brought up a person who was just like the terrorists.
"My son is only 17 months old, but he feels everything, he knows everything. We talked about it and he cried because he missed his mother.
"When you know your baby, you recognize when he is crying because he is hurt, or hungry or just complaining. He cried out of sadness, out of grief.
"So I took my phone and put some music on that he was listening to with his mother, and we looked at photos. He showed me, 'This is my mother – Maman,' and then we cried together.
"The grief is here and we keep it as a treasure – it is a souvenir of her; we don't pretend we're not sad, that we're not devastated. No. We are, but we're still standing.
"Hélène was the same with everyone, she made everyone feel better.
"They [the terrorists] can have all the Kalashnikovs, all the oil. If we stand free, if we stand here with a zest for life, with happiness … then they don't win.
"They want us to be angry, they want us to view our fellow citizens with suspicion, but no.
"Since Friday night, I am not in control of my life – life decides for me. I just want to do the best I can. Day after day, I will see."
'She died in my arms' Nicolas Strohl The Bataclan
Nicolas Strohl was at the concert with one of his closest friends, Hélène Muyal. Her husband, Antoine Leiris, was at home with their son.
"Hélène and I were both shot; I pretended to be dead so I wouldn't be shot more, because they were firing at anyone who moved.
"We were stuck there for two hours.
"Hélène was next to me – she died in my arms. I protected her right until the end, that was all I could do.
"I was shot in the back of the thigh and was operated on over the weekend; I was released from hospital on Sunday.
"I could not tell Antoine she was dead – I kept thinking maybe there was hope; I just said she was seriously injured.
"Hélène was my childhood friend; we met in school when I was 10 or 12. I met Antoine when I was 15 or 16. They were my two best friends, and I thought it would be a good idea to hook them up – it was, and it still is."
'It was all around, in every direction' Shane Thomas McMillan The Bataclan
Shane Thomas McMillan is a documentary photographer and studio manager from Montana now based in Berlin.
"That evening I was at my friend's apartment studio [in Paris]; we were editing some photographs when we heard what we thought were firecrackers. Then when the noise went on for a little too long we realized that it wasn't. It went on for a very long time, about 45 minutes or so.
"When the gunfire had slowed down, me and my friend went down to the street and right at that moment they were bringing people out of the Bataclan, bringing them around the buildings at the back, and they were putting them into the courtyards.
"They were using the courtyards and hallways of the buildings as triage.
"It was all around, in every direction. … They were pretty serious injuries.
"I don't think they wanted to do the treatment out on the streets – I got the feeling they were afraid there could be other attackers coming, and they didn't want people looking down from the apartments, so they were trying to do it in a somewhat sheltered space.
"They would take them into the courtyards, get them stabilized and bring them out as the ambulances would come down the street – they didn't want people lying all over the sidewalks and streets, they wanted to keep the ambulances moving; it was a lot of people and a lot of injuries.
"In the moment, my first instinct was to shoot photographs – as a trained photojournalist, that's what I went to school for – so I shot a few, but these people were in a terrible situation and it felt a bit exploitative, but on the other hand it was also important.
"The next day, I started photographing more, to help me deal with it – that's how I deal with things after 15 years as a photographer, but it was difficult to watch people going through such a life-changing moment.
"It has definitely changed me – I don't think you can experience something like that without it changing something inside you."
Dozens of people were killed in a series of attacks on restaurants, cafés and a bar within about a mile radius of the Bataclan. Among those hit were Le Petit Cambodge in the 10th Arrondissement, La Belle Equipe in the 11th Arrondissement, and Café Bonne Bière and Casa Nostra, also in the 11th.
'We just all ducked down' Chloe Wilk-Martin The Restaurants
Chloe Wilk-Martin was with her husband and a friend in an Uber car when they saw the attack at Café Bonne Bière.
"Our Uber stopped at the red light. … We started seeing smoke and thought it was fireworks. Our Uber driver pulled out his phone and wanted to film it. As soon as I saw an individual across the street get gunned down and blood being splattered all over the place, we all screamed.
"There was so much smoke and noise and people screaming. … The panic and the fear started kicking in. We just all ducked down.
"We felt something hit our car which ended up being a bullet on the passenger side that went in the car, out of the car and just over my husband's head.
"I grabbed [the driver] and told him to reverse. … It was just so terrifying. We didn't know what was going on. … He spun the car around until we got to Place de la République, and we fled the car and started warning people getting out of the Metro.
"I'm half French, so I'm proud to call myself a French citizen. … It's great to show that we're fearless and we won't back down and that we won't give in to this kind of terrorism and brutality. But what's next?"
'People were crying, people were shouting' Wasim Akaram The Restaurants
Wasim Akaram is the owner of the T for Tattoo shop around the corner from Café Bonne Bière. Originally from Pakistan, he came to France 20 years ago.
"I was in the kebab shop across the street when I heard the noise.
"There were two people. … they stopped the car and began shooting.
"My friend, the boss of the restaurant, thought it was fireworks, but then people ran in, desperate to save themselves, and we understood it was an attack.
"People were crying, people were shouting. We were scared, so they closed the door and everybody lay on the floor or under tables to hide, then we went down into the basement.
"The police came and attacked the terrorists, killed them, and then said it was safe to come out and go home; we could see bodies in the street, but only from a distance, the police wouldn't let us go near."
Akaram said he's been a frequent guest of the café.
"We go to the café for coffee, we see the people who run it every day – they are our friends. This is very sad for the area."
Since the attacks, business has been slow to return.
"Nobody's coming in the shop. … On the Saturday the whole area was sealed off, but on the Sunday we were allowed in, so we opened, but nobody came."
His tattoo artist, Rubal Singh, had left the shop 15 minutes before the attack. Originally from India, he's been living in Paris for five months.
"I had one customer who came in to get a tattoo of the Paris peace symbol, with the Eiffel Tower, and a heart with the French flag on it," Singh said.
Akaram said he fears further attacks unless Western governments strengthen their resolve.
"I think it will happen again, because the French, the British, the Americans, they do something against terrorism, but they don't complete it – look at Afghanistan or Syria. When we start something, we have to finish it
"It is time to think of a real solution, to come together and finish this; we have to stop selling guns and instead bring peace everywhere."
He said that he does not believe the attackers were acting in the name of his religion.
"I am a Muslim, but these people, they don't understand Islam. They are young and easily manipulated – someone shows them videos of terrible things happening in Kashmir or Syria, and they are brainwashed."
'Save yourself!' Nihat Tasdemir The Restaurants
Nihat Tasdemir runs the kebab shop across the street from Café Bonne Bière. Bullet holes still puncture the signs outside his shop. Originally from Turkey, he came to live in France 17 years ago.
"My colleague and I were both working at the front counter. … I looked across the road and saw people on the cafe terrace falling over.
"I told my colleague 'Save yourself!' but he'd already made a run for it. I hid under the counter, then a bit later I got the customers out the back and down the stairs to the cellar.
"I came back up to see what was going on; there were injured people lying in the street for what seemed like ages – it could have been 40 minutes, or it could have been shorter, my mind could have been playing tricks on me.
"I kept the people downstairs, safe, until … the police said it was safe to leave.
"I know the people who run the café well; they are OK, it was their customers who were injured and killed."
'We froze completely' Mark Colclough The Restaurants
Danish psychotherapist Mark Colclough was outside Café Bonne Bière when the attack began.
"It was a single gunman. The way he was dressed, it looked like he was dressed in military attire. Dressed in black, black boots, black trousers, black sweater, rifle up to his left shoulder.
"The way he was shooting was a very professional stance. He was shooting short bursts, short controlled bursts, so I thought he was either military or a special part of the police, something like that.
"We didn't hear him say anything, and we also didn't see his face. We saw his build and we saw the way he was moving, but we couldn't see any clear facial details at all.
"When he moved inside the café, after he had killed the three individuals outdoors and the one or maybe two in the white car, when he moved in the cafe and began shooting inside the café, that's when I knew this could neither be SWAT team or anything legal.
"My travel companion and I, we froze completely. … It wasn't until we saw him opening fire inside the restaurant or the café that we knew this was an attack on civilians and our stunned silence broke and we ran in the opposite direction and sought cover.
"I think both my travel companion and I are going thru a period of shock, delayed shock. So I'm trying to arrange for us to go home and get some counseling or some therapy or some crisis intervention of some kind."
'It all comes down to chance' Bennie Tucker The Restaurants
Bennie Tucker, 21, originally from Winchester in southern England, works in the film industry in Paris. He lives three doors away from the Casa Nostra pizzeria, across from Café Bonne Bière, and had walked past it shortly before it was attacked. He and a friend were in a neighborhood bar when they saw police and began hearing about the attack.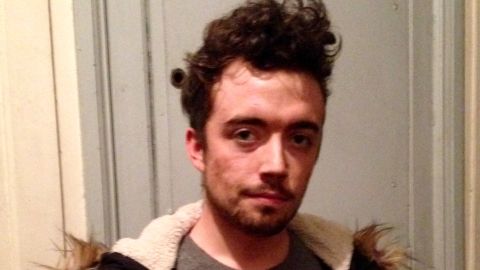 "Everyone started checking their phones and the news started coming through; we decided we should leave, but every taxi going past was full so we stayed where we were.
"The barman went outside and put up the tables and closed the doors, then came in and took down all the Brazilian flags. … At one point he even tried to barricade the doors with a broom.
"The couple next to us had ordered dinner but got up and left without eating it – they just drank their wine and went.
"In the end we walked to the Metro. My friend lives in the south of Paris and we decided it was safer to go there.
"The streets were tense – nobody was sobbing, but everyone was shaken. It was a bit weird, almost surreal though, because there were also a lot of slightly drunk people who were just out for the evening and hadn't realized anything was wrong.
"The next day I tried to go home but couldn't get in [to my neighborhood]. … When I was finally able to go back, there were two old guys playing jazz music down in the street next to all the tributes, which was great, and there are people giving out 'free hugs' in Place de la République.
"The city has calmed down a lot. If someone set off firecrackers now, people probably wouldn't pay attention; they are determined not to be afraid.
"This was one horrific event, but the place hasn't become a war zone, people have to get back to their lives. There's a good sign in Place de la République that says 'La vie continue' ['Life goes on'].
"It is just chance that it happened close to where I live, a few minutes after I left – it all comes down to chance."
'There was blood all around her' Charlotte Brehaut The Restaurants
Charlotte Brehaut was dining with a friend at Le Petit Cambodge when the 10th Arrondissement restaurant came under fire.
"All of a sudden, we heard huge gunshots and lots of glass coming through the window. So we ducked onto the floor with all the other diners. And we heard numerous more gunshots coming through the window and shards of glass were hitting people lying down on the floor.
"I didn't see any shooters. I believe there was more than one. It sounded like there would be more than one, and it also sounded as if they had stopped to reload and then they reloaded again. And then more gunshots fired the second time around. … I think it was maybe 2 or 3 minutes maximum. It felt like longer.
"I was holding a woman's arm next to me, and when I suddenly started to process what was happening … I realized that she had been fatally wounded. She had been shot in the chest and there was blood all around her.
"I was holding her hand and somebody asked me if she was breathing. And I looked at her, and I saw a pool of blood next to her, and I couldn't tell. I thought maybe she'd been conscious, but to be honest, it happened so quickly. … People were just sort of frozen in shock."
When the shooting stopped, "people waited for a couple minutes because we weren't sure whether or not someone would come back into the restaurant."
"Once we thought the coast was clear … we ran out onto the street.
"[We] sat right at the window where the shots came through, and they missed both of us. … It was strange and extremely lucky that we both came out of it OK."
'A scene from an action movie' Seth Porges The Restaurants
Seth Porges is a freelance journalist who stepped out of his apartment building in the 10th Arrondissement and into chaos.
"I come outside, and there's a large gathering of people.
"Then more and more people started coming as if attracted by the activity and the gunfire, and then a large number – and I mean dozens – of police officers and dozens of firefighters come around scurrying, closing off the roads.
"Police running around, hiding behind vans with guns drawn. … My first thought, honestly, was a scene from an action movie or a video game. I'd never seen anything like it."
'As I saw him lift the gun, I jumped to the floor' Jean-Luc Perez The Restaurants
Jean-Luc Perez runs Les Caprices beauty salon across the street from La Belle Equipe, where gunmen opened fire on a birthday party on the terrace, killing 19.
"This area is like a village, everyone knows each other, has meals together – it's a tight-knit community. The bar was very popular, always full.
"I was cleaning up in the salon, getting the place ready for Saturday, washing towels, that sort of thing, when a car stopped outside.
"Two men got out with Kalashnikovs and started shooting at the terrace. When they ran out of bullets, they stopped to reload and shot again.
"They got back into the car and went to drive off. The salon was dark, so they hadn't spotted me, but as they got to the traffic light they saw me.
"One of the men got his Kalashnikov back out and shot four times at the salon." Three of the bullets tore holes in the plate glass window.
"Later, the police asked, 'How did you survive?' I told them, 'As I saw him lift the gun, I jumped to the floor.' It was frightening, really frightening.
"They drove off, and I ran over the road to the café to try to help the people who were injured and dying before the police got there, then they took over.
"It's an image I will never forget. … I knew practically all of them. I've had the salon here for 10 years.
"There were clients from the salon who'd been here that afternoon for appointments before going there to eat in the evening, and now they're dead. I was supposed to be there – they'd called over and I said, 'I'm coming, I'm coming, after I've finished cleaning up.'
"We reopened today for the first time. We want to beat the terrorists, and to do that we have to get back to life, back to normal, we have to open the salon and get back to work."
'We locked ourselves in' Virgile Grunberg The Restaurants
Virgile Grunberg is the manager of the Café des Anges in Paris' 11th Arrondissement. Many of his employees and customers were gathering at nearby La Belle Equipe to celebrate the birthday of waitress Hodda Saadi when the gunmen struck.
"We lost colleagues, I lost employees, we lost customers who have been coming to the café for years, family of colleagues and friends, dear friends … 11 of them are dead now.
"It took some time to get all of the details; of course we knew right away what was happening – we weren't sure what it was exactly, but we heard of the shooting minutes after it occurred.
"We locked ourselves in [our] café, and we received phone calls all night long to tell us who was shot, who was gone.
"What we really want is to get past the grief, to act for the families.
"Especially, I think of my barmaid [Lacrimioava Pop], who was shot with her husband [Ciprian Calciu] there – they leave two orphans now, so we are trying to organize fundraisers, for the funerals and everything, but mainly we want their children to be taken care of."
His cafe has set up a GoFundMe page for the orphans.
"For now they are staying with their grandmother, who is from Romania. She does not speak French, she doesn't have any money, and she's completely lost.
"It is really important for us that their life can go on in the best way possible.
"Now we want to focus on those who are left with us. We want them to have a chance in life."
'Like something from a war' Francois Didelot The Restaurants
Francois Didelot runs the Mamie Tevennec creperie a few doors down from La Belle Equipe.
"I was here working when I heard the noise – it was really loud. I went outside to see what was going on … but I met a woman coming the other way and she told me to get back inside.
"I came in, turned off all the lights and hid all my customers in the kitchen while the shooting was going on – it wasn't long, maybe three or four minutes.
"When it had finished I went out to find out what had happened – I saw that it was awful and came back.
"It was horrible, just terrible. People were so badly wounded, it was like something from a war.
"It's been very quiet since, for all the businesses around here, but we have to go on living."
'It was hell, there was blood everywhere' Romain Ranouil The Restaurants
Romain Ranouil lives across the street from La Belle Equipe.
"I was coming back from my grocery store, and when I heard some sounds I thought it was the scaffolding falling down because it was so noisy.
"I rushed outside. The [gunmen] had already gone and it was chaos. There were some cops coming in … and the medics started to bring some really badly injured people. Actually, these were the people they could not do anything for.
"I saw a young girl. She was lying on the floor under a blanket. I just pulled the blanket to cover her feet. Then I saw she had like a gaping hole on the side. She died a few seconds later. I'm not even sure she was conscious when I saw her because she was staring at nowhere.
"It was really hell, and there was blood everywhere. And then we removed the tables inside the restaurant to make some space. … Medics were performing CPR. … There was blood splattered everywhere. And then they died. And they were lining up the corpses outside. So many people.
"They were having a birthday party, so I saw a guy who lost his two sisters. They were working in the restaurant. I knew a waitress, a nice Mexican girl. And she was not supposed to be here because she found a new job in another restaurant that belongs to the same owner. She came back for the birthday party and she was shot and she died. They all died.
"What I've seen goes far beyond imagination, and I still cannot really focus on anything more than a couple of minutes without seeing these faces. These people were 20, and I've seen them die.
"I'm not frightened. This is my home. What can I do? I have nowhere else to go. The only thing I've decided is not to hate anybody because that's what they want. And I'll never give them hate.
"I have some Muslim friends, and they're not like them. The guys that did this are not even human to me. They belong to another planet. … They're just like cockroaches.
"We are on our knees. Paris is crying. But then we're going to stand up, and we're going to live."
'She died very softly' Dr. Michel Bonnot The Restaurants
Dr. Michel Bonnot lives near La Belle Equipe and ran from his apartment to help. For 20 minutes he tried to save Nohemi Gonzalez, but the American woman died in his arms.
"I look at eyes, you know, for this lady to see if she was alive or not. … She was very white. She was not scared or afraid. She was very cold indeed. She died very softly.
"I was not so much shocked by what I saw. I felt so depressed. It was so horrific for me because it's my job, and I was unable to do it."
'It could have been any of us' Clark Winter The Restaurants
Clark Winter is an American in Paris. He'd just taken a seat at a restaurant about 10 blocks from the Bataclan when the café next door came under fire.
"We walked right past where the shooting took place moments later. … It's an open air café. It was a beautiful night in Paris. Everybody was out on the street. … It could have been any of us.
"Minutes later, we heard this incredible gunfire. We went out to see what happened.
"There were six people lying on the ground in front of the restaurants and many more inside. Everybody was trying to help. There was a rumor there was a sniper upstairs in the restaurant, so we all took cover again and tried to take care of these people.
"The police came and blockaded the street. We were locked down in the restaurant until 4 a.m. … By then, we all knew … the extent of what happened."
'Our time of innocence is over' Adam El Daly The Restaurants
Adam El Daly, 28, is a tour guide at the Eiffel Tower. He was enjoying a meal with friends in Paris' 11th Arrondissement, close to Rue de Charonne, when terrorists launched a series of attacks nearby. Since then, his work has been quiet. One recent tour had 17 bookings, but only two people – a couple from Las Vegas – showed up.
"I was with three friends, a guy and two girls, having dinner at a Sicilian restaurant; we were talking about work and holiday plans when my phone vibrated in my pocket.
"I was supposed to work on the Saturday, so I thought it was my boss sending me a message … but it was a notification from Le Monde newspaper saying that gunshots had been reported in multiple parts of Paris.
"The restaurant was busy – it was a typical Friday night – with lots of couples on dates, and groups of friends eating together, but suddenly people started looking agitated, checking their phones, getting calls – their faces became wary and anxious.
"I called my mom and asked her to turn on the TV and see what had happened; she told me that guys had used suicide vests in Saint-Denis near the stadium.
"Then she said there had also been gunshots reported in the 10th and 11th Arrondissements. I said, 'We're in the 11th. Where?' and she said, 'near Charonne.' I said, 'That's 300 meters away.'
"The two girls we were with started freaking out, so we tried to calm them down, and the owner of the restaurant closed the doors and pulled the shutters down so nobody could get in.
"My mom comforted me and said, 'Stay where you are, keep checking your phone, stay until the police say it's safe.'
"We stayed like that for an hour and a half – we'd been about to leave the restaurant at 10 p.m. – and ended up being there until midnight; all that time we were getting messages and calls, from my dad in the U.S., from my brother.
"Periodically, the restaurant owner would lift the shutters a little to see if there was anybody outside who needed shelter.
"When we heard that the shooting was over and the terrorists had been killed, we left and started walking.
"There was nobody on the street.
"We got the girls a taxi and sent them off safely, and we started walking really, really quickly – getting a bit paranoid when we saw a car with tinted windows or anything.
"Eventually we got a taxi; we went through Bastille and I've never seen anything like it in France – the place was full of police with Kevlar armor and semi-automatic rifles.
"I'm used to seeing soldiers at the Louvre, the Eiffel Tower and at train stations, but these were in full gear, with assault rifles, controlling who was entering and leaving the square.
"We were in shock. We weren't that near the shots, we weren't shot at ourselves, but it really scared me that here were people, our own citizens, running through the streets [in panic].
"When the Charlie Hebdo attack happened, I was very shocked, but it was picked because it was a symbol, they were journalists targeted for their work.
"This time it was indiscriminate – the victims could have been you or me – and that's what's freaking people out, this feeling of not having control of our environment.
"On the subway, people aren't comfortable, everyone is eyeing each other with suspicion. These are not good times for us.
"The city will recover, we will stand on our feet again – we have to, from a moral point of view, because we can't let the fearmongers and terrorists rule our lives, and also as a sign of respect for those who lost their lives.
"But we have to be better prepared. This has made me realize that our time of innocence is over."
'War wounds' Patrick Pelloux The Restaurants
Patrick Pelloux is a former Charlie Hebdo columnist who was working as a doctor at an emergency call center the night of the attacks.
"We coordinated the whole system, and afterwards we sent the maximum number of doctors and first aiders to the scene.
"We took the victims and sent them as quick as possible to the hospitals. We succeeded in opening 60 operating theaters between 10 p.m. and 1 a.m. to try and save the maximum number of people."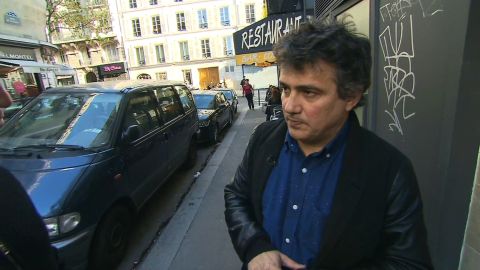 There were "wounds by bullets, by bullets of automatic gunfire. Wounds from explosions of bombs, from explosive belts where they had put, in addition, nuts and bolts and metal parts inside. … There was one woman who had nine bullet holes on her sides, but I am not sure if she is still alive. … I believe that she died."
Pelloux described them as "war wounds," and he called Parisians returning to sidewalk cafes "the resistance."
"That's why the president of the republic said, 'We are at war.'"
Asked about seeing such carnage just 10 months after the Charlie Hebdo massacre, Pelloux responded:
"That's not very important, in fact. What I saw at Charlie Hebdo and what I saw here are two different things. I did my job to serve the country … to serve the victims as best as possible. … I have forgotten my own feelings so as to serve."
'We didn't know it was a bomb' Lasse Hope The Stadium
Lasse Hope, 16, from Paris, was watching the France-Germany soccer match at the Stade de France with friends from Israel when three terrorists armed with suicide vests blew themselves up outside the stadium.
"When you hear a noise like that, you don't think 'bomb,' you assume it's something more ordinary.
"We didn't know it was a bomb until right at the end of the match when my dad texted me, so it was only in the last few minutes we realized something had gone wrong.
"We got out when the whistle blew – we didn't want to hang around – so we weren't part of the group that was held inside for hours.
"I wasn't scared at that point, but on the way out I started getting lots of calls from family and friends asking if I was OK – a constant stream of phone calls and texts.
"I asked what was going on and they told me, 'Oh, there's been bombs and shootings' – it was then that it hit me that something serious was happening.
"There were hundreds of police in full bomb gear outside the stadium.
"We got the Metro home, and my friends started getting calls to see if they were OK, but they didn't panic – they were just surprised that something so big had happened here.
"I think my parents were panicking more than we were."
'Everything was blown to bits' Sylvestre The Stadium
A man who only gave his name as Sylvestre told reporters he was talking to someone on his cell phone outside the stadium when a suicide bomber detonated his explosives.
"I was crossing the street and straightaway, boom, it exploded right in front of me.
"Everything was blown to bits and I felt stuff flying around and I left, I fell and then I got back up.
"This is the cell phone that took the hit, it's what saved me," he said as he showed reporters his shattered device. "Otherwise my head would have been blown to bits."
'Stay safe, don't do anything' Ryu Voelkel The Stadium
Ryu Voelkel, a freelance photographer based in Berlin, was shooting the soccer game between France and Germany when he heard the attacks.
"It was one of those sounds that was a bit strange to be fireworks. … I could hear it was outside. I didn't really take much notice of it at that point.
"And then second half, I was on the other side of the stadium and I heard it a bit more faintly the sound. And also I didn't take note that much because I was working.
"I got a crazy text message from my wife saying, 'Are you all right? There was an attack in Paris.' And I couldn't text her back because when you are in the stadium, so many people using the phones at the same time, the signals get jammed. So I think she got really worried because I wasn't texting her back.
"And I got this, you know, eight more text messages, 'Stay safe, don't do anything, just don't get out. I heard there was a bomb at the stadium.' … I think she was probably on pins and needles until she got a call from me later on."
After the game, Voelkel found himself stranded, so he took to social media.
"People were using the hashtag on Twitter #porteouverte, which is 'open door' in French. And people were offering free places to stay for people who kind of got stuck somewhere because the transport was shut down. … I ended up at a couple's place about 10 minutes walk from the stadium."
'We saw body parts' Kevin Tulga The Stadium
Ken Tulga, who came to France as a Kurdish refugee, had just entered the Stade de France with his 10-year-old son when a suicide bomber detonated his explosives behind them.
"We saw body parts. I didn't want my son to see any of this. … We had no idea what was happening. So I covered his eyes, took his arm and just ran."
His son can't sleep after what he witnessed.
"When he realized the extent of what happened, he told me, 'Don't ever bring me to a game again.'"
'I thought first of my children' Simon Kuper The Stadium
Simon Kuper, who lives in Paris, is a journalist for The Financial Times. He lives near the Bataclan and was inside the Stade de France when he heard the explosions.
"I thought, 'This is too loud to be fireworks.' … It was quite a boom. And then three or four minutes later, there was a second boom, and the ground shook a bit. I thought, 'There is something wrong here.' But we didn't know. We had no information. … Most of the stadium seemed unaware. Play continued.
"I had my laptop on, had the Internet on. … The first news we heard was that [French President François] Hollande had left the stadium. And so clearly something bad was up. … Everyone else was kept in the stadium.
"I think authorities thought it would be a disaster to release 80,000 people on to the streets. … I think the attackers didn't want to explode the bombs 20 minutes into the game when people were safely into the stadium. They wanted to attack the crowd arriving at the stadium.
"Like any parent, I thought first of my children [who were home with a babysitter], and I'm thinking now of my children. My children live in a neighborhood that, in 10 months, has had two major terrorist attacks. Charlie Hebdo is around the corner. How do you raise children in that kind of situation? It's a question I'm asking myself. And we're dealing with it every day.
"Paris is a miracle. It's the most beautiful city in the world. It works really well. … On a day-to-day level you deal with people of all ethnicities and it works.
"People are talking about Paris being defiant. Paris is defiant. Paris is also confused and scared and human. This is a place of human beings."
Contributions by CNN's Christiane Amanpour, John Berman, Erin Burnett, Anderson Cooper, Chris Cuomo, Wayne Drash, Hala Gorani, Poppy Harlow, Don Lemon, Lauren Said-Moorhouse, Fred Pleitgen, Atika Shubert, Jake Tapper and Clarissa Ward

Design by Michael Hogenmiller
Development by Sean O'Key