Story highlights
Kasich called for creating a safe zone for refugees in Syria
"We just have to be very careful for our friends, our neighbors and our country," Kasich said
(CNN) —
Republican presidential candidate John Kasich said Tuesday that he opposes allowing refugees fleeing the war in Syria because he does not believe the U.S. can adequately screen them But he left the door open to accepting refugees in the future.
Speaking at the National Press Club in Washington, Kasich instead called for creating a safe zone for refugees in Syria that the U.S. and local allies would protect. And he expressed his position in the same way he said he explained it to his daughter the night before.
"You know we understand these people are in trouble, but think about putting somebody on our street or in our town or in our country doing us harm," Kasich said. "We just have to be very careful for our friends, our neighbors and our country."
Kasich, the governor of Ohio, joined the chief executives of two dozen other states on Monday in calling on the U.S. to halt the entry of Syrian refugees in the wake of the terrorist attacks in Paris, writing to President Barack Obama that "security and safety issues cannot be adequately addressed."
"Sometimes I'm criticized for having a big heart," Kasich said Tuesday. "I do have a big heart, but I also have a pretty good brain."
As recently as Friday, though, Kasich said the U.S. should accept refugees it can appropriately screen for terrorist connections. But this week, Kasich said he no longer believes vetting is currently possible.
He also appeared to join New Jersey Gov. Chris Christie, another GOP presidential contender, who said Tuesday morning that the U.S. should not even accept Syrian orphans under 5 years old.
"Until we get a handle on where we are we need to stop. Unless we've got a rational program that we can determine who it is that's coming then it's another story. But for this point and time it's reasonable to stop," Kasich said.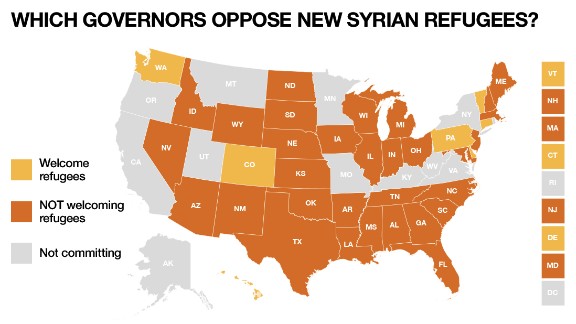 Kasich also suggested that his shifted stance was tied to public opinion, explaining that while "you need to lead, but you also have to be sensitive to what people think."
Before he was repeatedly pressed on the refugee question in a question-and-answer session, Kasich delivered a wide-ranging foreign policy speech in which he addressed the U.S.'s role in the world and criticized the Obama administration for projecting weakness on the international stage.
Kasich, who has previously called for U.S. ground combat troops to be deployed to Syria and Iraq to fight ISIS, said Tuesday that the U.S. must take on ISIS more forcefully to avoid a greater cost down the line. He also once again called on the U.S. to invoke Article 5 of the NATO treaty in the wake of the Paris attacks, which calls on member countries to defend any ally, like France, that is attacked.
"Are the people tired of war? Well, we all get tired of war, but at the end of the day, leaders have to rally the public to a cause that's great," Kasich said. "I don't think that you can deal with ISIS by just looking the other way."
Kasich also stressed that the U.S. needs to do a better job of countering ISIS propaganda and described the current conflict against radical Islam as a conflict of values.