Story highlights
Concerned Student 1950 was formed after a series of racially charged incidents at the University of Missouri
The name is based on the year MU admitted its first black student; demands mirrored those of 1969 group
Protesters seeing a different sort of resistance than they did in the 1986-87 anti-apartheid "shantytowns"
It was meant to be a joke, but to black students at the University of Missouri it was something they couldn't ignore. Four months after the shooting death of Michael Brown a local club gave out wristbands reading, "Hands Up, Pants Up" – a mocking reference to the "Hands Up, Don't Shoot" movement that represented a call for action in the wake of Brown's death.
"We were outraged," said Marshall Allen, who helped organize a protest in front of the club. "We couldn't believe a local establishment patronized and supported by black people would have the audacity to say something like that."
On a Saturday night in December 2014, counter-protesters arrived and it didn't take long for things to turn ugly.
"At one point someone put their hands on one of our protesters, literally getting physical with her," Allen said. "One got spit in her face."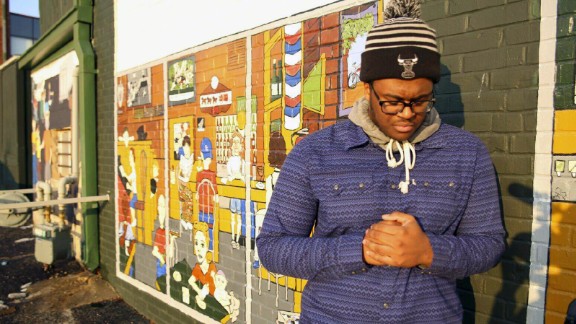 Jason Kravarik/CNN
It was then that Allen, now a sophomore, says he fully realized there were deep-seated race issues in the community. Less than a year later, he would become one of the founding members of Concerned Student 1950, a collective of African-American students that according to leaders is "dedicated to eradicating forces that keep black students systematically oppressed."
Students unhappy with leader's response
A series of incidents this fall had Concerned Student 1950 calling for action from university President Tim Wolfe. The first involved a Facebook post from student body President Payton Head, who wrote about several white males in a pickup truck yelling the N-word at him. The post went viral.
A second incident involved an African-American student organization rehearsing a play at an outdoor amphitheater. Members of the group reported that a white male jumped onstage and shouted the N-word. University police were called and the student was later removed from campus pending an investigation.
Then, in mid-October, someone used feces to scrawl a swastika on a dormitory wall at Gateway Hall. A suspect has not been identified.
Black students protested at the school's homecoming parade, upset at what they called Wolfe's inadequate response to the incidents. They blocked his vehicle and did not get a response from Wolfe. Police broke up the incident after counterprotesters moved in.
In a separate confrontation, later posted on Twitter, Wolfe addressed students directly, saying "systematic oppression is because you don't believe that you have equal opportunity for success…"
"Did you just blame us for systematic oppression, Tim Wolfe?" a student is heard saying in response.
Convinced that Wolfe would never take their concerns seriously, Concerned Student 1950 released a list of demands, starting with his resignation – a demand punctuated by a graduate student's hunger strike and the football team's unprecedented refusal to play until the president was gone. At first Wolfe refused to resign, but the national spotlight grew hotter. Two days later, Wolfe resigned in tears, admitting a lack of action in dealing with race issues on campus.
It seemed like a monumental achievement: Concerned Student 1950 took on the highest level of the university system and won.
In reality, though, history was repeating itself.
A familiar protest
Protesters endured the elements around the clock, sleeping with little cover in a makeshift village. Their presence in a busy university plaza was designed for one thing: change. They wanted the whole school to see their suffering – to feel discomfort by their presence. So they stayed visible until administrators had no choice but to act.
The year was 1986. Protesters had erected a shantytown – a cluster of board huts – in the Francis Quadrangle as a symbol of South African apartheid. Five months later they emerged victorious in their battle to stop the university from investing millions of dollars in companies doing business with South Africa.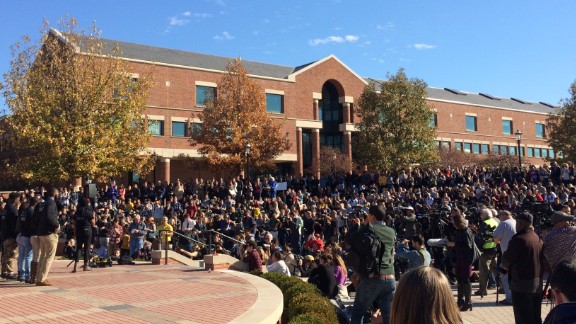 Jason Kravarik/CNN
Thirty years later, and a few blocks away, protesters were once again sleeping in the cold—this time, Concerned Student 1950 set up an encampment in the Carnahan Quad, where students slept in tents to show solidarity for Jonathan Butler, the student who pledged not to eat until Wolfe stepped down.
"As soon as I saw the encampment my immediate thought was, 'This is like shantytown,'" said Mary Beth Brown, a Missouri graduate student chronicling the history of race relations in Columbia for the school's Black Studies Department.
"They both went to the board of curators and won," she said.
Demands linked to those of 1969 group
That history isn't lost on those behind Concerned Student 1950, a name referencing the year the first black student was admitted into the university.
"We have original ideas, but it would be ignorant not to look at what the people have done before us," Allen said. "It's about using those works as a compass."
That's why Concerned Student 1950's list of demands includes a call for the university to meet the original 1969 demands of the Legion of Black Collegians – the first black student government in the nation formed at MU in 1968. It was officially recognized by the university a year later.
Included among those demands: Increase in the number of black faculty members and students, and bring about an end to harassment and physical threats against minority students.
"It's been interesting to hear the comparisons as teachers make sure students know what they're doing now is tied to that part of history," Brown said.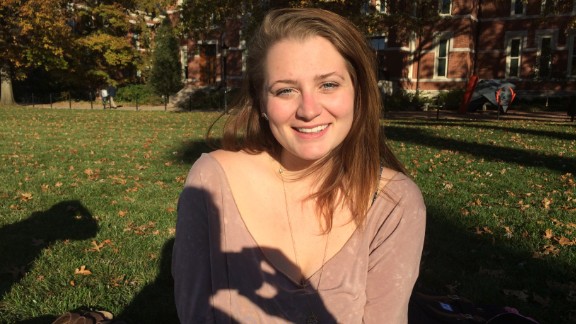 Jason Kravarik/CNN
Though considered successful, both movements were met with resistance. During the apartheid protest of 1986 and 1987 some students retaliated by burning down shanties, Brown said.
Today's protests weren't met with physical violence, though a local television station captured images of a pickup truck driving by the encampment while flying the Confederate flag. Rather, most of the resistance lives electronically—through the power of social media.
Another post, widely retweeted among the protest group, featured a man yelling "We will always be divided!" in a campus plaza. It's unclear whether he is a student or an agitator who merely showed up on campus.
Still, most of the reaction on social media doesn't involve direct threats. But Kari Schram, a senior from St. Joseph, Missouri, said she is troubled nonetheless, by posts from people she already knows.
"I'm seeing people I never thought would have this stance, and it makes me sad," she said.
'Behind the screen'
Schram, who is white and a psychology major, pulls up a smattering of posts on her social media feeds: "Bye. Going on a hunger strike because the Starbucks cups are plain red," one mocks.
On the campus social media site Erodr, another student writes, "Can we demand a refund on tuition? I didn't pay all this money to have classes cancelled every time someone tries to make a point."
"In person, these people wouldn't say half the things they are," Schram said. "It's all behind the screen."
It's surprising, she adds, because two years ago the campus supported Michael Sam, the Missouri football player who was the first NFL prospect to publicly announce he was gay.
"We had this 'One Mizzou' movement and everyone was united" on social media, Schram said.
"With Michael Sam, people felt they wanted to be on the right side of history," said Sam Gibson, a white senior from Minneapolis. "But when it comes to the race issue, people misunderstood this movement. It was about a group being ignored and a system president who blamed it on the oppressed, which was shockingly clueless."
On campus, and off social media, support for Concerned Student 1950 is easy to find – including among white students.
Jordan Walker, a graduate student in performing arts, said he was inspired to learn the song "Lift Every Voice and Sing," often referred to as the "Black National Anthem."
"The fact I didn't know about this piece of music made me feel so ignorant," Walker said.
He joined 70 other music students who sang the song after a press conference organized by protesters.
"It was stunning to sing it. We were moved to tears," Walker said. "Especially me, 'cause I had no idea it existed."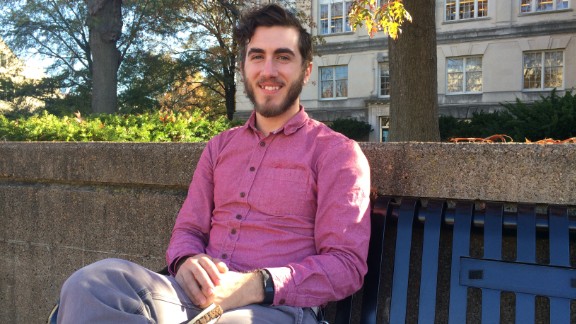 Jason Kravarik/CNN
That's the kind of support black protesters now want in their institutions. Allen says Concerned Student 1950 will continue to fight for more minority staff members and counselors; boosting mental health outreach; and the implementation of a racial awareness curriculum, among others.
He points out that removing Tim Wolfe was only the first of their demands. "This is a great victory but we don't want to lose momentum," Allen said.
In 1969, the Legion of Black Collegians declared its mission as promoting social, educational and cultural enrichment of black students and to end discrimination in the university community.
"We like to note that history definitely repeats itself," Allen said.