Story highlights
British spy agency MI6 are trying to redress gender imbalance by recruiting on Mumsnet
Mumsnet claim that mothers have a skill set particularly suited to espionage
(CNN) —
Forget sharp suits, expensive cocktails, gambling problems and one night stands. Maybe mothers are better spies than James Bond?
A new job advertisement by British spy agency MI6 on the parenting website Mumsnet suggests just this.
The post seeks Intelligence Officers to join its team in London and stresses the importance of qualities including "creativity, insight, curiosity, empathy and intuition."
Successful applicants will be British, have a "wide range of life experience," and could be deployed overseas. The post also warns applicants to be "aware of the importance of discretion."
Jane Gentle, a spokeswoman for Mumsnet, told CNN: "The advert has had a great reaction from our users. We've actually had more applications for this than we have had for any of our other job adverts."
"Mums possess logical and analytical skills, but they also use intuition, empathy and emotional intelligence on a daily basis, which is why MI6 is so keen to recruit them as spies," Gentle added.
"Us mums have to have eyes in the back of our heads to watch over our kids."
MI6 were contacted by CNN, but they have yet to comment.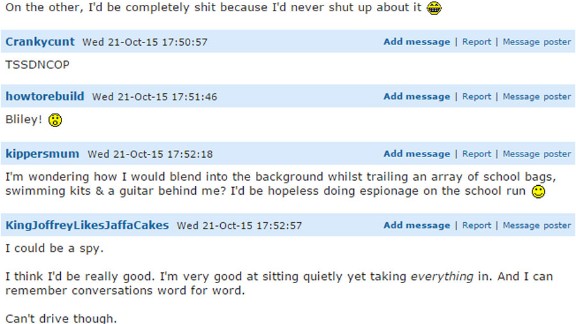 Users of the Mumsnet forum had mixed reactions to the job advert.
One poster, "Kippersmum," wrote on the Mumsnet forum: "I'm wondering how I would blend into the background whilst trailing an array of school bags, swimming kits & a guitar behind me? I'd be hopeless doing espionage on the school run :)".
"KingJoffreyLikesJaffaCakes" was more confident. "I could be a spy," she wrote. "I think I'd be really good. I'm very good at sitting quietly yet taking everything in. And I can remember conversations word for word."
"Can't drive though," she added.
The advert comes after a Parliamentary commission, led by MP Hazel Blears, warned that UK intelligence agencies are disadvantaged by being made up largely of men from similar backgrounds.
Currently, women make up only around one third of those agencies – and the Intelligence and Security Committee recommended that intelligence services recruit through Mumsnet.
Blears said in a press release in March: "Diversity will therefore result in better intelligence analysis and a better response to the range of threats that we face to our national security."
Maurice Parsons, Secretary of the Association of Security Consultants firm in Britain, told CNN: "The spy business is very male-dominated. I think it's right that we encourage more women to get involved with MI6.
"In fact, mothers have access to all sorts of information that no one else gets when they stand around the school gates."
MI6 were not only looking for spies in the online community. They also placed adverts for Business Support Officers and Technology Specialists on the Mumsnet website.